A$AP Rocky isn't getting five-star treatment in the Swedish prison he's currently held up in.
The rapper has allegedly been living in shockingly inhumane conditions since his arrest last week. According to TMZ, the jail he's staying in reportedly has feces hurled about and not cleaned up, inedible food, and facilities that are simply unfit for human beings.
Sources close to the situation explain to the outlet how Rocky is currently sleeping on a yoga mat with no blankets, while his neighbors are less than ideal. The prisoner in the next cell has severe mental issues, per the insiders, and slams his head against the concrete wall and hurls feces everywhere. 
On top of that, the water in the filthy and "disease ridden" facility is reportedly not clean, and the food is not edible. The insiders say the artist only ate an apple a day for the first five days.
As we reported, the hip-hop star is stuck at the prison for two weeks while prosecutors decide whether or not to charge him for aggravated assault from a street brawl he was involved in earlier this month. After his arrest, the L$D performer posted a video of the incident which showed the alleged victim instigating and physically attacking Rocky's crew prior to the fight. 
The Multiply artist shed more light on the altercation in the caption, claiming that, in addition to allegedly picking a fight with his crew, the "drug addicts" were also "slapping girls' butts." He wrote:
"So a few drug addicts are not my fans. We don't know these guys and we didn't want trouble, they followed us for 4 blocks, and they were slapping girls butts who passed, give me a break."
There's also been some controversy as to how Swedish officials handled the 30-year-old's detainment.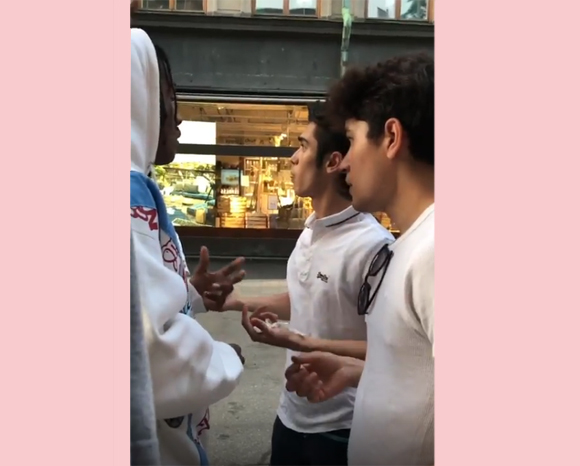 While a treaty between Sweden and the U.S. grants Rocky the right to immediately see an official from the U.S. Consulate, insiders say the American Consulate that Rocky arranged a meeting with was denied access to the detention center where the rapper is being held at.
The sources claim the U.S. official believes he was denied entry because Swedish law enforcement did not want him to see the conditions inside the center. 
Video: Police Searching For Woman Who Licked Tub Of Ice Cream & Put It Back
The consulate was eventually allowed to see Rocky two days later, but only in the presence of two Swedish guards — which they believe was "a clear intimidation tactic," as the rapper and the official couldn't have a private conversation.
Now, the 30-year-old's team is trying to get the State Department involved. However, Swedish courts have apparently shut him down so far.
The investigation is still ongoing. We hope Rocky gets out of there ASAP.
Source: Read Full Article