Some fans assume that the 29-year-old 'Kissin' on My Tattoos' crooner is the baby daddy of the 'Myself' songstress, who confirmed her pregnancy back in late August.
AceShowbiz -Is August Alsina dating Layton Greene? The "Kissin' on My Tattoos" crooner has left people wondering whether he is in a romantic relationship with the "Myself" singer after he unleashed a preview of their new collaboration.
Making use of Instagram on Tuesday, November 2, the 29-year-old shared a video of him dancing to their unnamed joint single. He also uses the lyrics for his caption, writing, "@laytongreene You started off as the homie, took the time 2 get to know me, Elevated to my one & only."
The post didn't go unnoticed by Layton, who wrote in the comment section, "Boy you know that it's on meee," along with a red heart and fire emojis. She also reposted August's nearly-three-minute footage on her Instagram Story. In the accompanying message, she simply wrote, "let's go aug," adding one heart emoji.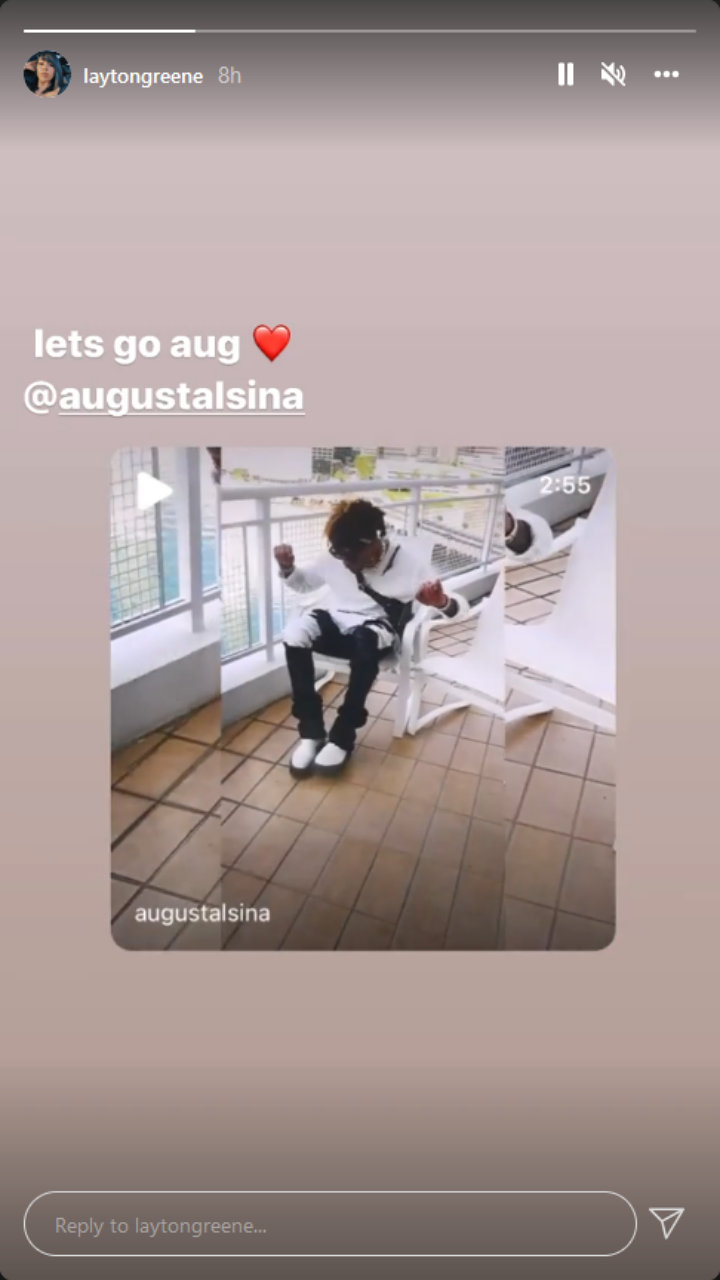 Layton Greene reposted August Alsina's dancing video.
August and Layton have yet to confirm whether they are indeed an item. However, some fans assumed that the Louisiana native is Layton's baby daddy.
Layton announced her pregnancy in late August. Sharing some maternity photos on Instagram, she gushed, "God knew my heart needed you. I love you so much and I haven't even met you yet. You're undoubtedly the best thing that has happened to me. I can't wait until you make your arrival. You're already my all, my everything."
The dating speculations emerged more than a year after August admitted that he was in a romantic relationship with Jada Pinkett Smith in the past. However, he insisted that it was not a secret affair because Will Smith gave them his blessing.
"I actually sat down with Will and had a conversation … He gave me his blessing," August claimed when speaking to Angela Yee in 2020. "I devoted myself to it. I gave my full self to it. So much so that I can die right now, and be OK knowing that I fully gave myself to somebody … Some people never get that in this lifetime."
Source: Read Full Article