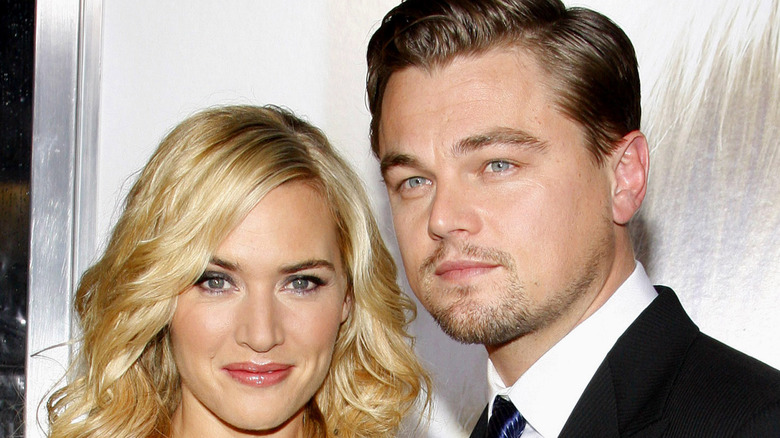 Kate Winslet and Leonardo DiCaprio will forever be remembered as one of the most iconic couples in cinematic history, as they famously played Jack Dawson and Rose DeWitt Bukater in the 1997 masterpiece, "Titanic." The film, which was nominated for a whopping 14 Academy Awards in 1998 and won 11, including Best Picture (via InStyle), solidified Winslet and Dicaprio's careers in the industry, catapulting both their professional and personal lives straight into the spotlight.
While there's no denying that Winslet and DiCaprio had serious chemistry on-screen, fans of "Titanic" have always wondered if their off-screen relationship was just as steamy as the legendary handprint-on-the-car-window scene they shot together. In a 1997 interview with Entertainment Tonight while promoting the film, DiCaprio got candid with the outlet and described what it was like shooting that infamous scene with Winslet, saying, "She's such a terrific person in general that our chemistry naturally happened on screen. We just like each other as people. As far as doing a love scene, though, we laughed about it a lot." 
Winslet also opened up about shooting the film with DiCaprio during a 1998 interview, telling Access Hollywood, per People, "I did think to myself beforehand, it's going to be hard, because you know, what if I really fancy him? And I so thought I was going to, because he is absolutely gorgeous."
Kate and Leonardo gushing about each other fueled romance rumors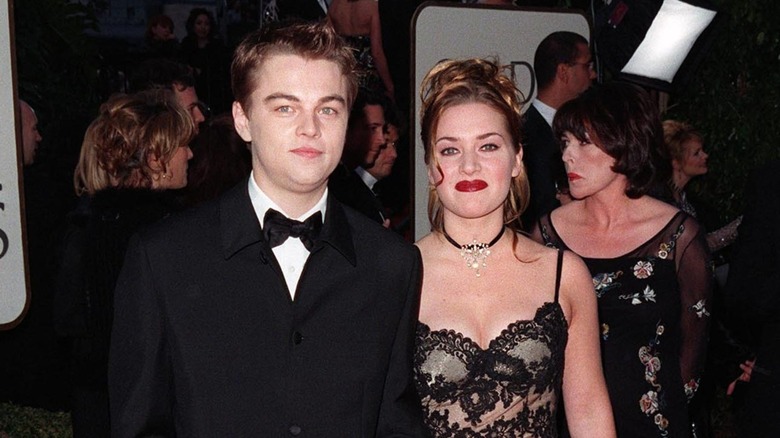 When two attractive actors play each other's love interests, people expect sparks to fly off-screen. However, that's never been the case with Kate Winslet and Leonardo DiCaprio, as they've always been great friends and nothing more, despite fans wishing they'd dated in real life. "The closeness and the strength of the friendship that we had is something a lot of my friends envy like mad," Winslet said at the time (via People). "But to me he's just silly old Leo."
During an interview with Oprah Winfrey in 2004, per Harper's Bazaar, the legendary talk show host played a clip from 1998 in which Winslet gushed about acting alongside DiCaprio, saying, "I was like probably how all the women in this audience are, about Leonardo DiCaprio. Initially, I thought, 'Ugh, how am I gonna work with this beautiful man who's such a brilliant actor?' And I met him and he's honestly so lovely and down-to-earth and normal and so good at what he does."
During his own appearance on "The Oprah Winfrey Show," DiCaprio raved about Winslet. "That's my girl," he said when Oprah showed him the clip of Winslet talking about him being lovely and down-to-earth. "I feel the same way about her. If it wasn't for her making that film, we would have been shrapnel at this point. It was just the toughest film we ever had to make and we were partners together."
The dynamic duo reunited on-screen again in 2008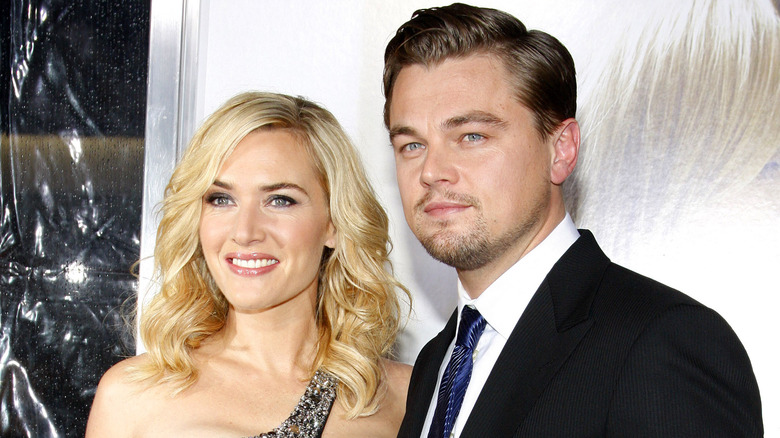 Nearly a decade after their first on-screen performance together, the pair starred in 2008's "Revolutionary Road," which was directed by Kate Winslet's then-husband Sam Mendes. "We were actively looking for something to do together," Leo DiCaprio said (via People), echoing Winslet's sentiments about being close friends. "It felt really natural. She's my homie."
While promoting the film, Winslet and DiCaprio gave a joint interview on the Today show, which further showed fans the love and adoration the pair have for each other. "Well, I think I can speak for both of us: we have a lot more wrinkles," Winslet said when asked how they've changed since their "Titanic" days (via Elle). "Don't we, darling? I'm proud of him, though. I can't say that you're taller, because you were always tall. He's a man now; look at him — he's just bigger. Physically you aren't that different; you're just less puny."
DiCaprio also gushed about his two-time leading lady, telling Today, "She's still as beautiful and radiant as the day I met her. She is the consummate professional; she keeps pushing herself to an emotional truth when she's working. That's why I keep saying she's the best."
Kate thanked Leo in her Golden Globes acceptance speech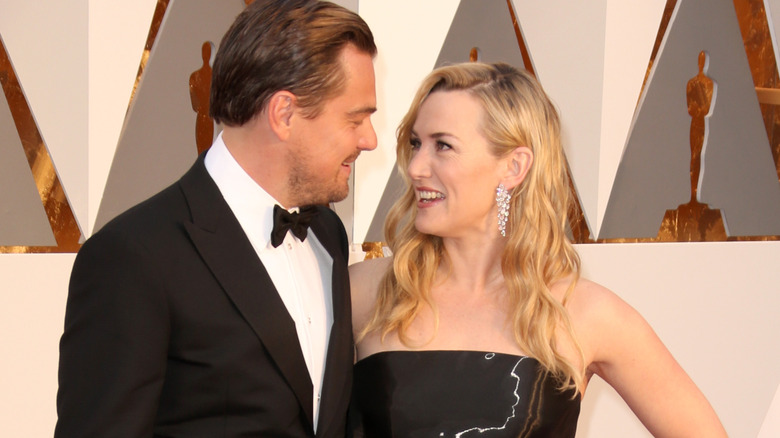 Could these two have a better friendship? After Kate Winslet took home the Golden Globe for Best Actress in a Drama for her performance in "Revolutionary Road," she thanked Leonardo DiCaprio during her acceptance speech in 2009, saying, "Leo, I'm so happy I can stand here and tell you how much I love you and how much I've loved you for 13 years…I love you with all my heart, I really do." 
During an appearance on "The Oprah Winfrey Show" later that year, DiCaprio gave fans an inside look at his long-running relationship with Winslet, telling the talk show host, "In a lot of ways, Kate and I have really grown up in this industry together; we've been a support mechanism for each other for such a long period of time. We've been there for each other and helped guide each other."
In 2012, DiCaprio reportedly walked Winslet down the aisle and gave her away to her now-husband, Ned Rocknroll (yes, that's his real name), during their super-secret wedding ceremony (via People). If that's not a close friendship, then we don't know what is!
Kate was Leo's biggest cheerleader
Leonardo DiCaprio was nominated for a plethora of awards for his performance in "The Revenant," and during his history-making award show run in 2016, Kate Winslet stuck by his side through it all. 
While speaking to an interviewer at the Golden Globes that year, DiCaprio gushed about his two-time co-star when asked if he ever wanted to work together again. "I'd love to. She's my favorite actress in the industry," he revealed (via Elle). "She's actually hanging out with me tonight. We're gonna go to the afterparties together."
At the 2016 Academy Awards, DiCaprio, who had been nominated for an Oscar five times at that point – he has since been nominated one more time for his role in "Once Upon A Time In Hollywood" – the accomplished actor finally fulfilled his dream and took home the coveted award for Best Actor in a Drama for his unbelievable portrayal of fur trapper Hugh Glass in "The Revenant" (via People).
Winslet stuck by his side the entire night and even walked the red carpet with her best pal, but the most endearing part of the night was when Winslet adorably teared up during DiCaprio's speech.
The besties are still the best of friends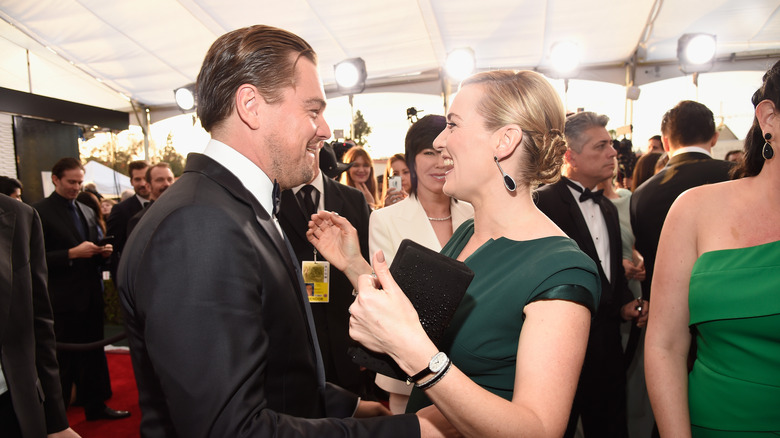 "You don't even want to know the last conversation we had because it was so funny and made me laugh so much," Kate Winslet told Glamour UK. "We found ourselves saying to each other, 'Can you imagine if the world really knew the stupid things we say?'" While she noted that she wouldn't specify what the two talk about, the actress did reveal, "We're very, very close and sometimes we do quote the odd 'Titanic' line back and forth to each other, because only we can, and we find it really funny."
Winslet even told Parade Magazine (via PopSugar) that she and DiCaprio have something of a "telepathic" relationship with one another, telling the magazine, "Leo and I do have an almost telepathic connection because we've known each other for such a long time and have remained friends consistently over all of these years. I know how Leo thinks. I know how he works, as he does with me."
If one thing's clear about the former "Titanic" stars, it's that they are the absolute definition of friendship goals.
Source: Read Full Article