Prince William is a passionate advocate for combatting homelessness and on Thursday, he toured homeless charity, The Passage.
The Prince of Wales had previously visited the charity as a child alongside his brother, Prince Harry, and their mother, the late Princess Diana. Diana had brought her sons to the charity to meet rough sleepers during the 1990s in order to broaden their horizons and teaching them about some of the harsh realities of life.
The Prince was close to his mother, and in the below clip they couldn't contain their giggles as they enjoyed a personal trip together…
WATCH: Prince William and Princess Diana giggle during half-term trip
William was back at the charity to open two refurbished accommodation units and during his visit, he met with Sister Joan, who had met his mother when she visited the charity with William and Harry in 1993.
DISCOVER: Prince William & Princess Kate's childcare for George, Charlotte and Louis could cost up to £120k
Reflecting on the late Princess of Wales, Joan said: "She was beautiful and gentle, I cannot find the words to describe her. She was an ordinary person with no airs and graces, who could relate to anybody."
She also revealed that William had pledged to follow in Diana's footsteps and would bring his own children, Prince George, Princess Charlotte and Prince Louis, to the charity.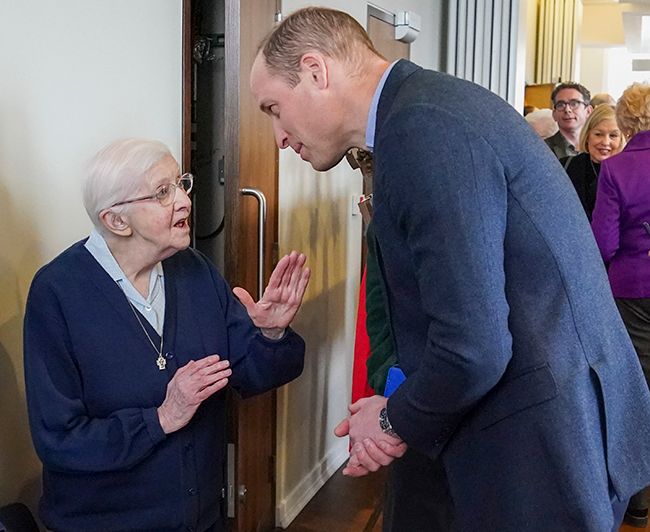 William met Sister Joan at the event
The father-of-three supports the charity as a patron and during his appearance, he described homelessness as a "human tragedy" and vowed to play a role in stopping it.
"No single organisation or sector can end homelessness; but by working together in true partnership, organisations like The Passage can help demonstrate it is not an inevitable part of life," he said.
DISCOVER: Princess Kate to go head-to-head with Prince William during royal outing this weekend
"I believe this is how we can make homelessness rare, brief, and non-recurrent. I am determined to play a significant role to support this becoming a reality and look forward to sharing further details later this year."
He added: "I am personally more determined than ever to play my part in working with others to do all we can to stop the human tragedy that is homelessness."
LISTEN: Diana's reaction when her plane plunged 10,000ft in terrifying moment
Make sure you never miss a ROYAL story! Sign up to The Royal Explainer newsletter to receive your weekly dose of royal features and other exclusive content straight to your inbox.
Source: Read Full Article