The 'Law and Order: Special Victims Unit' star turns to his social media platform to react to the news that the property of the former President of the United States was raided by 'a large group of FBI agents.'
AceShowbiz –Ice-T has weighed in on the Federal Bureau of Investigation (F.B.I.) raiding Donald Trump's Mar-A-Lago home in Palm Beach, Florida. Taking to social media, the "Law & Order: Special Victims Unit" star hinted that the raid made him feel nostalgic.
The raid signals an escalation into the numerous investigations into Trump's "final stages" of his presidency. Like many others on Twitter, Ice-T found this rather amusing and tweeted on Monday, August 8, "Fed's Raided Mar-A-Lag. Oh s**t…S**t's poppin off." In a follow-up post, he wrote, " '6 n the Morning Feds at your door…..,' " a nod to his 1987 "Rhyme Pays" classic "6 'N the Morning".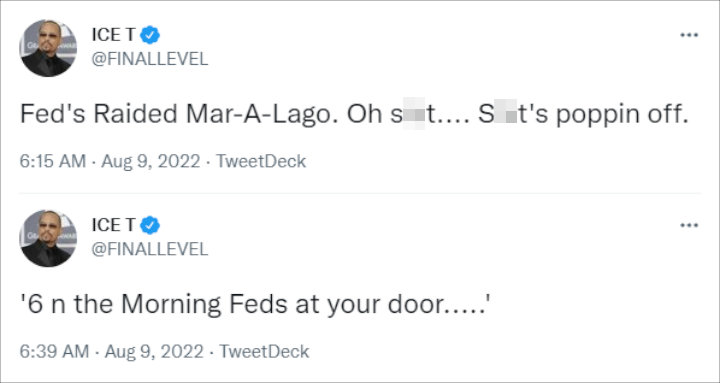 Ice-T reacted to FBI raiding Donald Trump's Florida home.
Earlier that day, Trump revealed that a "large group of FBI agents" raided his resort home in Palm Beach, Florida. "These are dark times for our Nation, as my beautiful home, Mar-A-Lago in Palm Beach, Florida, is currently under siege, raided, and occupied by a large group of FBI agents," he said in a statement issued by his Save America political committee. He went on to note that "nothing like this has ever happened to a President of the United States before."
"After working and cooperating with the relevant Government agencies, this unannounced raid on my home was not necessary or appropriate," Trump said, before bemoaning, "They even broke into my safe!"
A person familiar with the matter said the FBI is not disputing that it carried out the search. CNN reported that Trump was not at the estate at the time of the raid and that the FBI had executed a search warrant to enter the premises despite Trump's claims. It's also reported that the search was tied to classified documents.
Trump has been under investigation for his actions before, during and after his four-year run in the Oval Office. He delayed returning 15 boxes of material requested by National Archives official for months and only returned them when he was threatened. During his presidency, he reportedly destroyed documents instead of preserving them for the archives.
Trump previously confirmed that he had agreed to return certain records to the Archives. The 45th President of the United States also called it "an ordinary and routine process."
In addition to the presidential records case, Trump is under investigation on a number of other fronts, including a congressional probe into the January 6, 2021, assault by Trump supporters on the U.S. Capitol and accusations that Trump tried to influence Georgia's 2020 election results.
Source: Read Full Article