Anyone that has been watching Keeping Up with the Kardashians since the dawn of humanity knows how long the Kardashians spend in "glam." Like, glam is such a thing that an entire episode of KUWTK was devoted to how Kourtney Kardashian is simply over it. To quote: "I'm just so f*cking over glam. I honestly don't wanna film, like, ever again."
Anyway! Between hair and makeup, getting camera-ready can be exhausting—and apparently Kim Kardashian recently fell asleep while getting her hair done by celebrity stylist Chris Appleton. And naturally, Chris took a picture and then trolled Kim by sharing it on Instagram:
https://www.instagram.com/p/CL4nQM2BaFn/?utm_source=ig_embed&utm_campaign=loading
A post shared by Chris Appleton (@chrisappleton1)
Kim made her feelings about the photo known by writing "I fucking hate you!!!" and "You exhausted me!" along with a bunch of laugh cry emojis, and also shared the photo to her own Instagram stories: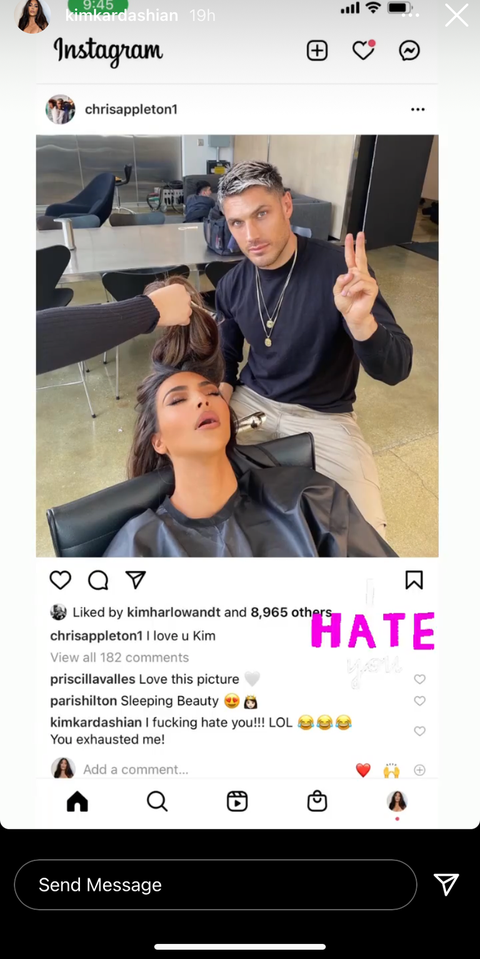 Oh, and Kim's friend Paris Hilton went ahead and commented "Sleeping Beauty 😍👸🏻."
TBH Kim has a lot to be exhausted over! Aside from dealing with some big changes in her personal life (namely, her divorce from Kanye West), Kim has been laser focused on her businesses and studies. A source recently told E! News that the reality star "is truly in business mode" and wants to pass the California Bar exam to officially become a lawyer and "focus on her next phase of life."
And in semi-related news, the same source says Kim has no plans to date, explaining "Kim isn't ready to date and is not focused on dating yet. She's had a rough year and wants to focus on herself and her kids right now."
Kim definitely deserves some R&R so here's to hoping she gets some more rest during glam in the near future, tbh.
You love all the deets on the Kardashians. So do we. Let's overanalyze them together.
Source: Read Full Article