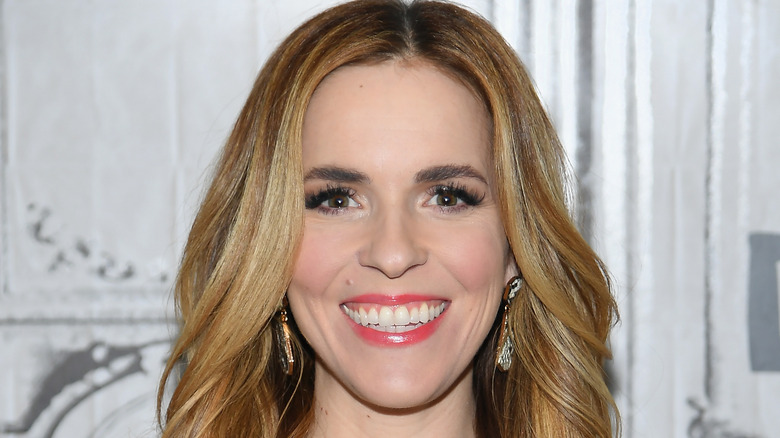 For a number of years, influencer, entrepreneur, and CEO Rachel Hollis has been catching the attention of over 1.5 million fans and followers. Her glossy photos, cheeky book titles such as "Girl, Wash Your Face" and "Girl, Stop Apologizing" have cultivated a cult-like following for the social media superstar, and she's gone out of her way to include her fans in all of the ups and downs of her life. For more than a decade and a half, her now-ex husband, Dave Hollis, took center stage and their adoring fans were happy to follow along.
Hollis met her former partner after making a big move to Los Angeles, according to Netline, and dated for two years before officially tying the knot in 2004. The self proclaimed "high-end, stylish wedding planner" reported in the 2012 article for the Huffington Post that she doesn't exactly look back fondly on the day, citing her use of decor and details that she would now consider to be tacky. While the plastic chairs and tulle accents she used may not be at the height of class and refinement in the world of wedding planning, it's fair to say that focusing on the wedding details rather than the marriage might have been the first sign of trouble for the Hollises. However, the pair would stay married for 16 years, give birth to three children, and adopt a fourth, according to It's Fine I'm Fine.
The couple often mixed business with personal life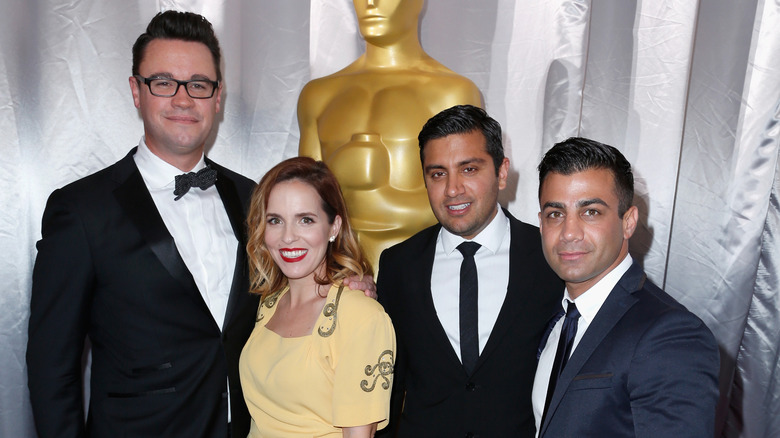 In addition to building a family, Rachel Hollis also built her empire during her marriage to Dave Hollis. She first achieved success with the founding of her first company, a lifestyle content company (via Insider), and made her way into the public eye by sharing photo evidence of her post-pregnancy stretch marks on a trip to the beach in 2015. She made yet another splash in 2018 with the publishing of her first book, "Girl, Wash Your Face," in 2018, earning herself the prestigious title of New York Times best selling author. The same year, Rachel and Dave Hollis decided to work together for Hollis Co., the revamped version of Chic Media. This would mark the beginning of the integration of business with their marriage as the company grew to orbit around their marriage. In addition to the hyper-feminine focus of the company, the couple began doing daily live streams for their fans.
That same year, Rachel and Dave Hollis began their joint podcast, "Rise Together," where they often shared details about their marriage and talked about relationships. The couple maintain their picture-perfect internet presence, regularly sharing with their fans glossy photos accompanied with heartfelt captions that would lead anyone to believe that the couple was happy and thriving. They pair was committed to their public image, which made their divorce announcement in June of 2020 a shock for devoted followers.
A not-so-shocking divorce announcement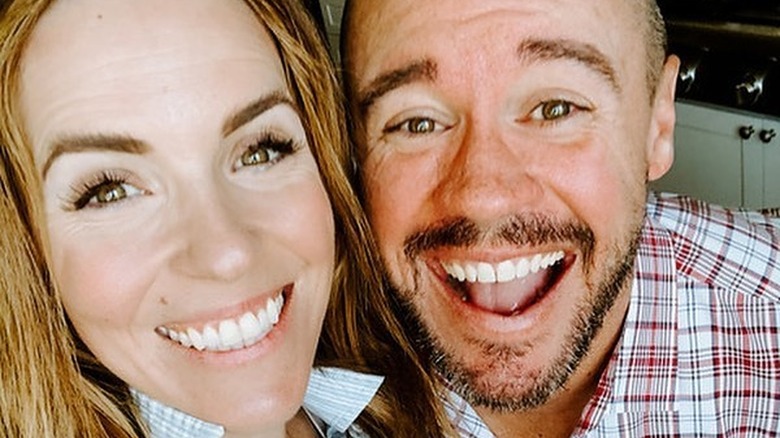 While the divorce may have felt a bit out of nowhere to those who had been faithfully following the Hollis family, it's likely that the separation had been in the works for quite some time before the announcement hit Instagram. Employees reported a dramatic change in the Instagram star's persona in the workplace, according to Insider, a change that may have signified the beginning of the end for the then-power couple. The original Instagram post on Rachel Hollis' account that shared news of the divorce stated, "We have worked endlessly over the last three years to make this work and have come to the conclusion that it is healthier and more respectful for us to choose this as the end of our journey as a married couple. We remain dear friends as we raise our family as co-parents and run our company as partners."
Three years is certainly a long time to keep impending divorce proceedings under wraps, but the pair was committed to maintaining their ultra positive personas and status as marriage gurus until their relationship came to a screeching halt. Although he had planned to continue working with his soon-to-be ex-wife, Dave Hollis has reportedly left the company, according to his LinkedIn profile, though the Hollis Co. site does still sell his book, "Get Out Of Your Own Way."
Dave Hollis didn't initiate the divorce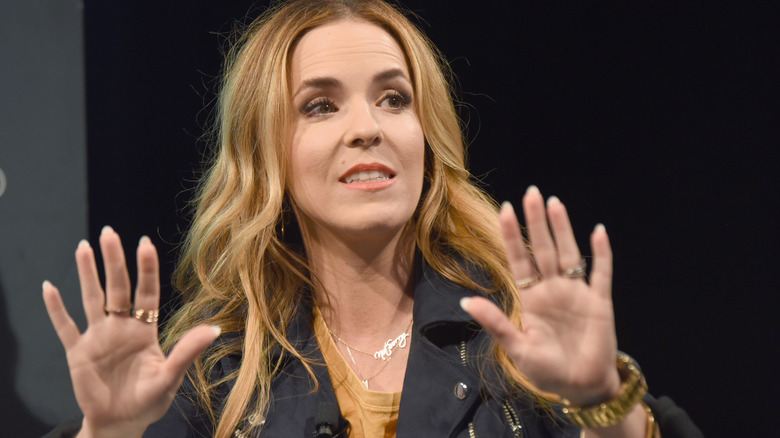 As the weeks went on, more truth about the Hollis' marital dissolution came to light. Much of that truth came from Dave Hollis himself. On July 26, 2020, almost two months after Rachel Hollis announced the divorce, Dave Hollis posted his own announcement to his Instagram account, sending shockwaves throughout their loyal fanbase. His post included a photo of the couple's 16th wedding anniversary that was taken just two days before the couple reportedly decided to move forward with the divorce. The caption read, "I put this picture up on our anniversary in May, then took it down two days later. It was our 16th, a year from this shot renewing our vows, married a 4th time after ceremonies every five years, one of the best days ever. Two days later, Rae told me she didn't want to be married anymore" (via It's Fine I'm Fine).
Although Dave Hollis might have preferred to stay married, he does not appear to be harboring any negative feelings towards his now-ex wife. He continued to post supportive comments on her Instagram account.
Both Rachel and Dave have moved on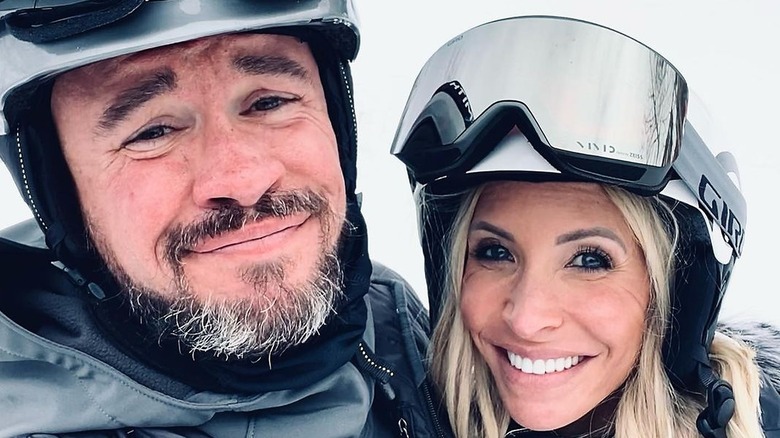 Dave Hollis wasn't exactly happy about the divorce, but he didn't exactly dwell on his failed marriage. In February of 2021, news broke that the former husband to blogger extraordinaire Rachel Hollis had begun dating another influencer. In a lengthy caption on Valentines Day of this year, Hollis gushed about the new woman in his life, (via Gomi Blog). That woman was Heidi Powell, a fitness blogger who was navigating her own divorce at the time. He reportedly conducted an interview with the influencer about divorce and relationships, and the calls, texts, and flirtation continued and, as they say, the rest was history and so was Dave Hollis' relationship with his former wife.
Dave Hollis isn't the only one who has moved on from the Hollis' marriage. In June of 2021, Rachel Hollis reportedly signed up for a dating app to find some new people to hang out with, according to HITC. In a recent Youtube video, Rachel Hollis explained that one of those friends had evolved into something a bit more than friendship. Though she has not confirmed the identity of her new beau, she has described him as "really attractive" and appears happy about this new relationship. We're wishing the best for both of the Hollis' and it's nice to see a couple keep it civil post-divorce.
Source: Read Full Article