Tristan Thompson may be most well-known for his on-again, off-again relationship with Khloe Kardashian, and a lot of the drama surrounding his personal life has played out on "Keeping Up With the Kardashians" as well as on social media. While he's now a reality star, he also happens to be a pretty good basketball player as well. The athlete started his career at the University of Texas. After that, the Cleveland Cavaliers drafted him high in the 2011 draft, as he went in the first round as the fourth overall pick (via Bleacher Report). Thompson played on the Cavaliers from 2011 to 2019, and during his time in Cleveland, he made an excellent living.
According to Salary Sport, Thompson earned a little over $2 million during his first year in Cleveland, and from there, it only went up. In 2015, ESPN reported that Thompson inked a five-year deal with the Cavs worth $82 million. Yes, $82 million for five years. Can someone else please find us a gig that earns that much? The deal also made him the sixth-highest paid power forward in the NBA, and while it's a lot of money that he's made, Khloe Kardashian still takes the cake. But hey, that's a different story for a different day. 
Keep scrolling to find out where Thompson landed after his career in Cleveland. We'll give you a little bit of a hint — it's on the East coast. 
Inside Tristan Thompson's NBA career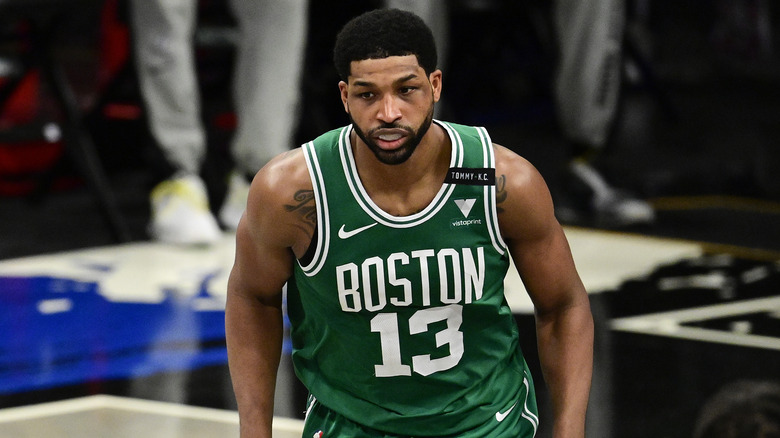 Tristan Thompson is currently a member of the Boston Celtics squad. According to the NBA website, the Celtics are the second team that Thompson has been on. As we mentioned earlier, he was on the Cleveland Cavaliers first. According to Sportrac, he inked a two-year deal with the latter in 2020, and he got a pretty hefty payout. The contract is worth just north of $18 million, which means it's $9 million-plus per season, which is pretty dang sweet if you ask us!
In May, the star opened up about what it was like to play in front of fans in Boston, following a hiatus from spectators amid the COVID-19 pandemic. "It finally feels like a basketball game. I'm not going to lie to you guys — thank God I didn't play in the bubble because I can't play without fans, so that setup was terrible," he said, per CBS Boston. "It was fun being in the Barclays with all the fans in the arena, especially during the playoffs. I hope Governor [Charlie Baker] sees how important having 75 percent of an arena can help. It gives us life. That's what makes TD Garden so special, fans are so close and they have that energy that can kind of ignite our team."
Some fans have welcomed Thompson, but a few others have their doubts. Bleacher Report also shared that the star isn't well-liked by some teammates, so we're wondering if everyone is just Team Khloe?
Source: Read Full Article