Kanye West definitely isn't the same rapper he once was. While most artists do change and develop their style over time, West has taken a completely different route from what he once did. Now, he's exclusively a Christian rapper, and his shows have become more over-the-top, complete with Gospel choirs and intense dress codes. West has also been giving Sunday Services, which center around Christianity and music. But some are seriously concerned about the direction his services are going.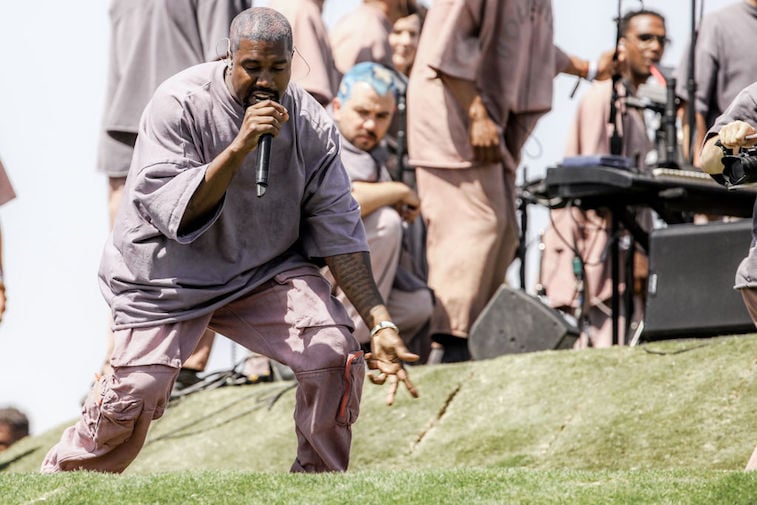 West recently redeveloped his entire identity
If someone asked who Kanye West was a decade ago, the answer would have been far different from who he is now. Years ago, West was producing hits such as "Gold Digger" and "Good Life," and most of his songs did not have religious undertones. Since then, though, his musical identity has changed quite a bit. He has slowly been transforming into a Christian rapper, and he recently took his career to another level. In January 2019, West hosted his first Sunday Service, which nobody thought much of at the time. But since then, the services have become a new part of his identity. And it looks like the new West is here to stay.
His Sunday Service has been growing in popularity
Ever since his first Sunday Service took place, it's become more popular among celebrities and those who practice religion very faithfully. Even Jinger Duggar and her husband, who star on the TLC reality show Counting On and are known for their religious beliefs, attended West's Sunday Service back in October. West's new lifestyle has constantly made the news, and he's only become more in tune with his new self as 2019 has progressed. Though his wife, Kim Kardashian, is greatly supporting her husband, and those around him are thrilled to see the new path he is taking, some people do have concerns about what the future of West's Sunday Services might hold.
His invite-only and non-disclosure requirements have some experts concerned
West's services aren't like that of a typical religiousgathering place. Anyone can walk into a church on Sunday and listen to theservice, but West's are much less accessible than that. According to Fader,West's services are by invitation only, and the dress code is very specific.Those attending the service can only wear specific colors and styles that needto correlate with the outfits worn by the choir and band.
Those who attend the service also aren't allowed to speak about it. Rumor has it that attendees must sign a non-disclosure agreement before they're allowed to attend. A reporter from GQ said that after trying to find out information about the service, she was informed that nobody could speak to her because of the signed agreements. But the strict dress code and inability to discuss the service has some experts concerned that West is inadvertently creating a cult. "It's got the early trappings [of a cult]," Janja Lalich, a cult expert and a sociology professor at California State University, Chico, told Vox.
Right now, it's important to note that West's SundayServices don't appear dangerous in any way, as cults often do. But it does seemlike the rules and the hush-hush about what goes on, along with West comparinghimself to Jesus, are all enough to have some people questioning what theservices might turn into down the road.
Source: Read Full Article