I'm sure you'll have heard about the drama that's gone down between Taylor Swift, her former record label boss Scott Borchetta, and celebrity manager Scooter Braun over the past couple of days.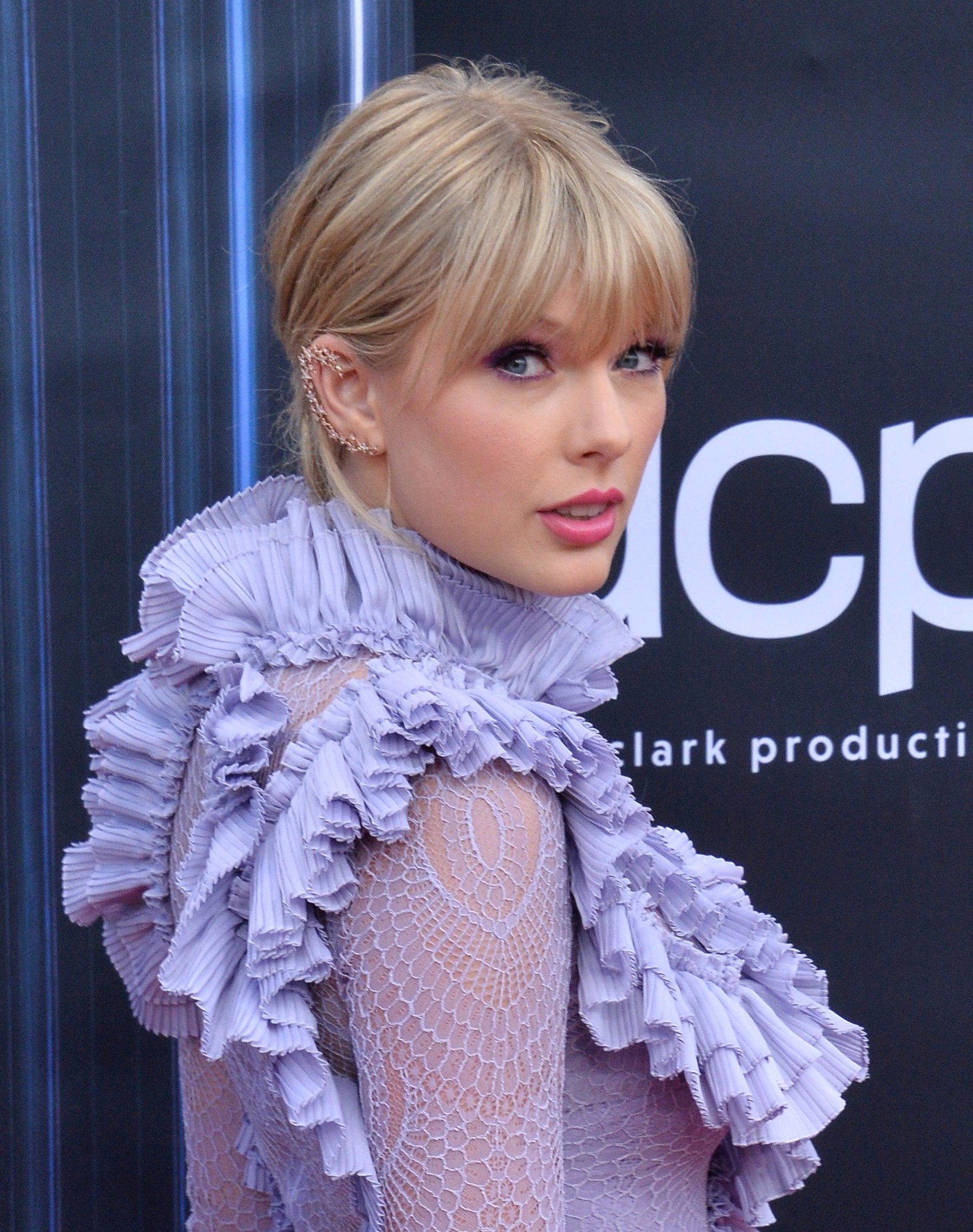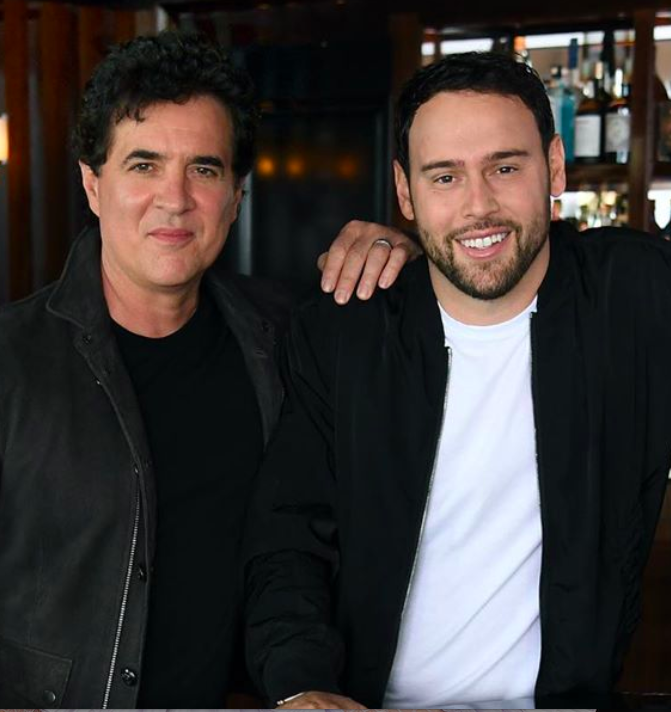 https://www.instagram.com/p/BzVqLqZHJAS/
In case you've missed the news, it was announced on Sunday that Scooter Braun's company had acquired Taylor Swift's former record label, Big Machine Records, for $300 million.
https://instagram.com/p/BlI6Fi1nVwZ/
Later that day, Taylor Swift shared a lengthy Tumblr post in which she explained that Big Machine and Scooter Braun would now own the master recordings of all six of her albums "in perpetuity". She described the news as her "worst nightmare".
In the note she explained that at the end of her 10-year contract with Big Machine, Scott Borchetta gave her the option to "earn" back the rights to the master recordings of her first six albums by signing another decade-long contract. She claims she wasn't given the chance to make a bid for the recordings herself, and, after hearing Scott planned to sell the company after she re-signed, decided to go to a different record label which would allow her to own her work.
Taylor went on to claim that Scooter had "bullied" her for years, citing the fact that he managed Kanye West at the time of their infamous 2016 feud which led to her taking an extended break from the public eye.
https://instagram.com/p/BoaqM34HrAc/
She also referenced Kanye's video for "Famous" which depicted her naked, as well as a selfie posted to Instagram by another of Scooter's clients, Justin Bieber, which appeared to show him, Scooter and Kanye mocking her.
"Scooter has stripped me of my life's work, that I wasn't given an opportunity to buy," Taylor wrote, "Essentially, my musical legacy is about to lie in the hands of someone who tried to dismantle it."
https://instagram.com/p/BwsZa6dhzv3/
She added: "Any time Scott Borchetta has heard the words 'Scooter Braun' escape my lips, it was when I was either crying or trying not to. He knew what he was doing; they both did. Controlling a woman who didn't want to be associated with them. In perpetuity. That means forever."
Shortly after she published the Tumblr post, many celebrities jumped to her defence with public messages of support. Brendon Urie, who collaborated with Taylor on her first single outside Big Machine, said that her post had "[broken his] heart", and described the music industry as "toxic".
https://instagram.com/p/BxK_1jPAtO_/
Halsey said that the news "turned [her] guts", adding that Taylor "deserves to own painstaking labour of her heart".
And Taylor's long time friend Cara Delevingne hit out at Justin Bieber after he wrote a lengthy Instagram caption defending Scooter and calling Taylor a "bully".

https://www.instagram.com/p/BzWYdS9Hj5R/
However, many of Taylor's fans took to Tumblr to express their disappointment that the overwhelming majority of people defending her were women, and said the silence from male musicians was "deafening".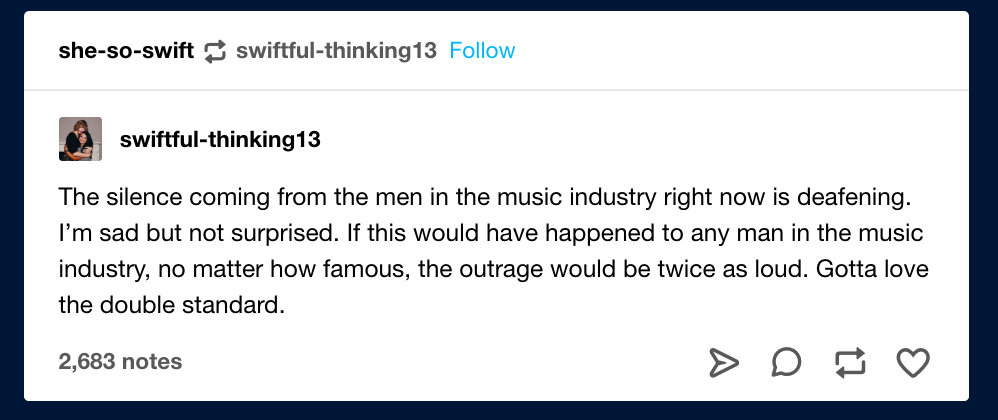 Taylor herself went on to like all of the above posts on Tumblr.
And numerous fans said that the silence was especially disappointing since Taylor has used her platform to promote artists such as Ed Sheeran, Shawn Mendes and Troye Sivan over the years.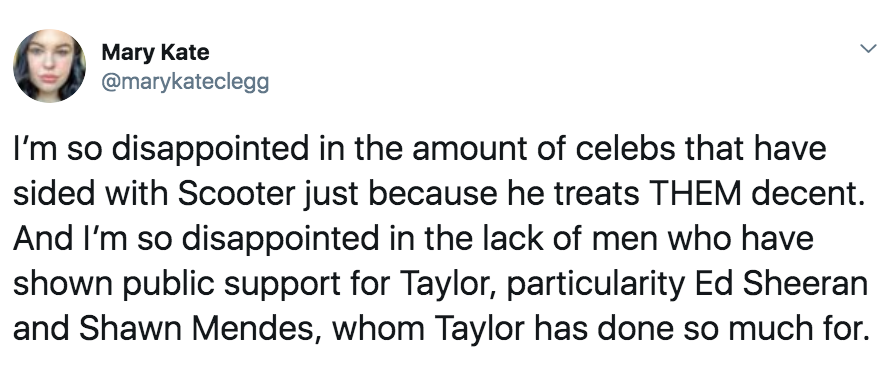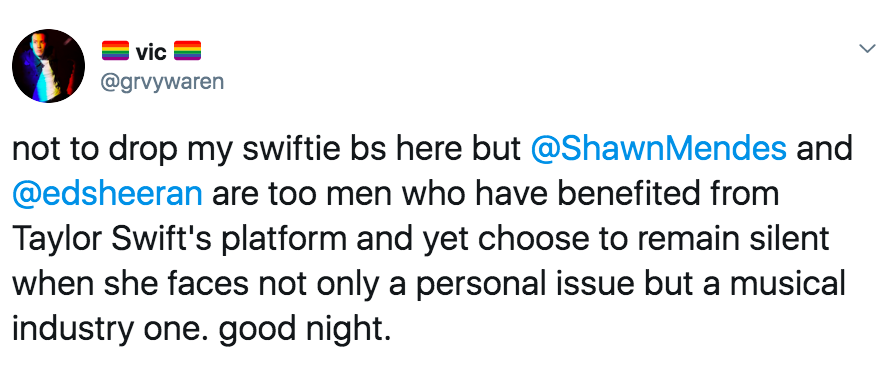 In fact, Ed Sheeran was the person fans were most disappointed with. Taylor offered him a slot supporting her on the Red tour back in 2013, after she discovered and fell in love with his music. The pair became firm friends and have gone on to collaborate on two tracks, with many fans suggesting that Ed wouldn't have enjoyed the same level of success in the US if it weren't for Taylor's platform.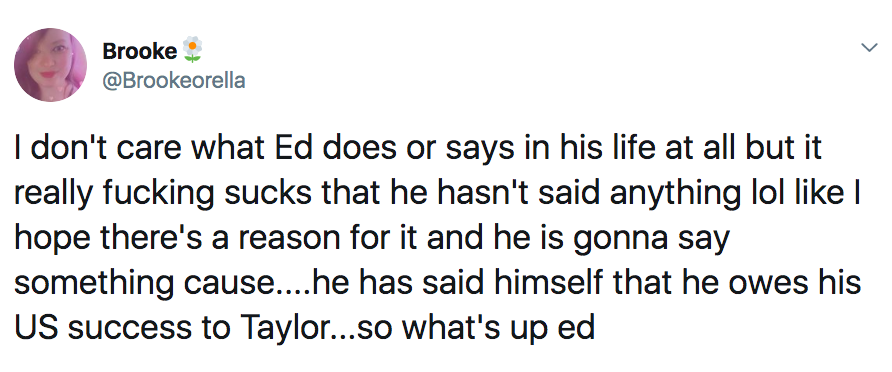 And before too long, fans began spamming Ed's Instagram posts asking why he hadn't spoken out.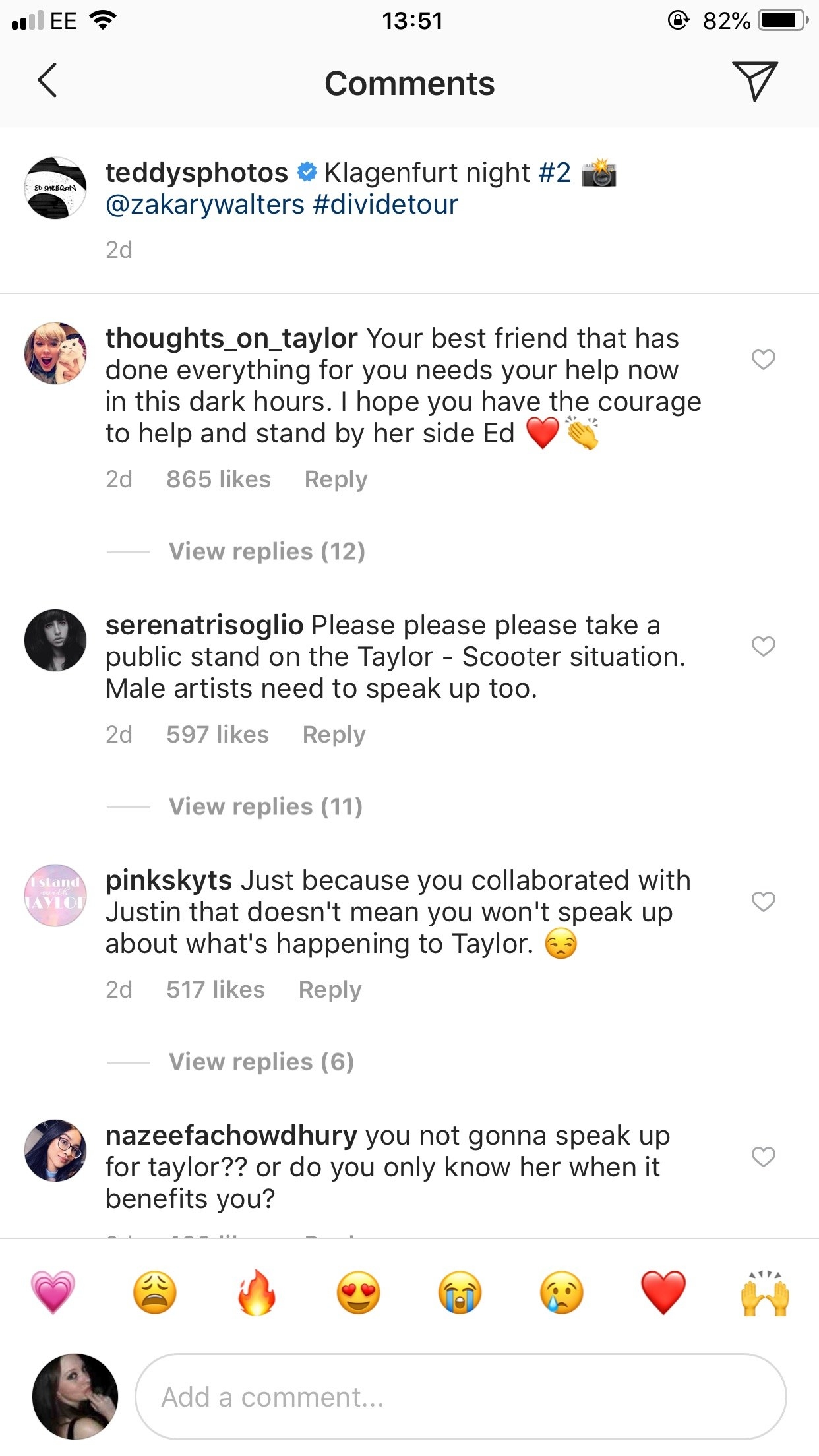 https://www.instagram.com/p/BzWCeyhh67W/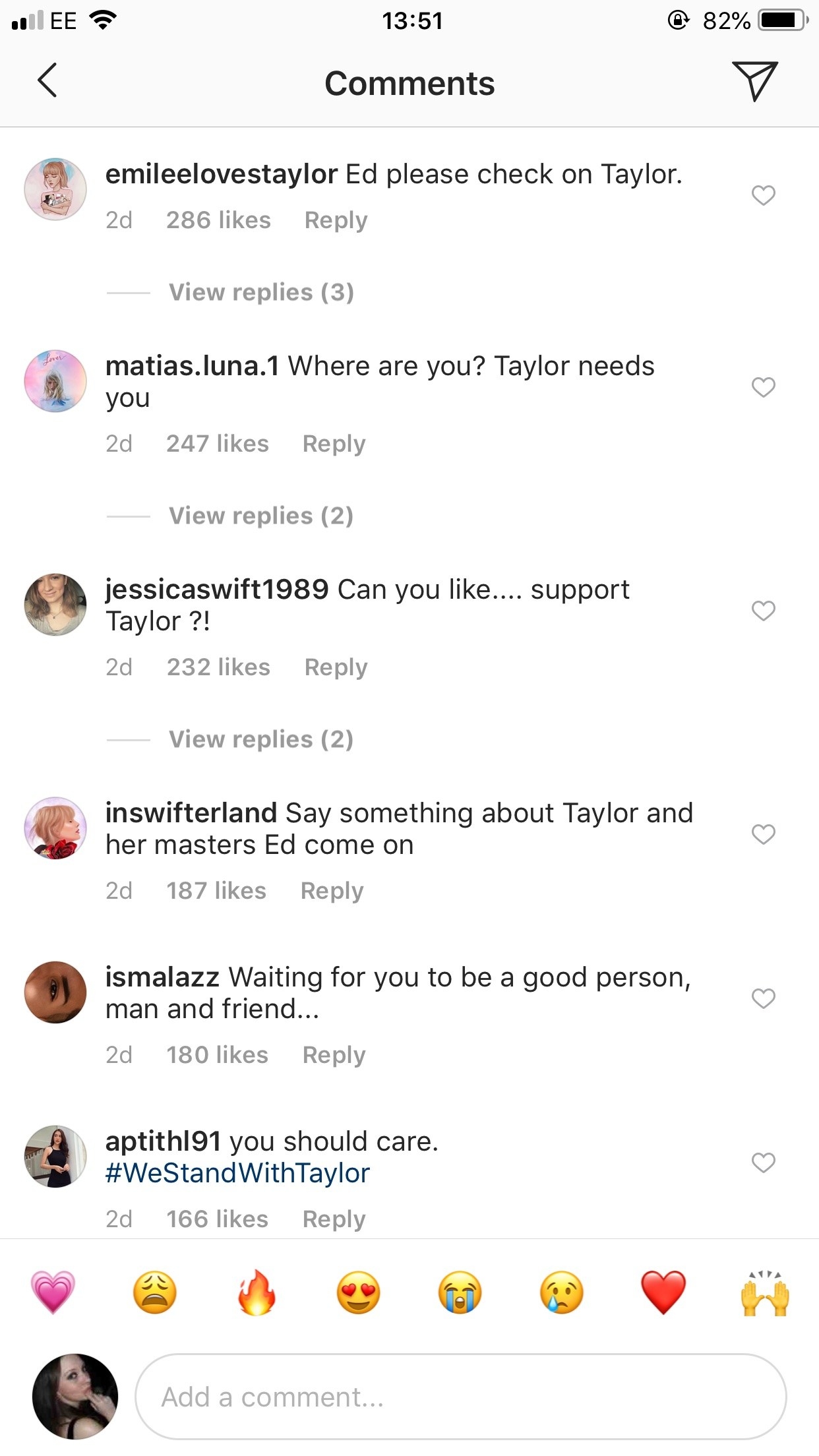 https://www.instagram.com/p/BzWCeyhh67W/
Well, Ed has now responded to a fan who stepped in to defend him on Instagram, and explained that while he hasn't acknowledged the situation publicly, he has been in contact with Taylor privately.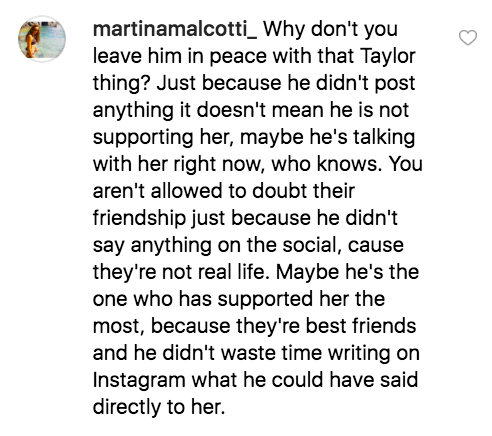 https://www.instagram.com/p/BzaDEeOhKES/
"I've been speaking directly to her, like I always do," Ed wrote.


https://www.instagram.com/p/BzaDEeOhKES/
And while some fans thanked Ed for showing his support…

Others were still frustrated that he hadn't chosen to publicly speak out to effect change on a larger scale.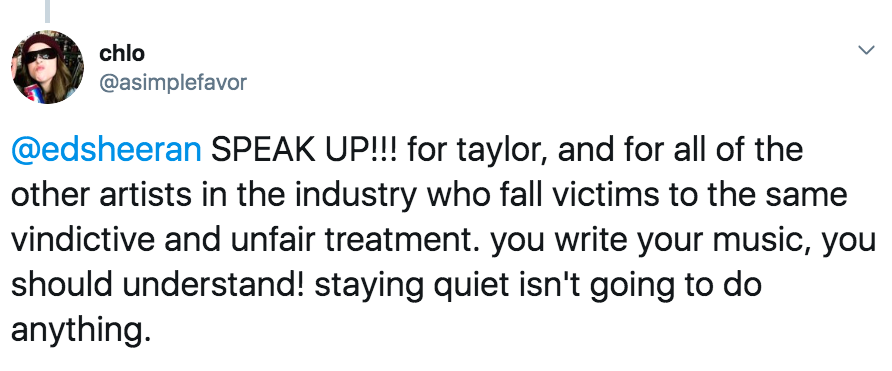 Ellie Woodward is acting celebrity editor for BuzzFeed and is based in London.
Contact Ellie Woodward at [email protected].
Got a confidential tip? Submit it here.
Source: Read Full Article