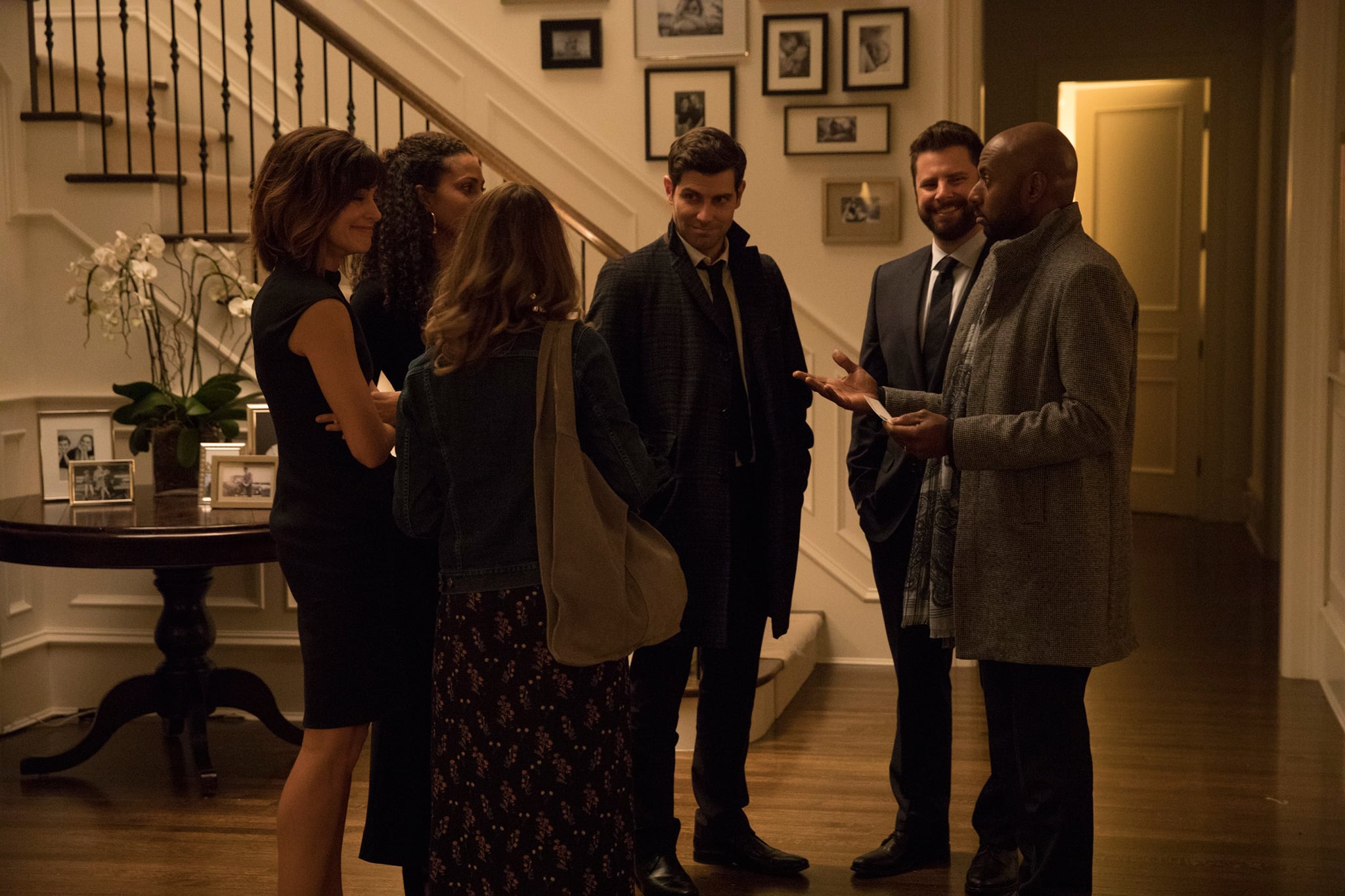 The endlessly heartbreaking A Million Little Things is returning to ABC this Fall, continuing the story of four friends who must question everything they thought they knew when one of them unexpectedly leaps from his office window. Season one saw affairs, deceit, depression, reveals, and a whole lot of drama. After that tease of a cliffhanger in the season finale (what are you trying to do to us, DJ Nash?), we're finally going to find out what happens next for the crew. Here's everything you can expect to see in the upcoming season of this drama.
Who Is Returning For Season 2 of A Million Little Things?
All of your favorite current cast members will be included in the second season, including David Giuntoli (Eddie), Romany Malco (Rome), Allison Miller (Maggie), Christina Moses (Regina), Grace Park (Katherine), James Roday (Gary), Stéphanie Szostak (Delilah), Tristan Byon (Theo), Lizzy Greene (Sophie), and Chance Hurstfield (Danny). Show creator DJ Nash also hinted to Hollywood Reporter that we'll be learning more about PJ's story in this upcoming season. "I'd love [the reveal of PJ being Barbara's son] to be a big part of the season," he said, which means that Chandler Riggs is sure to become a series regular.
Who Will Guest Star on Season 2 of A Million Little Things?
Though Ron Livingston (who plays Jon) was notably missing from the show's Instagram post from the first season two table read, it seems that Nash would like Livingston's character to appear in the next season — it's just not clear whether that's actually happening. Christina Ochoa (who plays Ashley) was also conspicuously missing from the show's recent Instagram post, but Ochoa teased in an interview with TVLine back in February that we probably haven't seen the last of Ashley. "I think it's a pretty safe bet to say that Ashley is not completely out of the picture," she said, though she didn't reveal any more than that.
When Does Season 2 of A Million Little Things Take Place?
The season one finale ends with Eddie coming clean to Katherine about his infidelity, though viewers don't get to know Katherine's reaction just yet. In the new season, Nash revealed that the show will open on that same scene, picking up right where we left off. While speaking with Deadline, Nash explained, " . . . the morning that we shot that scene for the finale, I went to the actors and I handed them the rest of the scene . . . I said, 'I haven't shown this to the network yet. But we're going to shot the whole scene because we're here.' So we shot the rest of the scene."
What Will the Story Be For Season 2 of A Million Little Things?
As well as revealing how Eddie and Katherine will move past his infidelity (if they will at all), Nash explained that Rome and Gina will have to contend with their difference of opinion as far as having children in this upcoming season, even if that means ultimately deciding to end their marriage. ". . . we're going to watch this couple deal with the fact that, right now anyway, they both want different things in this marriage," he said. "But that story has been laid out, and we have a plan for that that I think will move the fans in the same way that the Gary/Maggie story moved them in season one."
Speaking of Gary and Maggie, the couple will have to reconsider whether — now that Maggie is in remission — they still feel the same way without cancer playing a central component of their relationship. In an interview with Entertainment Weekly, Nash explained that, in this new season, the two of them will face the challenge of figuring out who they are independent of cancer. " . . . now cancer is gone and the whole way [Maggie and Gary have] known each other has been cancer," he explained.
The thread that carried viewers through season one was the mystery surrounding Jon's suicide. While speaking to Entertainment Weekly, Nash revealed that season two would introduce a whole new mystery and, apparently, that mystery was already hinted at in the first season. "We have already started to set up a story for season two," he said. "The viewers may not be aware that they are already exposed to that story, but it's already there and as we go into season two, there is a new thing to follow that will play us throughout." Will it have to do with PJ hunting down his father? Only time will tell!
When Will Season 2 of A Million Little Things Premiere?
Season two of A Million Little Things is officially part of ABC's 2019 Fall TV lineup, which means that, come this September, we'll be back to having a weekly sob sesh every Thursday night (because of course it follows right after Grey's Anatomy). The show premieres Thursday, Sept. 26 at 9 p.m.
Source: Read Full Article