We all have a tiny whisper inside of us that tells us what we're enthusiastic about well before we fully realize it. For Michael Mack, that interest is sneakers. His love for footwear was sparked at an early age when his older brother introduced him to sneakers and fashion while they grew up in Goose Creek, South Carolina. As Mack grew up, he became obsessed with how footwear transcended culture and lifestyles. This ardor eventually evolved into a vocation that guided his career path. He's put his design skills into practice for brands like Roberto Cavalli, Under Amour, Pyer Moss and Dr. Martens all while developing a thorough understanding of the footwear industry's minutiae. Now, Mack serves as a professor at the acclaimed Savannah College of Art and Design — where he hopes to inspire the next generation of footwear and accessory creatives.
Mack has seen, engineered and fell in love with many different silhouettes in his day, but one that he continues to run back to is the Air Jordan 13. Since first laying eyes on a pair, he's always viewed the model as a dynamic piece of art. Its pillowy upper and black cat-inspired holograms are his favorite elements, and he praises the model for the swagger it possesses on the hardwood and in the streets. For this installment of Sole Mates, following shortly after Mack launched AMLGM, a collection of custom footwear, Hypebeast spoke to the experienced designer about his compelling career journey, his favorite Air Jordan 13 details, his favorite designer and more. Consider this the return of the Mack.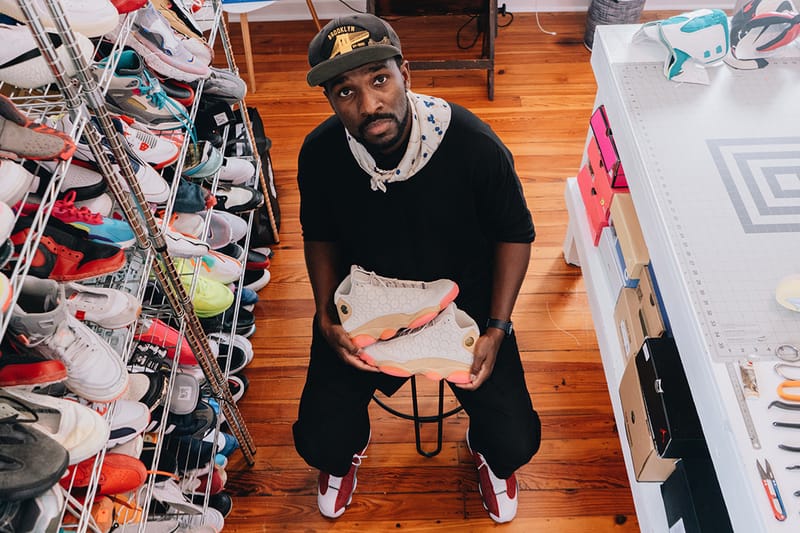 Nicholas Llanton/Hypebeast
Who or what got you into sneakers?
My brother. Since he was older than me, he had a job and money to buy nice sneakers and made me want to get some for myself. He was always skating in Jordans. I loved that he never really followed mainstream trends and would pair a vintage Blackhawks jersey with wide leg pants and Air Jordan 4s. His style was eclectic.
What silhouettes were you really into growing up?
I really loved Penny Hardaway's line. I was a huge fan of his game and his kicks. I thought all of them were well designed and had great details. I loved the Nike Air Ups that he was rocking in the Lil Penny commercial. The "Orlando" colorway of that shoe that alternated with white and black uppers is still one of my favorite pairs. I also loved when he came out with the Foamposites later on.
What was sneaker culture like for you growing up in South Carolina?
It wasn't a big thing. People didn't have access to rare shoes back then. Similar to a lot of places in America, it was mainly about Nike Air Force 1s and Jordans It wasn't until I got introduced to other shoes like Nike SB Dunks by my college roommate — as well as other styles that I would adopt from the international students that attended SCAD — that I started to understand the greater scope of "sneaker culture."
Is that when you started to get serious about collecting?
Yup. Since I had a job back then I was able to buy more things and I probably racked up around 40 pairs in college. I remember shopping at the local mall stores like Foot Locker and Athlete's Foot, sometimes standing outside the store before opening waiting to cop Dunks when first come first serve was a thing. When I eventually moved to New York, that number grew to around 115 pairs.
You loved Pennys, but pegged the Air Jordan 13 as your Sole Mates selection. Do you remember the first time you saw this model and what your reaction was?
Yes. I remember a middle school friend's older brother had a pair of Air Jordan 13s in the "Flint" colorway and I was always jealous of him. He'd always rock them and hoop in them and I would sort of be mad because he was running them into the ground.1 of 6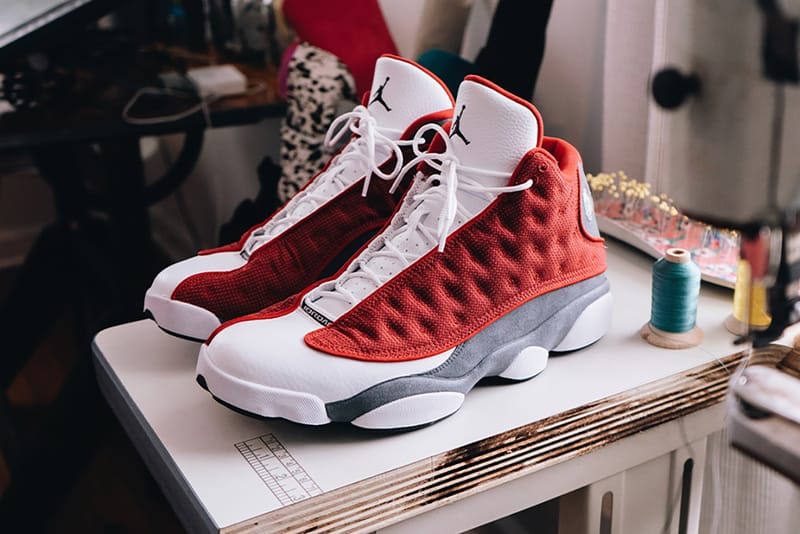 Nicholas Llanton/Hypebeast2 of 6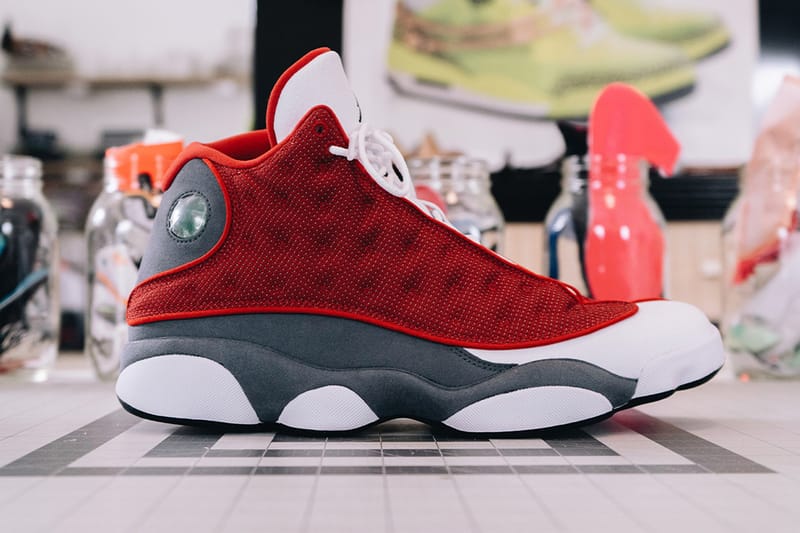 Nicholas Llanton/Hypebeast3 of 6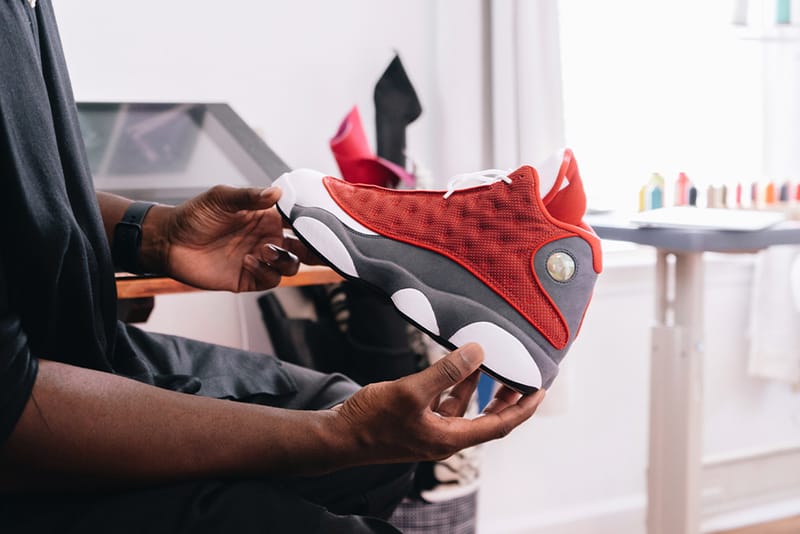 Nicholas Llanton/Hypebeast4 of 6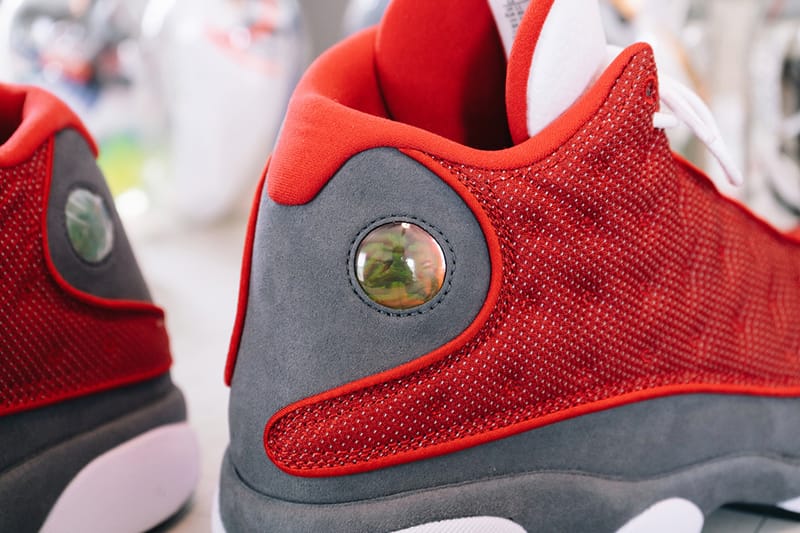 Nicholas Llanton/Hypebeast5 of 6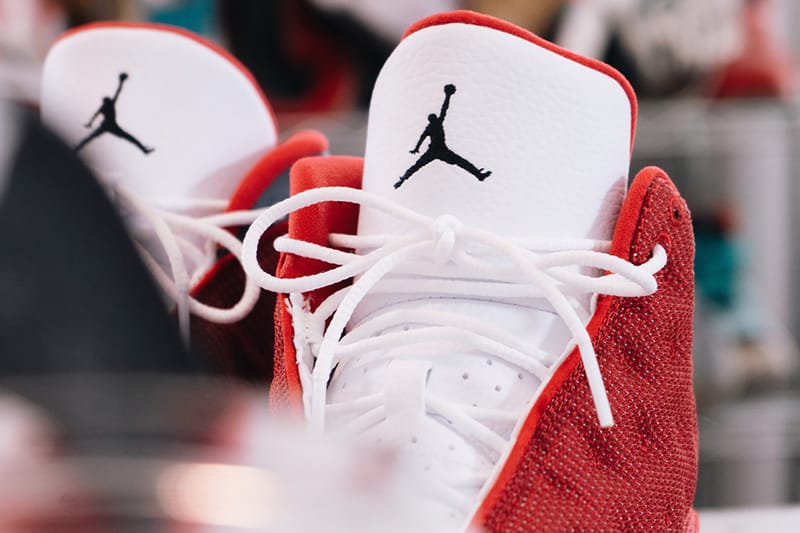 Nicholas Llanton/Hypebeast6 of 6
Nicholas Llanton/Hypebeast
What about the Air Jordan 13 resonates with you from a design perspective?
That little hologram has always been an iconic element for me, it's such a nice detail that pulls you in. Everyone recognizes the collar hologram, but I also love that the outsoles have a hologram too. The 3M weave is a nice touch, along with the cushioned, pillow-effect panels. They always reminded me of a really comfortable couch, and they also felt really comfortable to ball in.
You brought the "Red Flint" and "Chinese New Year" colorways here with you. What about these makeups catches your eye?
I was struck by this "Red Flint" iteration because it was different. I was so used to seeing Jordans in the standard black and red color scheme but the gray and white accents were super clean. They almost reminded me of how Jordan moved on the court. It almost looked like he was just gliding throughout the game.
On the other hand, I love how the "Chinese New Year" pair is such an offbeat colorway. Air Jordan 13s normally don't come suited up in full suede, so this was a nice design change, and I love how the beige, cream and strong pop of pinks are grouped together. I also feel that these align with my fashion background because these materials are often found on items like loafers and handbags [Besides shoes, Mack has experience teaching accessory design]. I also used to live and work in China so I have fond memories of the culture and Chinese New Year celebrations there. All of those experiences converge on this one shoe.1 of 2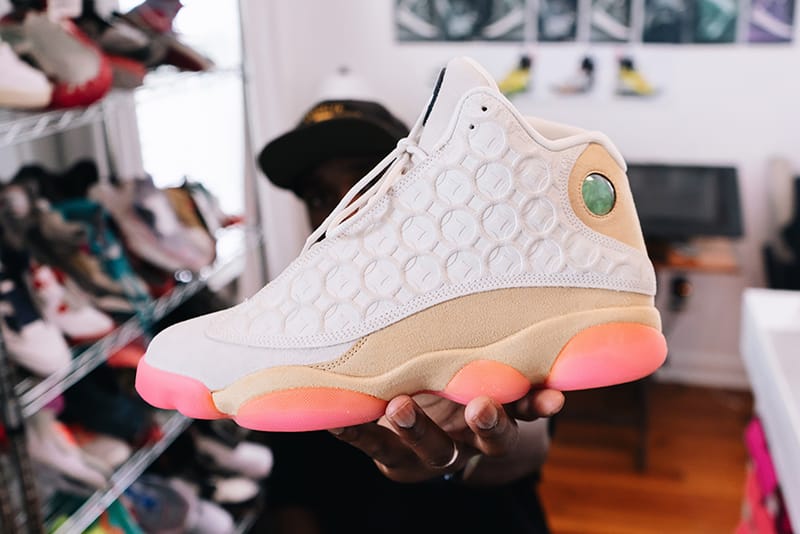 Nicholas Llanton/Hypebeast2 of 2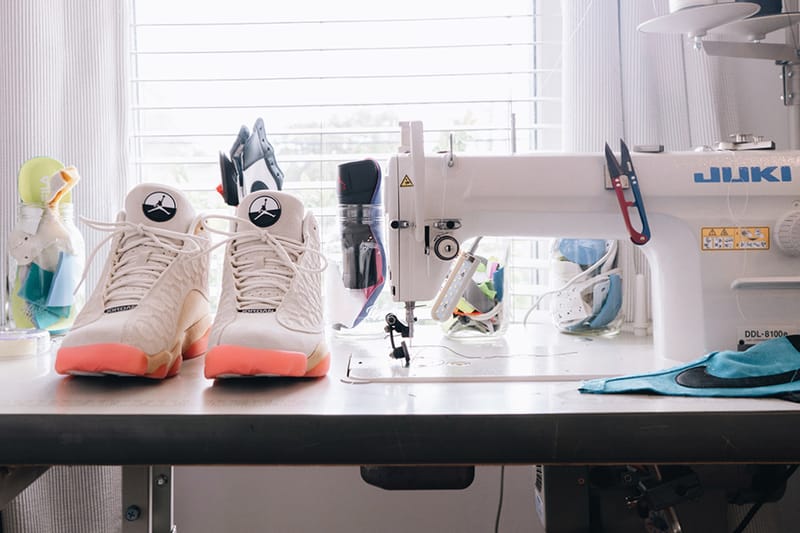 Nicholas Llanton/Hypebeast
Are there any other colorways of the Air Jordan 13 that you'd like to see make a comeback?
The classic "Bred" colorway will always be my favorite Air Jordan 13 so I definitely need to get my hands on those. And not only do I want to own them — oddly enough I want to play ball in them because my best friend had a pair when we were playing rec league back in the day and I want to have that experience for myself. If I get those and the all-black pair, I'll be good.
Did you always know that you wanted to be a sneaker designer?
In college I switched majors from architecture to industrial design. And after that I started to enjoy the process of sketching, designing and making things. Then I remember looking in my closet at the shoe boxes I had stacked up there one day, and it just clicked for me at that point.
I also remember seeing this video of a professor that was teaching at Parsons who was dissecting and comparing a Jordan shoe with one of Stephon Marbury's Starbury shoes on ESPN's 20/20 which really intrigued me. I got in touch with him and flew up to New York for a week just to sit in the back of his class and soak up any bit of knowledge I could get. That confirmed my decision to pursue this career.
Who is your favorite designer?
Yohji Yamamoto. If you look at the way he builds his collections, most of the stuff is black. He focuses on form and silhouette. If you can make something look good with no color, then you've done something. You can't rely on material and color to carry everything and I've always tried to take that into my work. I've always admired that he looks at the overall silhouette and pays attention to composition and how things are placed. And he just keeps evolving and getting better as he gets older. What he's done from a fashion perspective and brought that into the upper echelon of sneaker culture has been timeless.
What personal qualities have given you lasting power in this industry?
I'm super easygoing, and have learned that as long as you're kind and respectful to people, it will take you far. God's blessed me with the talent to create, but remaining humble, continuing to consistently execute and having fun are all part of it as well.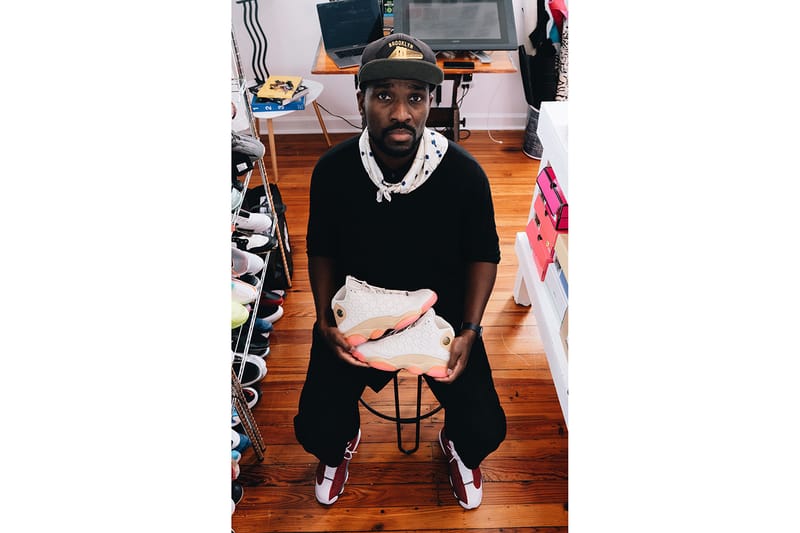 Nicholas Llanton/Hypebeast
Why are sneakers and their stories important to you?
Sneakers have evolved so much. They've gone from being used solely for functionality to products that impact culture. The storytelling behind sneakers now serves as a vehicle of how people express themselves. The pairing and timeliness of Michael Jordan and Tinker Hatfield, and all that the duo has done for sneaker culture is a prime example of that. The shoe speaks for the person now.
Source: Read Full Article