Stan Smith is a household name. But who is the man behind the shoe, and how did the adidas Originals tennis sneaker become a silhouette that's — arguably — better known than the legend himself? Well, in the latest installment of Sole Mates, all is answered. 
For those unfamiliar with Smith, he's an American former world No. 1 tennis player and two-time Grand Slam singles champion, the latter being the 1971 US Open and 1972 Wimbledon game. His career made him a valuable asset to the likes of adidas, who wanted to have a stronger presence in the U.S. — not bad for someone who, as a child, was declined a job as the Davis Cup ball boy because he was too clumsy.
In the mid-70s, Smith started his relationship with adidas — one which to this day is arguably the most prolific, common-place collaboration there has ever been. In Barbara Smit's study Three Stripes Against Puma, it was said that over 40,000,000 pairs of Stan Smiths have been sold since the '70s.
Read on to find out more about Stan Smith, his legacy, his connection with the shoe that bears his name, and much more.
Photo by Juergen Teller, Sourced @stansmithonline
HYPEBEAST: The Stan Smith was originally under Robert Haillet's name before your name was applied in 1978. How did this come around, and why was this something you wanted to be involved with?
Stan Smith: It was the first leather shoe made for tennis so it was quite unique. I was wearing it for about a year or so and there was a group of players who were wearing adidas. So, in '72 or '73, adidas wanted to get a stronger presence in the U.S. market — at that time I was the number one player in the world and American — so it was an opportunity to work together and within a year my name and photograph was on the shoe along with Robert Haillet whose name was on the shoe since 1965. For four or five years it had both my picture and his name and my name and different iterations of that combination, but they finally took his name off the shoe, and now it's just my name on the shoe. 
Once your name was on the shoe, what did that mean back then? Not to make a cross-brand comparison, but Michael Jordan wasn't even dealing with Jordan Brand at that time. 
It was a real honor to be involved with adidas because it was the number one brand in the world, and a lot of people wanted to be associated with it. It's amazing that this shoe hasn't changed dramatically over the 50 years that I've been involved. 
I knew Robert Haillet and I got to meet him and his son Jean-Louis Haillet, and we went through this adventure together. When the shoe started selling well and Robert wasn't involved, it was sad from his point of view [laughs].1 of 6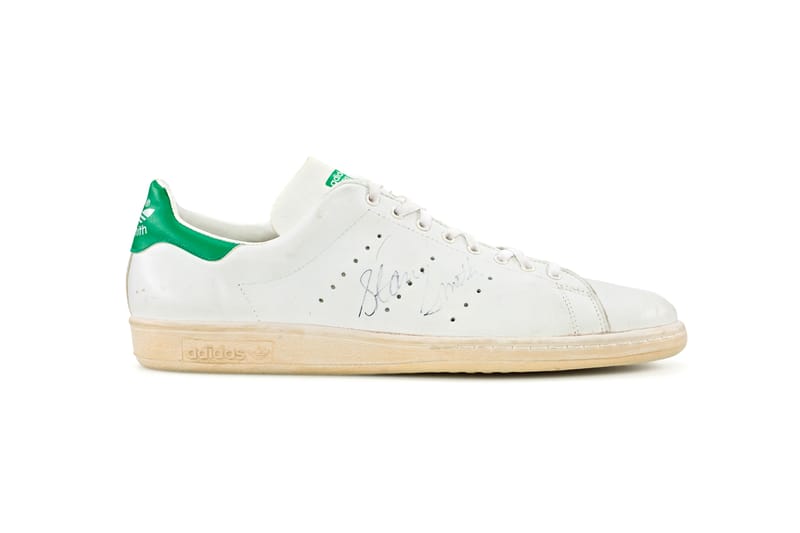 Archive Images Courtesy Of Adidas Originals2 of 6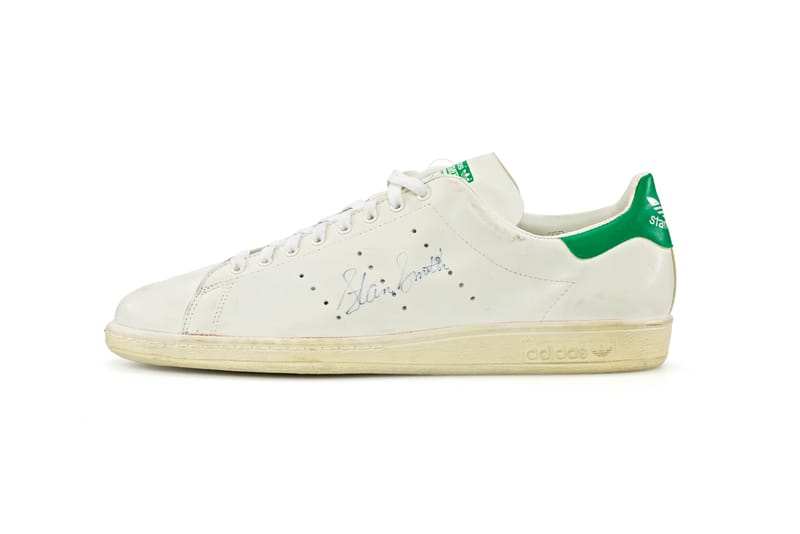 Archive Images Courtesy Of Adidas Originals3 of 6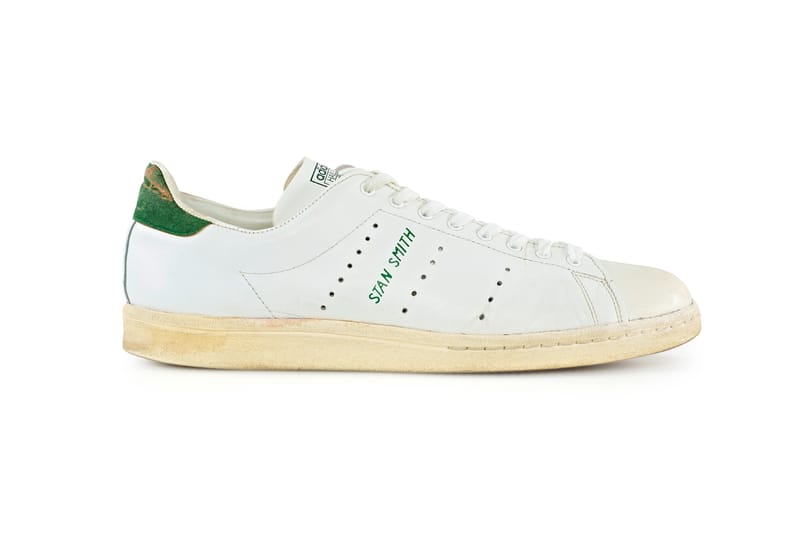 Archive Images Courtesy Of Adidas Originals4 of 6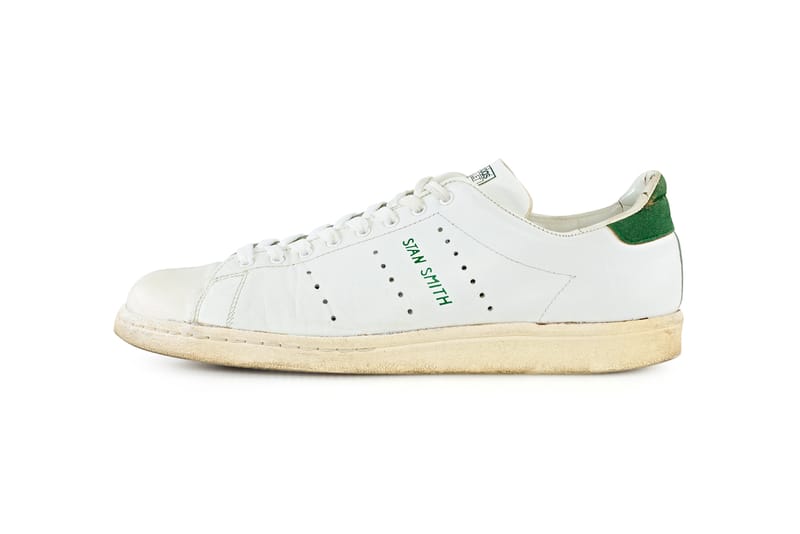 Archive Images Courtesy Of Adidas Originals5 of 6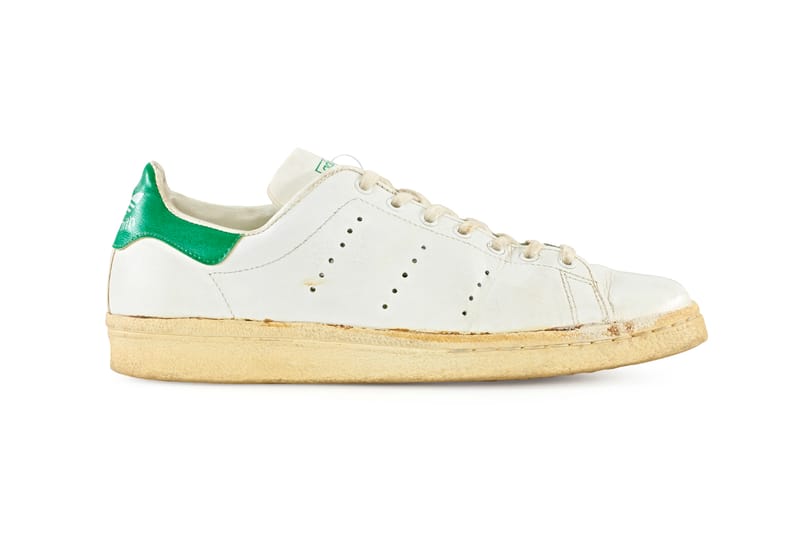 Archive Images Courtesy Of Adidas Originals6 of 6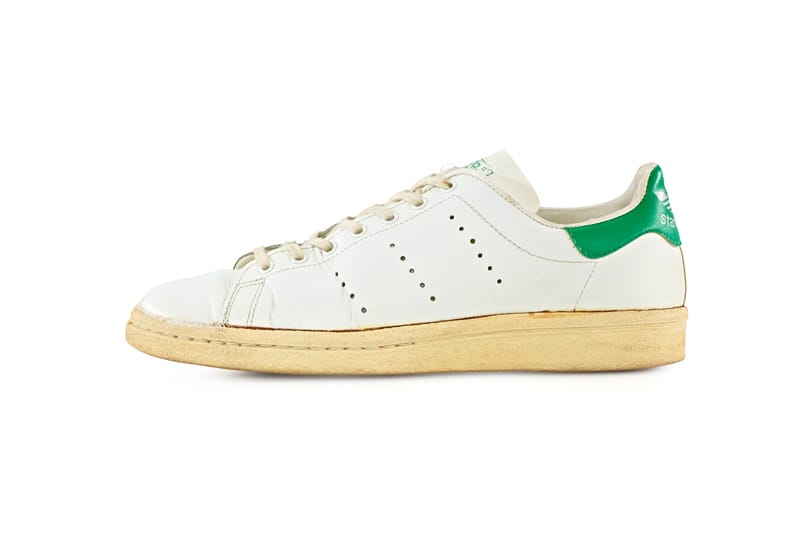 Archive Images Courtesy Of Adidas Originals
On a more personal note, what were sneakers like when you were performing on a professional level? 
The Stan Smith was purely a tennis shoe, and sure other players had other shoes with their name on it. Rod Laver, Năstase, Edberg, Lendl, and then other companies had players with their names on a shoe too. It was still pretty unique at the time but again, very special, to play a match and look down at a picture of yourself on your shoe — I was surprised.
I didn't feel that it was right for another player to beat me wearing my shoe. I thought it should have been an unwritten rule. I remember one player had a contract with another company and he actually wore my shoe but he put the logo of the other brand on it and crossed out my name! After the match, I said, "I guess you don't like me?" and he said, "No, I love the shoe, I just couldn't have your name on it!" That was an interesting after-match conversation. 
How important is your relationship with footwear?
I considered the Stan Smith my work shoe for 10 or 15 years, and I would wear it off the court too. Then it [went] from a sports shoe to a fashion shoe, it was probably 20 years after in '95 or so when it became no longer just a tennis shoe. Of course, adidas started making shoes with a few more bells and whistles on it, but off the court I still found people wearing it. 
Boys, girls, men, and women, and even little kids, all started wearing the shoes. It became interesting to walk the streets, and there were times like when I was in Paris, the trend was to wear a white tennis shoe with laces to the toe — which is what my shoe was. I always say my shoe was born in France because it was created by Robert Haillet and also Horst Dassler, who was Adi Dassler's son, and at that time he was located in Landersheim on the German-French border, overseeing the French-side of adidas. It was, has, and continues to be very popular in France. 1 of 3
Season Chan2 of 3
Season Chan3 of 3
Season Chan
Do you ever look back and reflect on the shoe's legacy and importance?
People have been wearing tennis shoes more and more, and even now in some business settings you can see people wearing tennis shoes. In general, around the world, life has become a bit more casual (and not just because of the pandemic) but even before that. It's normal for people to wear tennis shoes, so you can imagine the amount of interest [there is]. 
Then there are people following the shoes when they come out, buying them for their shoe businesses of buying and selling shoes, so it's become a huge thing around the world. I've traveled all over the world and noticed not only my shoe but also other athletic shoes that are also becoming popular.
Your shoe has been picked up by many adidas collaborators. How do you feel about people reworking your shoe?
I've always thought of [the Stan Smith] like a canvas. The artist will draw on it and create, and that's certainly what has happened with my shoe. You can do almost anything with it. The designers at adidas have done many different iterations — not only colors but also materials — but the silhouette stays the same and you can always recognize it from a long way away. I must say, other companies have tried to imitate it but a couple have been sued by adidas for it being too close to the likes of my shoe, but it's been fun to see these collaborations — fashion, design, hip-hop. They picked it up as their shoe. 
"People will be walking down the street and I'll stop on the corner, they'll have the shoes on, and I'll say "Do you like those shoes? Do you know who Stan Smith is?" They'll say, "Nah, no idea!""
On a more personal note, how does it feel to see the shoe change over the course of its lifetime?
It's the next — and important — stage of what we can do to help. Young people are really gravitating towards [being more environmentally conscious], they're saying "let's do something!" It's a real honor to be involved with a company like adidas that's going to do their part and be something in this area, as they have so many times over the years. They've been innovators and leaders in many ways, but this may be the most important thing. 
Will the Stan Smith last another 50 years?
If you'd ask me 50 years ago, I would have said "Well, I might be involved with the shoe for five or ten years and it'll move on and so will I." But having seen what's transpired, the idea of having an initiative like this is so important, I wouldn't be surprised if in 50 years we'll see this shoe around in some form or fashion. Whatever happens, it's important that everyone gets on the bandwagon of sustainability. 
It wouldn't be an interview with Stan Smith without asking: what's it like being a man who's also a shoe?
It's funny you ask, because I said to adidas that we need to keep the legacy of this shoe alive and to really talk about the history of the shoe, but I also wanted to talk a little bit about my career. So, I did my book, Stan Smith: Some People Think I'm a Shoe! It tells the answer to that question; I don't have a problem with it myself. I learned a long time ago that unless people are a student of the history of the game, they wouldn't necessarily know who I am, or Rod Laver or in 20 years who Roger Federer is. They'll figure this out down the road. 
People will be walking down the street and I'll stop on the corner, they'll have the shoes on, and I'll say "Do you like those shoes? Do you know who Stan Smith is?" They'll say, "Nah, no idea!" [laughs]. Sometimes they'll say that he was a tennis player, I'll say "Do you know what he looks like? Kinda looks like that picture on that shoe, huh?." Well, maybe not now! They meet me and they're surprised. 
There was this girl I met at a show in New York. This little girl, about ten years old, had the shoes on. My wife went up to her and said, "Do you know who Stan Smith is?" she said "No." Well, "He's over there!" So she came over to me, she looked at me, looked at the shoe, the picture, looked at me, she said, "No, that's not him!" Then she Googled me on her phone and saw another picture, and she came over all excited, "Yeah! That is you!"
Source: Read Full Article