Ariana Grande and Pete Davidson broke up more than a year ago, but in case you want to know how the heck we got here, this timeline should help you out!
March 2016
Ariana appears on SNL and hops on stage with Pete. Based on their body language alone, we should have known something flirty was up. "Normally, putting your hands in your pockets is a sign you're hiding something or holding back," body-language expert Blanca Cobb told Cosmopolitan.com, adding that Ariana let Pete know she was interested in him by holding eye contact and pressing her lips together in a wide smile. Wow, basically me when I look at pizza!
May 10, 2018
News breaks that Ariana has ended things with her boyfriend Mac Miller after two years of dating. (Please note that two years have also passed since Ariana and Pete made ~eyes~ on the SNL stage.) Initially, Ariana sends out a sweet message of support on Instagram, calling Mac "one of my best friends in the whole world and favorite people on the planet" and saying, "I respect and adore him endlessly and am grateful to have him in my life in any form, at all times, regardless of how our relationship changes or what the universe holds for each of us!" But then she unfollows him, so….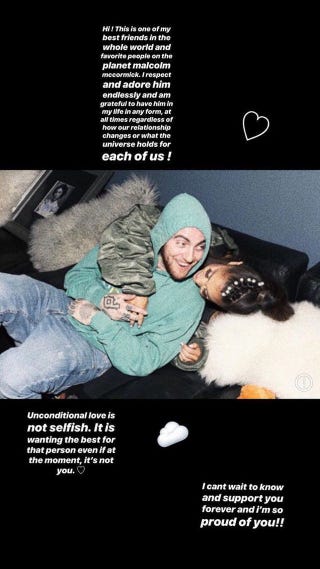 May 12, 2018
Ariana is allegedly spotted "hanging out with Pete and his mom at the SNL after-party at Zuma." Not much more is known about this particular hang sesh, but Ariana is already meeting the other woman in Pete's life (aka his mom) so things must be getting serious!
May 16, 2018
Pete confirms his breakup with Larry David's daughter Cazzie David, saying, "We're not together anymore" and she's a "very talented girl, she'll be great and she'll be fine. Yeah, I think she'll be okay."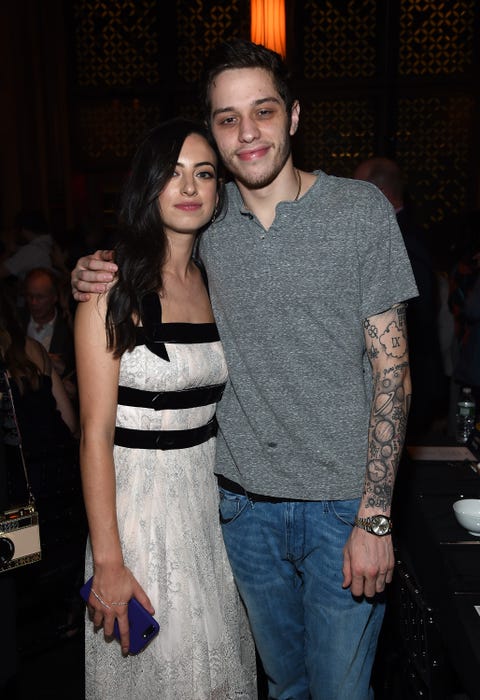 May 20, 2018
People reports that Pete was chilling by Ariana's side after the Billboard Music Awards, with a source musing, "After Ariana's performance, they were backstage and he had his arm around her. They seemed very lovey-dovey. He was hanging out with her and her friends with his arm around her. She seemed quite smitten."
May 22, 2018
News officially breaks that Ariana is dating Pete! Us Weekly reports that "Ariana and Pete are dating and it's casual" and that the relationship "just started."
May 23, 2018
Ariana claps back at a fan who suggests she should have stayed with Mac Miller instead of moving on with Pete. "How absurd that you minimize female self-respect and self-worth by saying someone should stay in a toxic relationship because he wrote an album about them, which btw isn't the case (just Cinderella is ab me)," she wrote. "I am not a babysitter or a mother and no woman should feel that they need to be. I have cared for him and tried to support his sobriety & prayed for his balance for years (and always will of course) but shaming/blaming women for a man's inability to keep his shit together is a very major problem."
pic.twitter.com/1GPM6smsBu
May 23, 2018
The internet realizes that Ariana and Pete definitely maybe have matching cloud tattoos. Everyone is appropriately shook by this very serious step in a relatively new relationship.
May 25, 2018
Pete Davidson shuts down internet trolls who say Ariana shouldn't date him because of his mental health. "Normally I wouldn't comment on something like this cause like f*ck you," Pete wrote on Insta Stories. "But I've been hearing a lot of 'people with BPD can't be in relationships' talk. I just wanna let you know that's not true. Just because someone has a mental illness does not mean they can't be happy and in a relationship. It also doesn't mean that person makes a relationship toxic."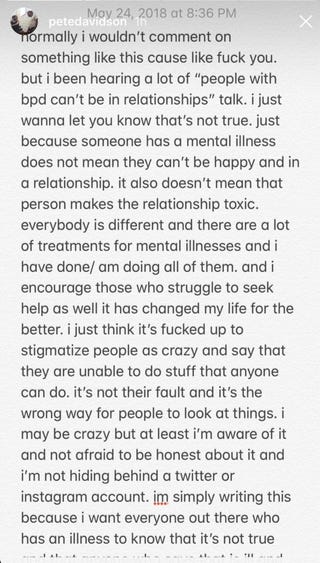 May 25–26, 2018
Ariana and Pete amp up their Insta flirting, and the Insta account @CommentsByCelebs comes through with the receipts:
https://www.instagram.com/p/BjNziHAFjhn/
https://www.instagram.com/p/BjL1c9Pl8BZ/
May 30, 2018
Pete and Ariana are Instagram official thanks to this nerdy-but-wonderful Harry Potter–themed couples photo.
FWIW, Ariana commented this:

June 11, 2018
Engagement alert! While the world was just getting used to the item known as Ari and Pete, the couple was busy committing for life! Cue the internet meltdown. Pete stops by The Tonight Show to confirm that his engagement is "f*cking lit."
June 15, 2018
Ariana's engagement ring is ginormous, and Pete wants the world to know it, so he decides to finally share the wealth (proverbially only, of course) on Insta with this black-and-white pic:
June 17, 2018
Ariana and Pete move in together! It's! All! Happening! Also, Ariana breaks the news via a Spongebob meme.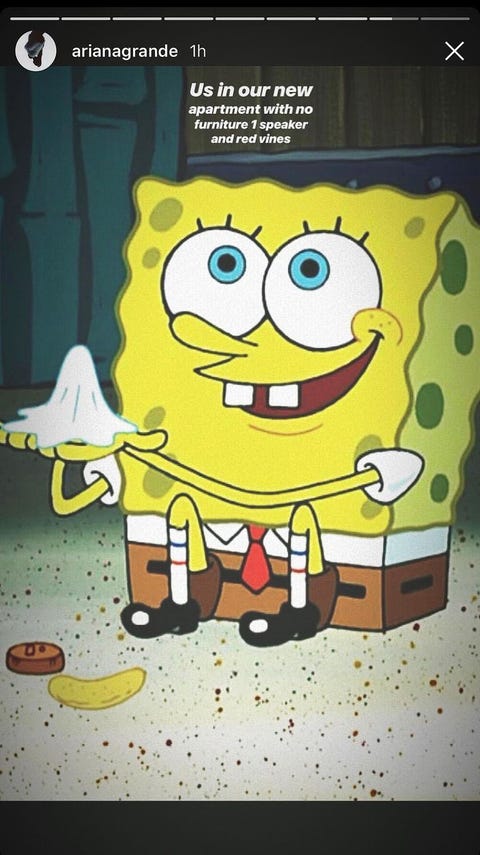 June 18, 2018
Ariana and Pete get matching tattoos of "H2GKMO," which stands for "honest to god, knock me out." DON'T PRETEND TO UNDERSTAND THEIR LOVE!
June 22, 2018
Ariana tweets the size of Pete's penis. The phrase "big dick energy" is birthed. Yeah.
SHE FUCKIN DIDN'T pic.twitter.com/AH84VeQQzi
June 24, 2018
Ariana calls Pete the "most handsome ever." The internet's collective eyes roll and also turn into hearts. It's complicated.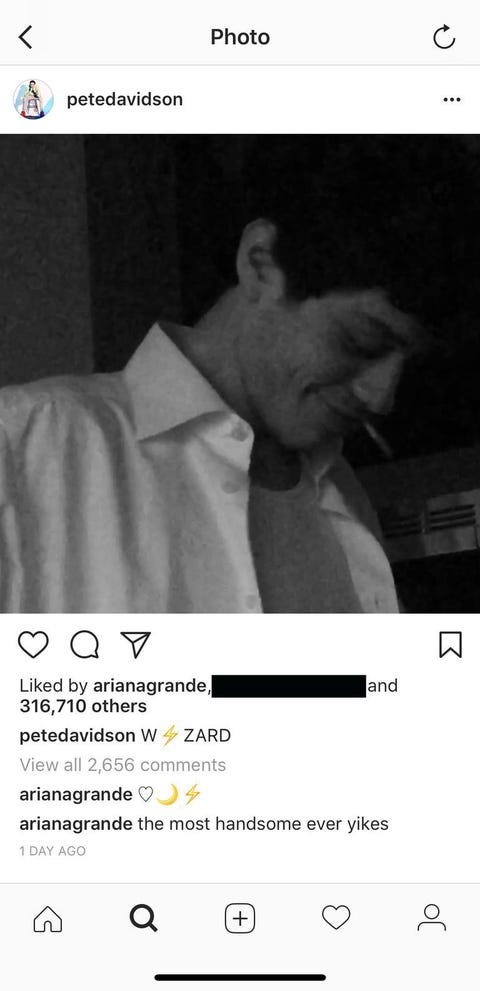 June 25, 2018
Ariana reveals a new foot tattoo honoring Pete's firefighter father, Scott Davidson, who died on 9/11. The tattoo is of the numbers "8418," aka the badge number worn by Scott.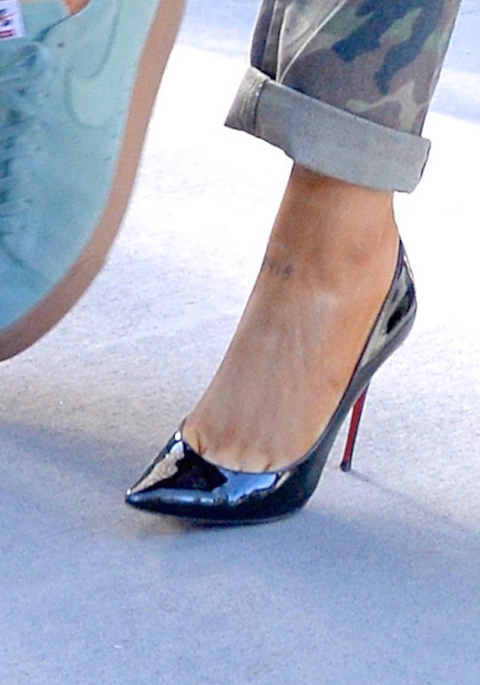 June 26, 2018
Ariana and Pete celebrate her birthday by doing karaoke. All you need to know is that they sang Evanescence together. Bless up.
Also, can we please talk about Pete's b-day message to her?! DYING.
June 26, 2018
Ariana comes for fans accusing Pete of flipping them off. Take note: She is not here for anyone disrespecting the man she is about to spend the rest of her life with!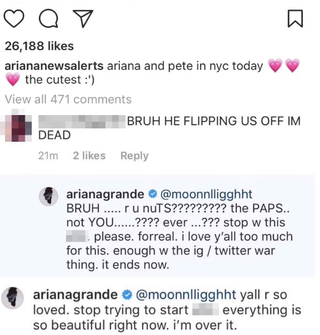 October 14, 2018
Ariana and Pete reportedly split. According to TMZ, the two were just not ready to move forward with their relationship.
In the wake of her ex-boyfriend Mac Miller's passing, Ariana had been tweeting some very emotional messages, including one that said, "can i pls have one okay day. just one. pls."
Ariana and Pete allegedly are not ruling out any possibilities for the future, as they still love each other very much.
November 4, 2018
Ariana releases her hit song "Thank u, next," which immediately skyrockets on the charts…and name-drops Pete.
Love to hear it.
December 1, 2018
In the "Thank u, next" music video, Ari apologizes to Pete for "dipping" on his Burn Book page.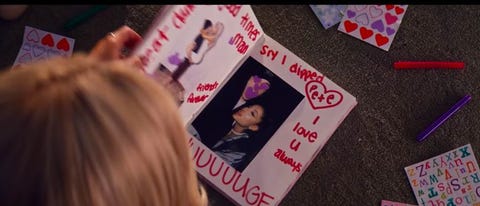 January 2, 2019
Pete calls Ariana a "diabolical genius" while joking about "Thank u, next," so clearly there's no love lost between these exes!
He joked that most artists *don't* put their exes on blast in songs and then said, "Not this wonderful lady. This diabolical genius named all of us."
March 18, 2019
Ari amends her Pete "always" tattoo, which is probably a good idea since they broke up five months ago.
Here's the before:
https://www.instagram.com/p/Bk6mEeNHA2n/
And the after:
https://www.instagram.com/p/BvHVSf0l_MK/
Pete also had an "always" tattoo…which he covered up with the word "CURSED" on his neck. So…yikes.
November 21, 2019
Even though he and Ariana been broken up for ages and Pete has dated, like, three other people since then, Pete has one last thing to say to Ari.
"I don't ever make public statements about relationships 'cause I just don't think it's right, you know?" he told Paper magazine. "I usually express how I feel about anything through work. So, I hope she's well. I hope she's very happy. And that's pretty much it. And print doesn't usually age well."
November 12, 2020
It feels like 200 years since Ariana and Pete were a thing, but there's more intel that just came out about how their relationship started, thanks to Pete's ex Cazzie David.
Pete and Cazzie were dating right before Pete and Ariana, and the timeline was a lil murky…until now. Cazzie says Pete dumped her (via text!) literal days before he and Ari started dating, which is all very 😓.
Source: Read Full Article