In addition to Kim Kardashian's surprise casting and Emma Roberts' return, we know what the season will be about — and how it's a big departure from previous seasons.
"American Horror Story" isn't returning for Season 12 until later this year — but we already know quite a bit about what to expect when it does eventually start dropping.
On Monday, April 10, it was announced both Emma Roberts and Kim Kardashian will appear in the new season, titled "Delicate." According to The Hollywood Reporter, Kardashian's role was written with her specifically in mind, with Ryan Murphy also telling Variety she's one of the leads.
The two actresses revealed their casting with a text video shared to both their Instagram pages. The clip simply shows the words, "Emma Roberts and Kim Kardashian Are Delicate" as the lullaby "Rock-a-Bye Baby" plays — before it ends with the "American Horror Story" theme and the phrase "AHS12."
Waiting for your permission to load the Instagram Media.
Instagram Media Unavailable
"Kim is among the biggest and brightest television stars in the world and we are thrilled to welcome her to the AHS family," Murphy added in a statement. "Emma and I are excited about collaborating with this true force in the culture. Halley Feiffer has written a fun, stylish and ultimately terrifying role especially for Kim, and this season is ambitious and unlike anything we have ever done."
Roberts, of course, is no stranger to the AHS universe, appearing in "Coven," "Freak Show," "Cult," "Apocalypse," "1984" before "Delicate." Outside of Kardashian's reality show, Kim's only real acting roles include starring in "Disaster Movie" and providing the voice for Delores in the "PAW Patrol" movies.
Also reportedly joining the two on the season is "The Resident" alum Matt Czuchry, though that bit of casting has yet to be confirmed officially.
As AHS loves to recycle cast members, fans can likely expect more familiar names to be announced as we inch closer to the new season's summer debut. We'll update this post as more cast members are announced.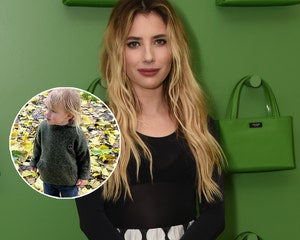 Emma Roberts Calls Out Her Mother For Posting Her Son's Face Without Permission
Fans also have some insight into what the new season will be about, as — for the first time ever — the show is, "in part," adapting Danielle Valentine's upcoming book "Delicate Condition."
Below is the full synopsis of the book, from the Amazon listing:
Anna Alcott is desperate to have a family. But as she tries to balance her increasingly public life as an indie actress with a grueling IVF journey, she starts to suspect that someone is going to great lengths to make sure that never happens. Crucial medicines are lost. Appointments get swapped without her knowledge. Cryptic warnings have her jumping at shadows. And despite everything she's gone through to make this pregnancy a reality, not even her husband is willing to believe that someone is playing twisted games with her.
Then her doctor tells her she's had a miscarriage―except Anna's convinced she's still pregnant despite everything the grave-faced men around her claim. She can feel the baby moving inside her, can see the strain it's taking on her weakening body. Vague warnings become direct threats as someone stalks her through the bleak ghost town of the snowy Hamptons. As her symptoms and sense of danger grow ever more horrifying, Anna can't help but wonder what exactly she's carrying inside of her…and why no one will listen when she says something is horribly, painfully wrong.
In another first, the season will also be written and run by one writer, Halley Feiffer, who was a supervising producer on Murphy's "American Crime Story."
We'll see how Kim and Emma fit into the picture when the show premieres on FX later this summer.
Source: Read Full Article