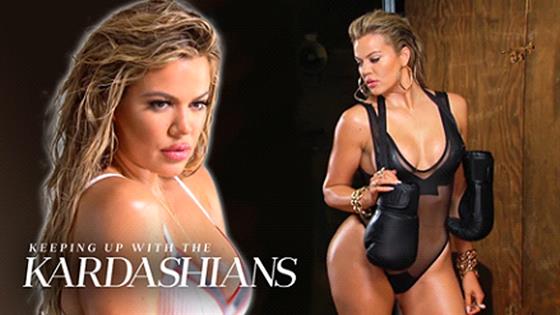 If "thriving" were a proper noun, it'd be Khloe Kardashian's middle name.
The Revenge Body and veteran KUWTK star (who turns 35 today, June 27) has been living her best life for some time now. Lucky for us, she's done quite a bit of her best-life-living in front of the camera, and we've seen the magic unfold on TV. So, to celebrate Khloe on her special day, we're reviving some highlights from KUWTK seasons past that remind us exactly why we love her so much—and why we love watching her flourish. You go, KoKo!
"You seriously look so amazing," notes Kim Kardashian in this throwback mashup video that feels a lot like a "Khloe's Greatest Hits" compilation too. Obviously, Kim's sister serves jaw-dropping looks on the regular, so which instance is she ogling at here?
Back in 2015, KUWTK's season 11 premiere saw Khloe shooting a Complex magazine cover. It was her first "sexy" photo shoot, according to Kim, though anyone who remembers watching that scene knows it's literally impossible to tell.
"Like, in my life I've never seen such a hotter bod," Kanye West's wife continues, giving Khlo's athlete-chic look a once-over or two before complimenting it piece by piece.
"Your hair looks to die. Your makeup looks to die. Clothes are to die. This is like your best shoot ever," Kim finishes. And that doesn't even account for the smize, hip pop, pout-y lip and general charisma True Thompson's mom brings to set. Pre-motherhood, though!
Watch it all come to life in the video above! And relive many more epic Khloe moments where this one came from.
Watch the season 3 premiere of Revenge Body With Khloe Kardashian Sunday, July 7 at 9 p.m., only on E!
Watch part two of the Keeping Up With the Kardashians two-part season finale Sunday at 9 p.m., only on E!
Celebrate Khloe Kardashian's 35th birthday on Thursday, June 27 with an all-day marathon of Keeping Up With the Kardashians, Kourtney & Khloe Take Miami and Kourtney & Kim Take Miami followed by special birthday pop-up episodes of KUWTK starting at 8 p.m., only on E!
Source: Read Full Article