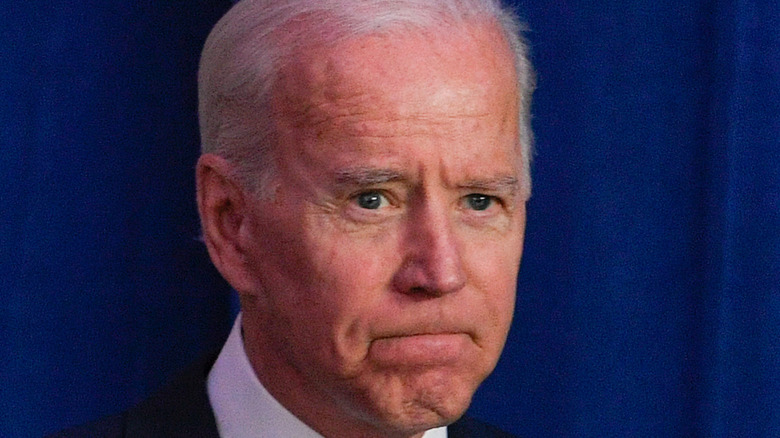 White House press secretary Jen Psaki may have only been in the job for a short time, but already she's seen her share of queries, which we can only imagine would make her raise an eyebrow if she wasn't in the public eye — including one question about keeping the color scheme for Air Force One back in February, when we were knee deep in a pandemic (via Forbes). 
More recently, Psaki was asked to comment on a story for The Washington Post, which reported that President Joe Biden begins his days with a workout that includes sessions with a trainer and weight lifting. The question — what kind of weights does Biden lift and does he have his Peloton bike in the White House? 
With her usual unflappable manner, Psaki responded, "I have nothing to read out on the President's private exercise regime. I can tell you after having traveled with him a fair amount, sometimes he's hard to keep up with," via Twitter. While there were small chuckles in the room, the question-and-answer made its way to social media, and people on both sides of the political aisle quickly weighed in. 
Jen Psaki said that it has been difficult to 'keep up' with Joe Biden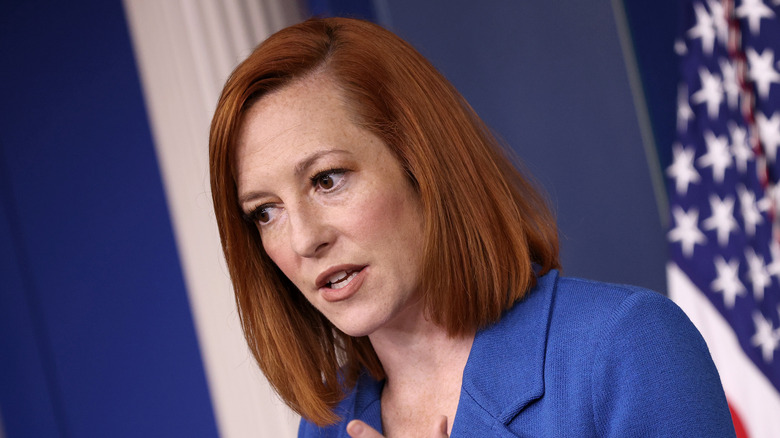 Jen Psaki has proven time and time again that she can answer a question with diligence, and the query posed about President Joe Biden's workout routine was no exception. But of course, users on social media weighed in, and how they responded to this repartee depended on which side of the political spectrum members of the Twitterverse happened to sit. 
"I LOVE that this is a new question. Clutching at straws for something to cover is a welcome change from what outrage to address first," one Twitter user said. Another used it to throw some shade former President Donald Trump's way, saying, "As opposed to the former guy who took a golf cart everywhere and got winded from standing up."
But those on the other side of the aisle saw it as an opportunity to take a shot at Biden who, at 78, is the oldest president in United States history (via USA Today). "Uhh have you seen him walk? You would need to be in a coma to not be able to keep up with him. You know what maybe I have it all wrong it really can be hard to keep up with what he is talking about," one user posted. Another took a hit at the press, saying that tough issues like gas prices, border security, tensions in the Middle East, and the workforce should be addressed in the press room, not Biden's workout routine.
Source: Read Full Article