For many celebrities, being able to have their name on the Hollywood Walk of Fame is an acknowledgment that they have finally made it big. There are over 2,000 different golden stars with a celebrities name plastered on the sidewalk of Hollywood Boulevard.
With so many names on the sidewalk, it is hard to imagine that one of the most widely recognized actresses is not listed on Hollywood Walk of Fame.
Carrie Fisher got her notoriety from appearing in the Star Wars movies as Princess Leia. The first Star Wars film hit theaters in 1977 and it quickly became one of the most iconic movies of our time, with Princess Leia's character being a fan favorite. In fact, it has been over four decades since the world was first introduced to Princess Leia, and yet, every Halloween, you still find people dressing up and trying to pretend to be the infamous character.
So, how did the actress who played one of the greatest characters of our time not get her own spot on the Hollywood Walk of Fame? Here is what we know.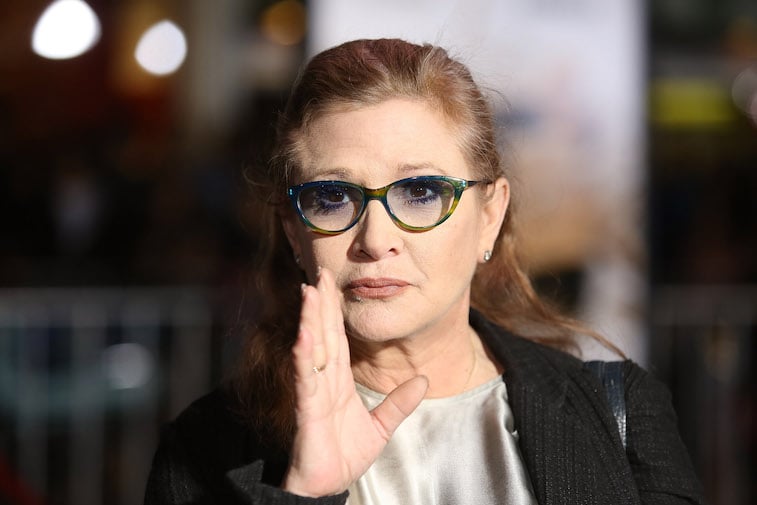 How do you get a star on the Hollywood Walk of Fame?
Stars on the Hollywood Walk of Fame aren't just given away willy nilly. The Hollywood Chamber of Commerce meets once a year to decide who should get their own spot on the sidewalk. There is a process that every star must go through in order to get their name printed on the infamous sidewalk.
First, you have to fill out an application and submit it to the Hollywood Chamber of Commerce. Along with your application, you must also write a letter explaining why you want one. If the committee does not think that you even want a star, they will not consider your application.
Next, you have to have been famous for at least five years. We are talking, like, really famous. If you don't have at least a handful of paparazzi watching you eat your favorite salad at a nearby restaurant, then you are probably not famous enough to be considered.
Lastly, you have to pay for it. In order to get a star, you must pay a sponsorship fee. According to Time, the fee is $30,000 and half of that money goes straight to the Hollywood Historic Trust which helps to keep the iconic sidewalk clean and well-maintained.
Why doesn't Carrie Fisher have a spot on the Hollywood Walk of Fame?
https://www.instagram.com/p/By-mbG0AMoM/
It seems like while Carrie was alive, she didn't want a star, or at least she never filled out an application to get one. Sadly, in 2016, Carrie Fisher lost her life after suffering from sudden cardiac arrest.
This does not mean that she still can't have a spot on the Walk of Fame, but the rules state that because she has passed away, an application would not be able to be submitted on her behalf until she has been deceased for at least five years. That means that it would be the year 2021 before the Hollywood Chamber of Commerce could even consider giving her own star.
A spokeswoman for the Hollywood Chamber of Commerce named Ana Martinez said that there a few obstacles that Carrie Fisher's family would have to go through in order to get her a spot on the Walk of Fame.
First, because Carrie is unable to say if she even wants a spot or not, her family would have to write a letter on her behalf, explaining why she would have wanted to have her own star on the Hollywood Walk of Fame.
Also, there would be a matter of paying the sponsorship fee. It's unclear if anyone in Carrie's family would want to pay that kind of money to get her her own star, but we think that her Star Wars co-star Mark Hamill would probably be willing to pitch in. Mark recently took to social media to express his outrage at the fact that Carrie did not have her own star. And he would like to remove Donald Trump's star and replace it with one for Carrie Fisher.
While the Hollywood Chamber of Commerce has said that they do not remove any of the stars once they have been put down, they would be more than happy to see Carrie Fisher get her own star. So, Princess Leia may one day be on the Hollywood Walk of Fame, but we have to wait two more years before we will know for sure.
Source: Read Full Article