You don't need to be a tarot card pro to get your cards read. All you need: your Sun sign! Here's what I do: Shuffle my tarot deck and pull out the cards in order from Aries to Pisces plus one general card for everyone so that you can get specific advice around your personality.
Basically, if your bank account is not ready for a full tarot reading just yet, this one should help tide you over for now!
A GENERAL CARD FOR EVERYONE: ACE OF WANDS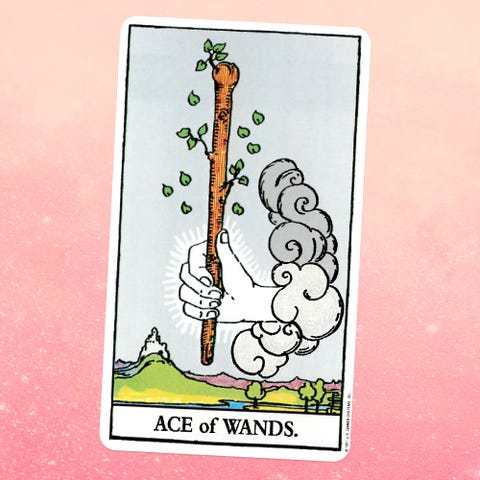 Something inspiring and uniquely "you" awaits your attention. It's likely to be a skill or you've tried before, loved doing AND were good at. This deserves to be in your life now, and could potentially become a money-making opportunity down the line. Rediscover an old passion, and find space for it in your present world–you won't regret it.
ARIES: QUEEN OF SWORDS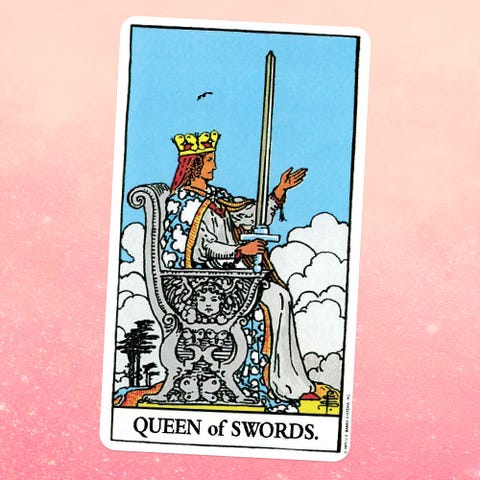 You need to be brutally honest with yourself this week, and stick up for what you believe is the right thing to do. No one is going to step in and save you here, or do it all for you. Your plan of action comes from you alone, as well as the belief and determination to get shit done. The Queen of Swords is a direct, clear-eyed, even ruthless character, and she goes for what she wants. This week, she is YOU.
TAURUS: THE EMPEROR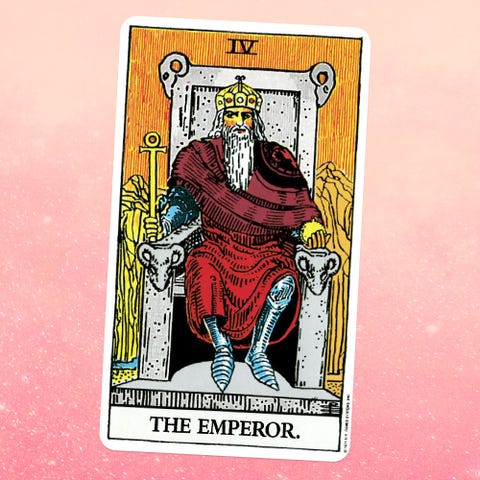 Power is the name of the game this week. The Emperor is with you, and that means you're taking control of your course and focusing your intentions to make your goals happen. You are the one who controls what goes on in your life–no one else. This surge of confidence and ambition feels good: use it to get ahead and make progress in something you care about.
GEMINI: PAGE OF SWORDS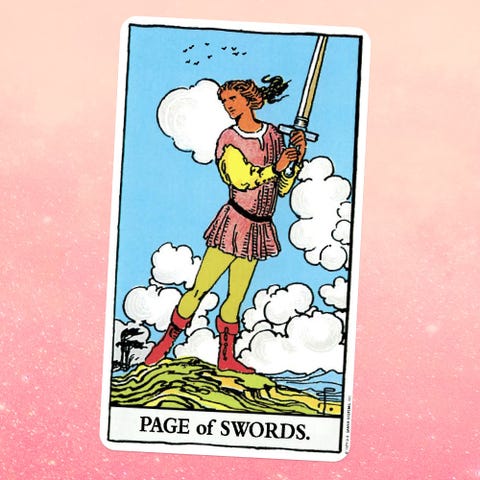 CANCER: THE EMPRESS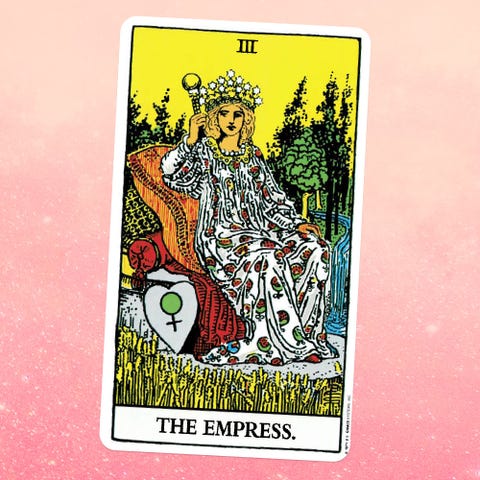 You're the greatest romantic and most loyal sign of the zodiac, and there will be opportunities to demonstrate that all week long. Family, friends, lovers and admirers are all around you, wanting your attention and company, and it feels great! Spend the week seeing those you love the most, get in and around nature as much as possible, and maybe even dabble in something creative. It's going to be blissful–The Empress is a card that's all about nurturing, and that already describes you to a T!
LEO: STRENGTH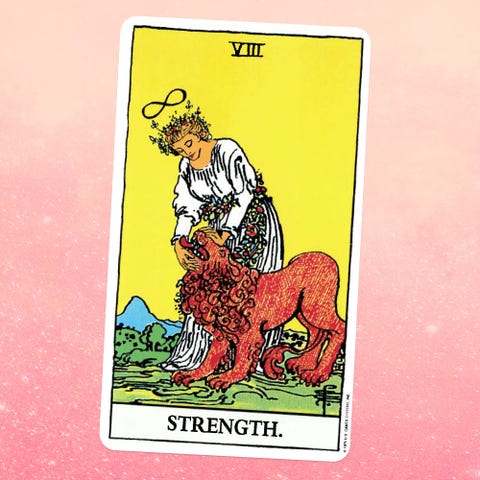 This card is actually the most Leo tarot card there is, so it's an important week and it's all about you! You're going through some personal development shit, which has been tough but will become easier to handle, and you're actually starting to feel grateful for the challenges. We learn most from hardships, and there's always a silver lining. You can see how far you've come and how much you've changed. It feels good to be you, right now, Leo. More power to you.
VIRGO: THE TOWER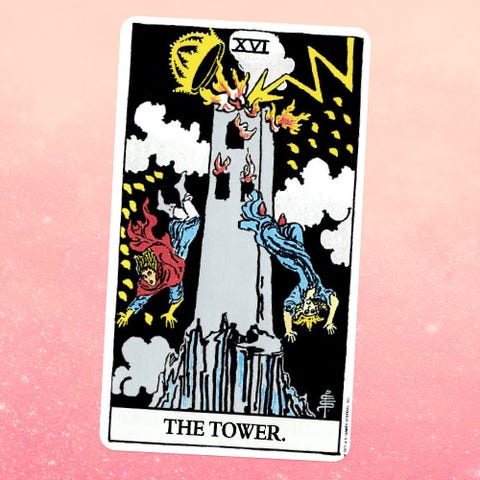 LIBRA: TEN OF SWORDS
SCORPIO: FOUR OF SWORDS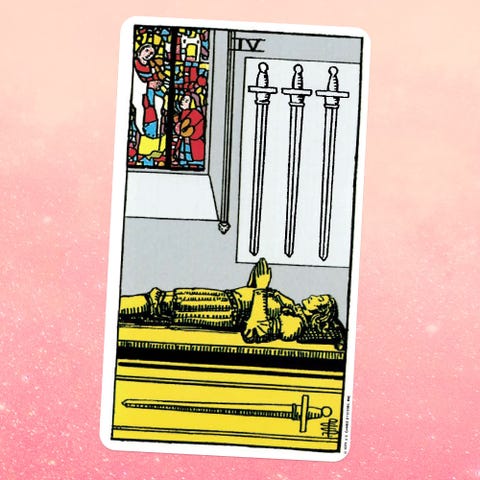 SAGITTARIUS: KNIGHT OF WANDS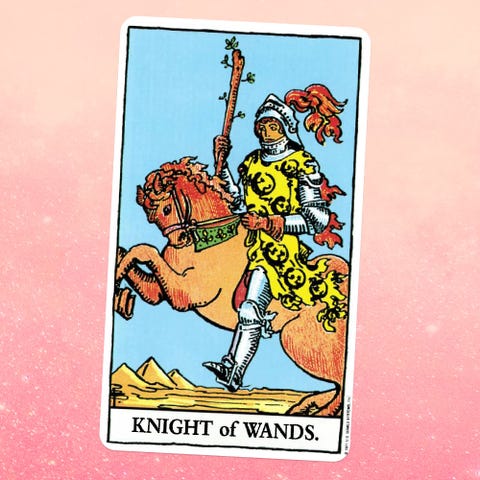 This tarot card represents the best of fire signs: boldness, spontaneity, intuition, and passion. These attributes are already strong with you and, this week, you'll lean on them even more. It's seven days of taking risks, following your gut, and making decisions on the spot. Who the heck knows where you'll land, but it's probs somewhere good!
CAPRICORN: FIVE OF SWORDS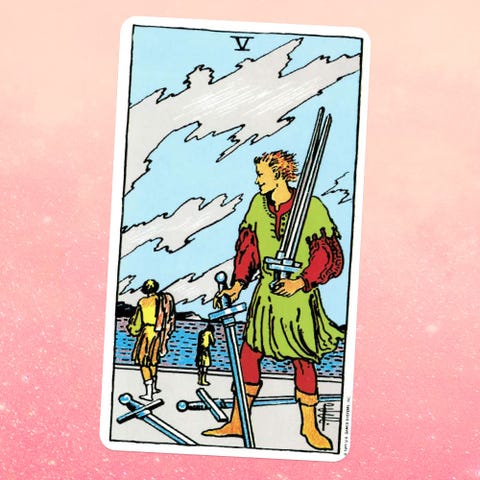 This week, you may find yourself engaged in a tussle, even though you know the other person will never yield. Why are you letting this happen? The Five of Swords asks you, simply, to identify a situation like this in your life, and shut it down before it troubles or drains you any further. Enough is enough. Draw a line (even if they think they've "won") and move on. You'll come out of it the real winner by doing this.
AQUARIUS: TWO OF COINS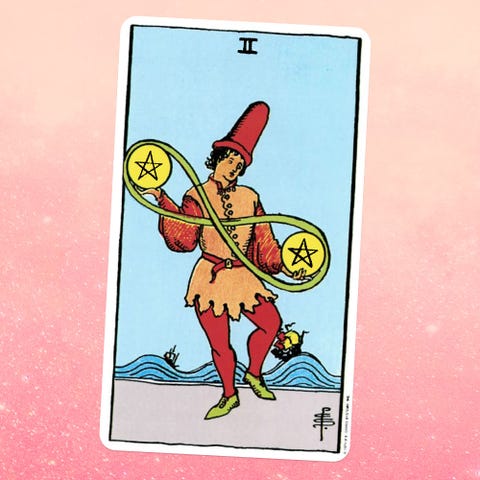 PISCES: SEVEN OF COINS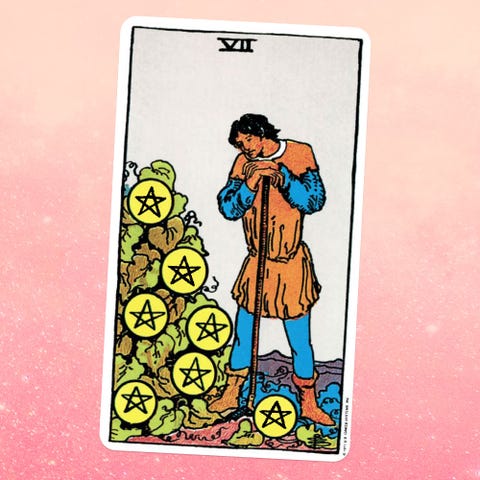 You've come a long way in something which matters to you and although you've achieved a lot, you're not entirely satisfied with where you're at right now. The Seven of Coins is a like a break in the road, forcing you to reevaluate your course. Sabbaticals, travel, re-training, location changes…anything is possible and it's never too late to tweak your course. What do you want to change?
Source: Read Full Article