Mike Dee, who is a close friend of the late hip-hop star, claims that he was also not involved in creating 'Faith' and argues that he is 'upset' with the new album.
AceShowbiz –Pop Smoke's longtime producer might have regretted the release of the late rapper's posthumous album. Just hours after claiming that he had "no involvement" in creating "Faith", 808 Melo issued his apology on social media.
"Don't complain to me about the album I had no involvement in it & you guys know that!" the 24-year-old record producer first argued on Twitter. A moment later, he penned another tweet that read, "Sorry bro I miss you [sad face emoji]."
Melo even admitted that he solo-produced one of the tracks named "Brush Em" featuring Rah Swish. When a fan pointed out that he has a production credit on the song, he corrected, "Look at the credits , I Solo produced 'Brush Em'. Does it sound like my drums?"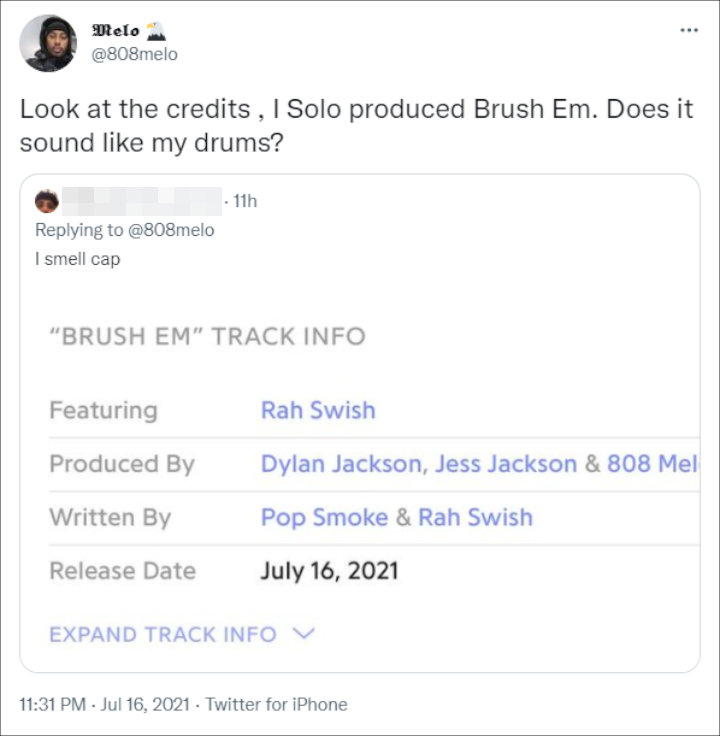 808 Melo admitted he solo-produced one song from Pop Smoke's 'Faith'.
Melo's posts came after Smoke's fans voiced their frustration over the new album. One of them believed that the late hip-hop star would have "never wanted" it because the MC previously said that he didn't like working with other artists that much and that's why his older projects don't have many collaborators.
Among those who seemed displead with the project was Smoke's close friend Mike Dee. "For anybody saying why did I let anybody drop this or that. I had no involvement in my dawgz album didn't even kno a album was dropping until it got broadcasted on this internet shit I'm upset my damn self at it cuss I know he wouldn't even want this like this," he raged on his Instagram Story.
"Faith" was dropped on Friday, July 16. Hours before its release, Smoke's manager Steven Victor revealed the entire 21-song tracklist on Instagram. The album features a new set of collaborators, including Pharrell Williams ("Spoiled"), Kanye West and Pusha T ("Tell the Vision") as well as 21 Savage and 42 Dugg ("Bout a Million").
Other musicians who make guest appearances in the album are Rick Ross and The-Dream ("Manslaughter"), Future ("Mr. Jones") and Migos' Quavo and Kodak Black ("Back Door"). Chris Brown and Dua Lipa, meanwhile, are featured on "Woo Baby" and "Demeanor" respectively.
"Faith" follows Smoke's debut album "Shoot for the Stars, Aim for the Moon". It was released just months after he was tragically killed during a home invasion in February 2020.
Source: Read Full Article