Remember back in March? HA HA HA, me neither, but that's when Clare Crawley was announced as ABC's newest Bachelorette. Since that fated day, a lot has happened—including but not limited to a global pandemic and significant changes in the Bachelor franchise in response to calls for increased diversity. But also, Clare quit (or was kicked off…) The Bachelorette and potentially got engaged to contestant Dale Moss after *checks notes* 12 days of knowing him. On top of that, ABC recast Clare with Tayshia Adams, and her half of the season starts next week! If all this has left you confused and/or spiraling as you flop around in a sea of rose petals, let me go ahead and lay it out for you:
March 2, 2020
Clare is officially announced as ABC's next Bachelorette. The big reveal goes down on Good Morning America and Clare says she wants a man "who will take off his armor" and "open himself up and be vulnerable." DALE MOSS, YOU LISTENING?
Meet Clare Crawley! We talk to #TheBachelorette about her new journey to find love on @bacheloretteabc. https://t.co/dRn1AIbzEW pic.twitter.com/wmgJq1d7uv
June 23, 2020
Clare admits to googling her suitors, telling the Bachelor Happy Hour podcast, "Obviously. What woman wouldn't? Are you kidding me? I will say this. At first, I really didn't. I really did not and it was because, I don't know. I just kind of felt like I want to get to know them and regardless, I know how my Instagram is. It's a piece of my life….You have to see and feel it in person and so regardless of what their life is and what it looks like on their Instagram, it's nice to actually see them in person and I am huge on pheromones, so that's like the end for me."
July 30, 2020
Reality Steve reveals that Clare gave Dale her first-impression rose on-set of The Bachelorette. Intrigggggggguing
(SPOILER): Although early social media activity was leading people to believe he never made it on the show or was eliminated night 1, that was never the case. Dale Moss received Clare's first impression rose. pic.twitter.com/R5eqKRXhUZ
July 31, 2020
A Reddit post, later shared by Reality Steve, claims that production is having "problems" with Clare, and that Tayshia Adams is being called in as the new Bachelorette:
(MAJOR SPOILER): I've been made aware of this Reddit post making the rounds. Been on the phone for the last 2 hrs digging. I cannot confirm with 100% certainty if it's true yet, but if you ask my opinion, I think there is some serious validity to it based on what I'm hearing now pic.twitter.com/y0SudK7Pcl
Meanwhile, Life & Style reports that Clare had such a "deep connection" with Dale that she quit after 12 days, leaving production "blindsided" and "scrambling." Also, she "refused to come out of her room" to film with other men, lol.
August 3, 2020
Life & Style is back at it, reporting that Clare and Dale are casually engaged. After 12 days of dating. I repeat: 12 days. On top of this, Reality Steve tweets that a big fireworks display went down at the resort where The Bachelorette is filming, which fans speculate could be the show celebrating Dale and Clare's engagement:
Well, they had the fireworks show for the date tonight at La Quinta as scheduled. Question is: who was it for? Unknown at this time https://t.co/mFX1YzVCmY pic.twitter.com/DDPSvPeDUG
This same day, Clare likes a tweet about Tayshia replacing her….
Look who just liked my comment about Tayshia replacing her! 🤔😄 Seems very telling; I mean, isn't she supposed to be filming (& not have access to her phone)?!! pic.twitter.com/43CbmJ4C0n
August 4, 2020
While Reality Steve says there's no confirmation Dale and Clare were talking before the show…
But Clare has definitely moved on with Dale in some capacity, we don't have confirmation they were talking pre-show but we assume they were, and her story will be shown when the season airs in September. That's where we're at right now. Will update as I hear anything more.
…A People source reveals that Clare fell for "one of her potential guys" (wow, wonder who?) when filming was delayed all the way back in March:
In other words, it looks like Clare broke some rules and started talking to Dale way ahead of schedule.
August 5, 2020
Clare's close friend Michelle Money wanders into this mess with a plot twist, INSISTING that Clare and Dale never once exchanged texts or DMs. "Clare Crawley never spoke to Dale before filming," Michelle says on her Instagram Stories. "That is 1,000 percent factual information. Never happened, fake news. She was impressed by his social media account. But never DM'd, never texted, never talked. 1,000 percent fake news."
https://www.instagram.com/p/CDh08rmDCB6/
August 6, 2020
A flood of former Bachelor Nation stars start showing up on-set, prompting me, bored at home with almost nothing to do but spiral into reality TV conspiracy theories, to wonder if ABC is secretly filming a new show. Some quick pieces of evidence for you (JUST LET ME HAVE THIS):
(1) Becca Kufrin is spotted on The Bachelorette set, wearing the same green bracelet that members of production are wearing.
https://www.instagram.com/p/CDc0YuqBrIS/
(2) @newsnextdoor spots Sydney Lotuaco on what looks like set, also wearing the green bracelet: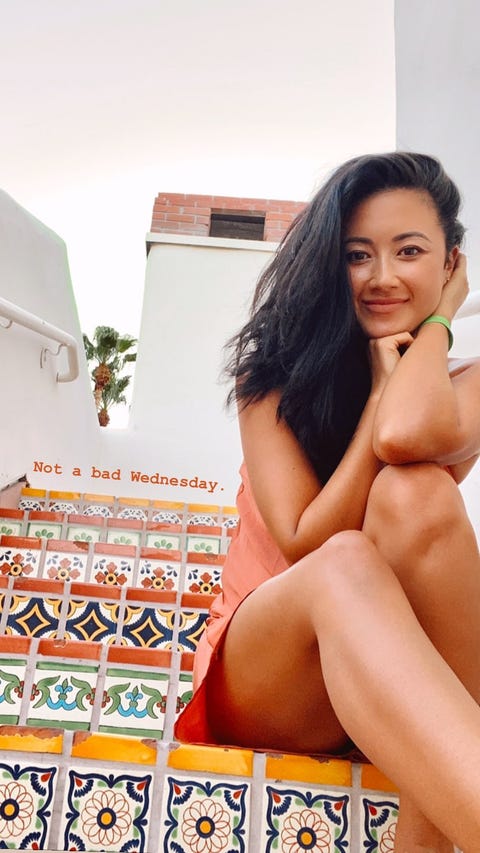 (3) Ashley Iaconetti is also spotted on set due to the REFLECTION in her GLASSES:
https://www.instagram.com/p/CDiH7V4Bm1_/
Oh, and meanwhile, Hannah Ann is spotted on set with the world's biggest suitcase, just saying!
August 7, 2020
Things continue to get progressively weirder due to reports that Clare and Dale have been whisked away to some "private home." According to a source at OK! Magazine, the couple will be staying there "until the show debuts" and "it has been made perfectly clear that if either Clare or Dale want to be considered for Dancing With the Stars—which is the natural progression—or any other future with the network, they will do what they are told to do!" Um…okay.
September 1, 2020
ABC leans into all the rumors and speculation by dropping a promo of Clare and Dale fully making out. Here it is over and over and over again! Enjoy!
https://www.instagram.com/p/CEnEfx4jrk3/
September 30, 2020
Reality Steve shares some simply SCALDING tea, claiming that they always planned to replace Clare with Tayshia and even went so far as to plant the seed to leave in Clare's head. Per Steve, "this was in productions plan before Clare's season started. They knew Clare would be removed at some point during this season and replaced as the Bachelorette by Tayshia. Did Clare know? No. Did the guys know? No. But production sure as hell did."
October 12, 2020
In an exclusive People clip, we see Clare and Dale meet for the first time and the sparks. They fly. By which I mean, Clare legit says the following words: "Oh, man. I definitely feel like I just met my husband. I'm shaking!"
October 14, 2020
Clare responds to fans who think she fell for Dale too fast, telling Us Weekly, "My question would be to the people that are saying that—to the people that question it—what exactly is the formula for falling in love? Is there one way to do it? Is there one example of this is how it's done? Who are these people to decide how long it takes somebody to fall in love? Is it a week? Is it a month? Is it a year? Is it two years? How people fall in love and the amount of time that it happens or what the process is [changes]. It's not for anybody to really decide if there is a cookie cutter for that."
October 20, 2020
Clare is spotted wearing what's clearly an engagement ring in photos obtained by Page Six, and there's so much speculation that she hops on Instagram to calm everyone down, claiming the ring was a gift to herself:
https://www.instagram.com/p/CGiPy2KHDEs/
October 26, 2020
According to Entertainment Tonight, Clare likes a series of verrrrrry pointed tweets by Bachelorette viewer Marietou Sangare, implying she was forced out by producers:
Honestly, this is all so much—but for more on this potential twist, head here:
October 28, 2020
Chris Harrison responds to Clare implying that she was forced off The Bachelorette, telling Entertainment Tonight:
Oh, and um, he also tells ET that he hasn't spoken to Clare "for a few weeks." Yikes! Obviously, this is an ongoing SAGA that shows no signs of slowing down, so head back here for more updates as we have them.
Source: Read Full Article