He's far from the only Marvel superhero to have graced the big screen in recent years, but movie-goers got to know Spider-Man (real name Peter Parker) long before the likes of the Avengers and the Guardians of the Galaxy arrived in theaters. The character made his live-action debut in a late '70s TV movie and would get his own TV series soon after, though it wasn't until 2002 that Spidey appeared in a picture worthy of his comic book following: Sam Raimi's "Spider-Man."
A critical and commercial success, the film became the first in an eventual trilogy starring Tobey Maguire as Spider-Man. The role went to Andrew Garfield when Sony (the longtime holder of all Spider-Man movie rights) decided to reboot the franchise, though he only got the chance to play Peter Parker in two films. Emails leaked during the Sony hack of 2014 indicate that plans for a third Garfield-led film were scrapped when the actor pulled out of the event where it was supposed to be announced at the last minute. Scorned execs opted to reboot "Spider-Man" with a younger actor in the role, and Tom Holland fit the bill perfectly.
They all offered slightly different takes on the character, but what Maguire, Garfield, and Holland have in common is they hooked up with their respective onscreen love interests in real life. For some reason, sparks fly as regularly as webs on "Spider-Man" movie sets, though these relationships have a habit of not lasting. Let's take a look.
Tobey Maguire and Kirsten Dunst's upside-down kiss became iconic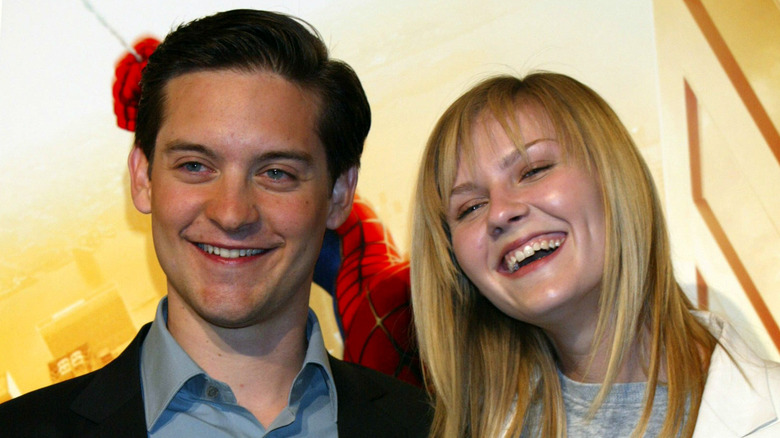 2002's "Spider-Man" provided a blueprint for the modern superhero movie, which arguably makes it one of the most influential films of all time. Tobey Maguire turned in a winning performance as Peter Parker, and Willem Dafoe was in his usual fine form as his adversary, the Green Goblin. The action scenes are top-notch, but the film is probably best remembered for Maguire's upside-down, rain-soaked kiss with Kirsten Dunst, who played classic Spider-Man love interest, Mary Jane Watson.
It was a difficult scene to shoot, but Maguire enjoyed it nonetheless. "There was rain pouring up or down my nose," the actor said (via Deseret News). "I couldn't breathe and I was gasping for breath out of the corner of Kirsten's mouth. Poor girl. I was giving her mouth to mouth rather than kissing her … But in the midst of that, I was sneaking some pleasure out of it." Dunst later revealed that director Sam Raimi wanted the moment to become iconic. He even gave her "a little cute book of movie kisses" for inspiration. "He was like, 'Let's try make this one as epic as these kisses,'" she said on "The Graham Norton Show."
According to Raimi, Maguire and Dunst managed to hide their real-life romance from him for a while. He told The Sydney Morning Herald: "They apparently began dating with each other, I think, in the middle of the first movie — although I didn't know it at the time."
Maguire and Dunst broke up right before filming Spider-Man 2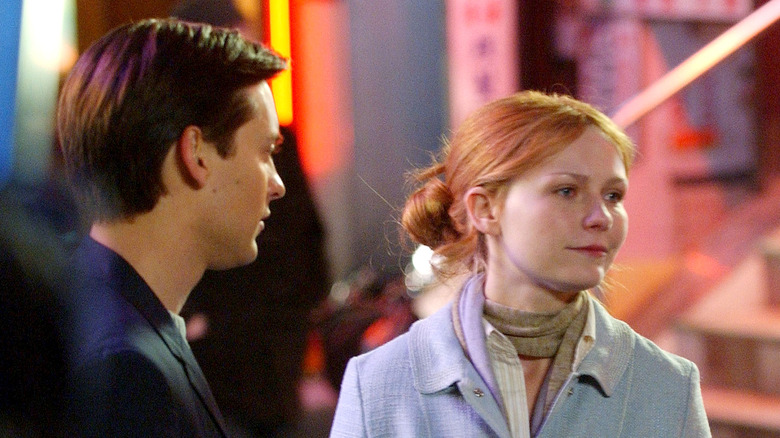 The first real-life Spider-couple had called it quits by the time everyone got back together to shoot "Spider-Man 2." Speaking to Us Weekly in March 2002, an insider from Kirsten Dunst's camp confirmed that she and Tobey Maguire fell for each other on set, but had recently brought a year-long relationship to a close. "[They] broke up a little more than a month ago," the source said (via IMDb). "It wasn't anything in particular that happened. They'll probably remain friends." That was certainly Sam Raimi's hope.
When the director discovered that Maguire and Dunst were done, he began to worry about what that might mean for his highly-anticipated sequel. "I actually had some worries about that," Raimi told The Sydney Morning Herald. "I was concerned they wouldn't get the same chemistry back, but it was just me worrying." According to Raimi, both Maguire and Dunst behaved like pros on the follow-up and would work together again on 2007's "Spider-Man 3," staying friends the whole time. "They really like each other, I think, very much," Raimi added. "And that relationship probably just added to their ability to trust each other."
Plans for a fourth "Spider-Man" movie starring Maguire and Dunst never came to fruition. Dunst went on to get engaged to her "Fargo" co-star, Jesse Plemons, and revealed that they were expecting their second child in March 2021. Meanwhile, Maguire also has two children with his former partner, jewelry designer Jennifer Meyer.
Sparks flew during Emma Stone's screen test with Andrew Garfield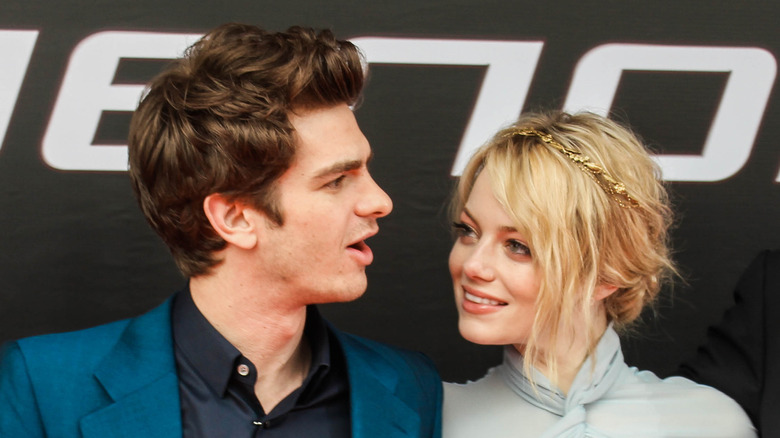 The appropriately named Marc Webb came in to replace outgoing director Sam Raimi when Sony decided to start over with "Spider-Man." Webb was charged with revitalizing the franchise after the disappointing "Spider-Man 3," and he had the talented young duo of Andrew Garfield (fresh off his turn as Eduardo Saverin in best picture Oscar nominee "The Social Network") and Emma Stone (best known for films like "Zombieland," "Easy A," and "The Help") at his disposal. The pair proved to have great chemistry, both in front of the camera and away from it.
Garfield and Stone looked very comfortable in each other's company on "Saturday Night Live" in late 2011, and in early 2012 (just a few months before "The Amazing Spider-Man" hit cineplexes), the two were spotted smooching in New York City. "After enjoying a lunch in Manhattan's Chelsea district, Garfield, 28, and Stone, 23, wrapped their arms around each other in a rare display of affection off-set," said the Daily Mail, which had a set of paparazzi pictures to prove it.
According to Garfield, he and Stone (who played Gwen Stacy, another classic Peter Parker love interest) made an instant connection when she came in to screen test with him. "We got on really well as people, in between [takes]," he told MTV News. "We'd just mess around, and I felt, 'Ah, this is different.' I wasn't really aware what was happening in the screen test … That was the beginning."
Emma Stone and Andrew Garfield's 'break' became permanent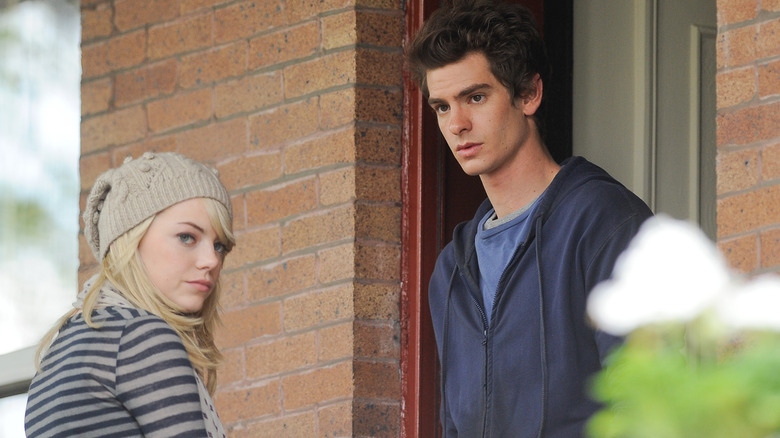 Before long, Emma Stone and Andrew Garfield had moved into a trendy New York apartment together. They spent his 29th birthday at Disneyland in 2012 ("We ate pot brownies," he told W Magazine, adding that "it was literally heaven"), and filmed "The Amazing Spider-Man 2" as a couple the following year. They looked very much in love as they promoted the sequel side by side in 2014, but when Stone was nominated for best supporting actress for her performance in "Birdman" in 2015, she attended the Oscars ceremony without Garfield.
Rumors of a split began to spread like wildfire, and a People magazine source soon confirmed that they were indeed accurate. The insider said that the A-listers had been "privately discussing marriage" at one point, but were now "taking a break from seeing each other," adding: "They're both a slave to their schedules … It's one of those situations where only Andrew and Emma quite know if they'll pick up where they left off or they've separated." Sadly, it was the latter.
A few weeks later, another source told Us Weekly that Stone had "ended things and moved back to L.A.," confirming that it was serious. "It's finished," they revealed. "It's not just a break." Stone briefly addressed the breakup while chatting to Teen Vogue in 2016, admitting that Garfield is "someone I still love very much." She married comedian Dave McCary in 2020, and they welcomed a baby girl in 2021.
Tom Holland 'charmed' Zendaya's parents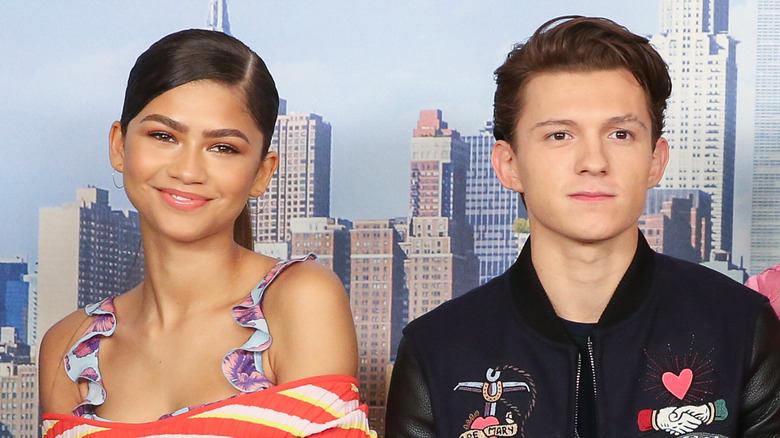 When Tom Holland was revealed as the next Spider-Man in 2015, nobody was as excited as the creator of the character. "He was born to play Peter Parker," Stan Lee said (via Geeks) after the news broke. "He's perfect … it's as if we created a living being to be Spider-Man and it turned out to be Tom." This high praise meant there was a lot of pressure on the young Brit's shoulders going into his debut in 2016's "Captain America: Civil War," but he nailed his supporting appearance, and his first solo outing (2017's "Spider-Man: Homecoming") was just as successful. It was on the set of "Homecoming" that Holland reportedly fell for Zendaya, sources say.
The former Disney Channel star played MJ, Peter Parker's classmate and love interest in the film. Like their predecessors before them, Holland and Zendaya reportedly began seeing each other away from the set, too. "They've been super careful to keep it private and out of the public eye, but they've gone on vacations with each other and try and spend as much time as possible with one another," a source told People during the summer of 2017. "They're both really ambitious and they challenge each other — but, most importantly, they make each other crack up." 
The two became known to poke fun at the romance rumors. But by the end of the year, Holland was going out for food with Zendaya and her family. According to Page Six sources, the English actor "charmed her parents" during a visit to Bobby Van's Central Park South.
Was TomDaya confirmed with a kiss?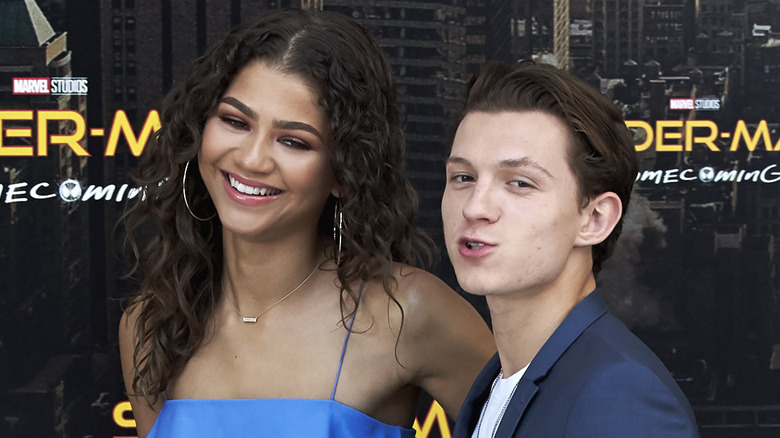 "Spider-Man" fans started shipping "TomDaya" as a couple right from the get-go, but they were forced to come to terms with the fact that it might be a fantasy when Tom Holland was spotted cozying up to family friend Olivia Bolton in 2019. They were photographed together at a music festival in the U.K., and before long it was being reported that they were an item. "All their friends and family think they make a lovely couple," a source told The Sun. "He is totally smitten." Holland definitely looked smitten in the pictures, but his relationship with Bolton didn't last. "Tom and Olivia remain very close but decided recently it was best for them to be just friends rather than a couple," an insider told the Daily Mail.
Holland was later linked with "Doctor Who" actor Nadia Parkes (they holed up together during London's first coronavirus lockdown in 2020, reports suggest), but that appears to be history, too. Why? Because in July 2021, paparazzi pics of Holland engaged in a passionate kiss with his "Spider-Man" co-star emerged. The adorable A-listers were stopped at a red light in Los Angeles when they were noticed by a photographer, who snapped away as they giggled and smooched in Holland's Audi. 
Later that day, Holland and Zendaya were seen leaving the home Claire Stoermer, Zendaya's mother. The incident "solidified their offscreen romance," Page Six reported. "Perhaps things are getting serious if Holland is already hanging out with the fam."
Source: Read Full Article