From "Free Meek" to "Jim Gaffigan: Quality Time"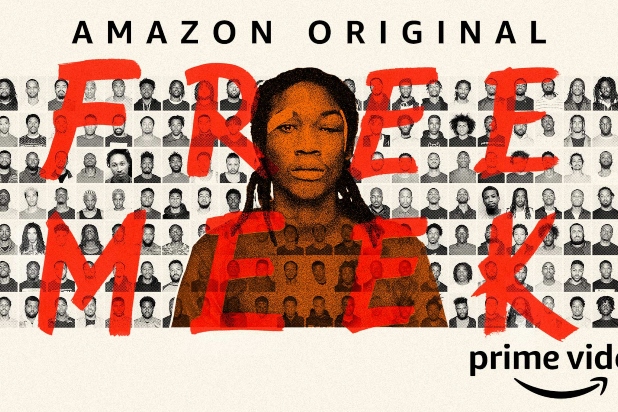 Amazon
Amazon has released its list of every new title coming to its Prime Video streaming service in August. New additions include "Free Meek," which covers rapper Meek Mill's 2017 arrest for probation violations, which sparked outrage. The Amazon Prime original series will be released on Aug. 9 and will re-investigate his original case and explore allegations of police corruption.
A trio of new comedy specials are coming in August as well. "Jim Gaffigan: Quality Time," his seventh comedy special, arrives Aug. 16. Here, the four-time Grammy-nominated comedian talks about how he doesn't understand why we aren't more honest about the reasons we don't want to attend events.
"Alice Wetterlund: My Mama is a Human and So Am I," is out on Aug. 23, features comedian and actor Alice Wetterlund as she reveals her personal struggles with peeping toms, cat-rearing, alcoholism and the secret alien conspiracy behind new country music in her breakout comedy special. Alonzo Bodden's comedy special, "Alonzo Bodden: Heavy Lightweight," is also out August 23.
Here's the full list of everything new coming to Amazon Prime Video in August:
Aug. 2
300 (2006)
This is Football S1 – Amazon Prime Original
Aug. 7
All I See Is You (2016)
Aug. 9
Free Meek S1 – Amazon Prime Original
Pete the Cat S1 Part 2 – Amazon Prime Original
Aug. 12
Andy Irons: Kissed by God (2018)
Aug. 16
Photograph (2019) – Amazon Prime Original
Jim Gaffigan: Quality Time S1 – Amazon Prime Original
Aug. 21
A Simple Favor (2019)
Aug. 23
Mission: Impossible – Fallout (2018)
#IMomSoHard Live S1 – Amazon Prime Original
Mike E. Winfield: StepMan S1 – Amazon Prime Original
Alice Wetterlund: My Mama is a Human and So Am I S1 – Amazon Prime Original
Alonzo Bodden: Heavy Lightweight S1 – Amazon Prime Original
Aug. 26
The Lincoln Lawyer (2011)
Aug. 30
*Carnival Row S1 – Amazon Prime Original
Aug. 31
A Cadaver Christmas (2011)
Boy (2010)
Computer Chess (2013)
Dast-neveshtehaa nemisoosand / Manuscripts Don't Burn (2013)
Failure to Launch (2006)
Far from Home (2014)
Firstborn (1984)
Flashback (1990)
Glissements Progressifs du Plaisir / Successive Slidings of Pleasure (1974)
Godzilla (2014)
Hellboy II: The Golden Army (2008)
I, Frankenstein (2014)
Jack Frost (1998)
Kicking the Dog (2009)
Klip / Clip (2012)
Korkoro (2009)
La Maison de la radio (2013)
Looking Glass (2018)
Miss Hill: Making Dance Matter (2014)
Music from the Big House (2010)
Naples '44 (2016)
Nick and Norah's Infinite Playlist (2008)
Parting Glances (1986)
Pirate Radio (2009)
Poltergeist II: The Other Side (1986)
Sacred Ground (1983)
She Must Be Seeing Things (1987)
Sucker Punch (2011)
Surviving Progress (2011)
Ten Dead Men (2008)
The Bog Creatures (2003)
The Collectors (1999)
The Fifth Element (1997)
The Hills Have Eyes Part II (2006)
The Man Nobody Knew: In Search of My Father, CIA Spymaster William Colby (2011)
The Oyler House: Richard Neutra's Desert Retreat (2012)
The Penguin Counters (2017)
The Uninvited (2009)
This Ain't No Mouse Music (2013)
Top of the Food Chain (1999)
Top Spin (2014)
Vito (2011)
Za Ji Wang Ming Dui (1979)
Source: Read Full Article