Despite being called out by co-star Cassandra James for his social media post, the actor, who has played Jasper Jacks on the soap drama for 25 years, stands by the message behind the meme.
AceShowbiz -U.S. soap star Ingo Rademacher is to exit "General Hospital" after his castmates turned on him for resharing a transphobic meme on social media.
The actor, who has played Jasper Jacks on the show for 25 years, will make his final appearance on November 22. One of the cast members who called him out was Cassandra James, who is transgender.
Ingo posted a video on Instagram on Monday, November 8 explaining he didn't like the wording of the meme he reshared, but he stood by the message behind it, stating he doesn't "really think it's OK to call a trans an 'empowered woman,' because where does that leave women?"
He added, "Women have fought so hard to get on a level playing field with men… So I don't agree with that. I do apologize for not crossing out 'dude' and putting 'transgender.' Me, personally, I wouldn't have written it that way."
Ingo then offered an apology to Cassandra, adding, "I apologize to you as well, sincerely. I think you're an absolute talent and you're very beautiful as well. I don't think a transphobic man would say that."
Cassandra herself has voiced her disappointment at Ingo's post by writing on a tweet, "You have some serious unlearning and education to do. I feel deeply disappointed that such a public display of ignorance could come from our GH family."
"Misgendering trans folks is violence and if you come for one of us, you come for all of us. The cis world doesn't get to decide which of us is valuable," she continued in a following tweet. "I am so proud of the fans for always holding us to a high standard, for calling out transphobia and violence."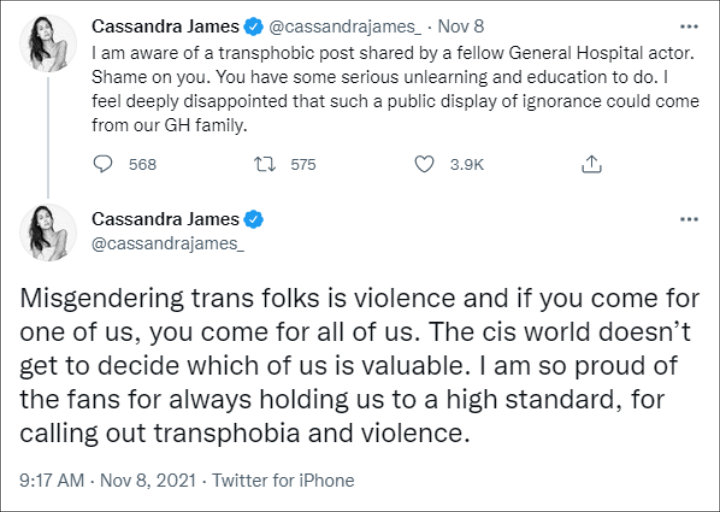 Cassandra James called out Ingo Rademacher.
Ingo has also been vocal about not taking the COVID vaccine, and therefore ignoring the TV show's on-set mandate.
Source: Read Full Article