After a fan hails him as the 'best horror director of all time' upon learning the high score of his latest film 'Nope' on Rotten Tomatoes, the 'Get Out' filmmaker says that he'll 'not tolerate any John slander.'
AceShowbiz –Jordan Peele remains humble despite carving out an impressive niche for himself in horror movies. The "Get Out" filmmaker has clapped back at a fan who labeled him the "best horror director of all time" after his new film "Nope" earned 89% on Rotten Tomatoes.
On Wednesday, July 19, a fan named Adam Ellis wondered when Jordan should be considered the best horror director of all time, challenging others to think of another filmmaker in the genre that has directed "3 great films, let alone 3 in a row." The fan tweeted, "I know this is a hot take but at what point do we declare Jordan Peele the best horror director of all time? Can you think of another horror director that had 3 great films, let alone 3 in a row? I can't."
Jordan then respectfully disagreed with the take. He wrote back, "Sir, please put the phone down I beg you." He then added in a follow-up tweet, "Sorry. I love your enthusiasm but, I will just not tolerate any John Carpenter slander!!!"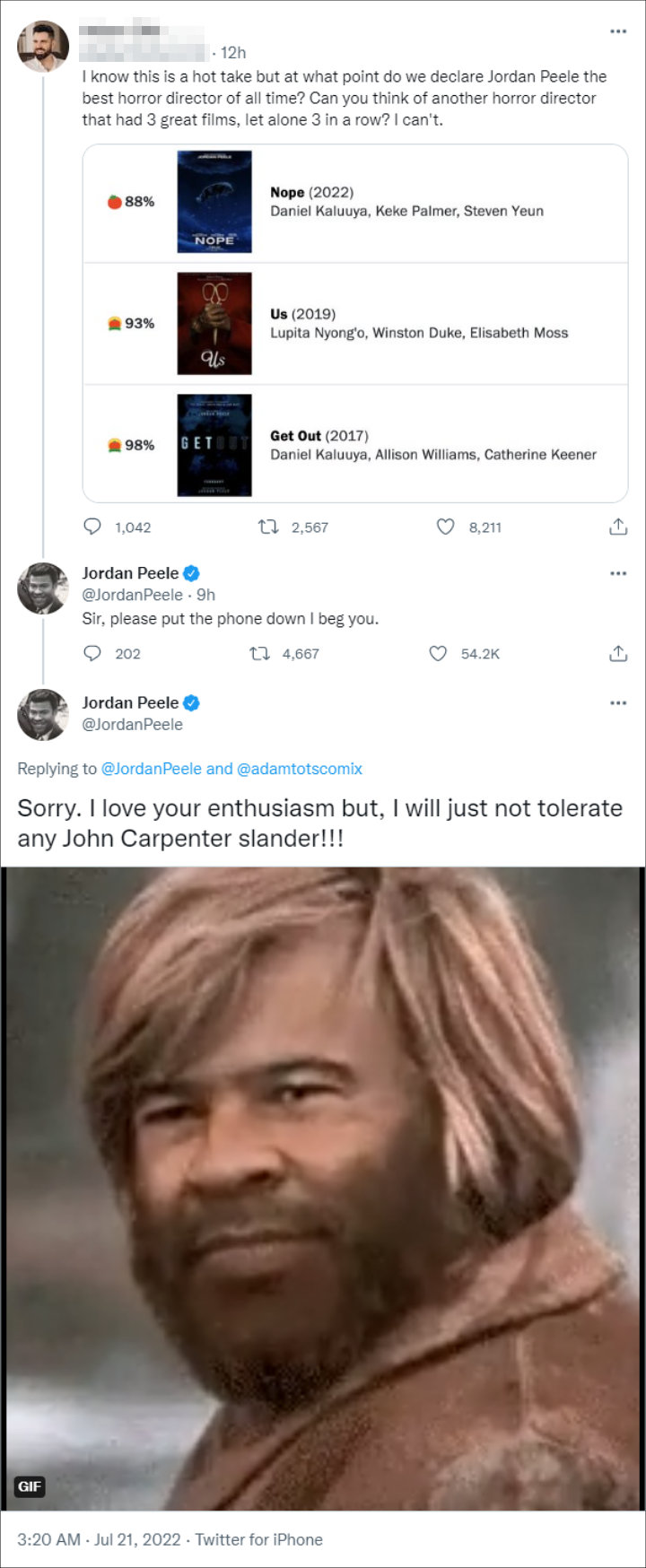 Jordan Peele shut down a fan who called him 'best horror director of all time.'
When numerous critics online pointed out John's track record, including his "Halloween" series as well as the double digits of horror films he churned out in the 1970s, 1980s and beyond, Adam tried to defend his point.
"Halloween is a stone cold classic, but the rest of his horror movies aren't great in my opinion. He has some good ones for sure, but they're like cult classics in my mind," Adam insisted. To bolster his argument, the gushing fan even tweeted screenshots of the Rotten Tomatoes ranking for Jordan's "Get Out" (98%), "Us" (93%) and "Nope" (89%).
Other Twitter users were quick to dispute the original tweet, offering up examples of filmmakers with many more credits than Jordan and just as much critical acclaim, including Alfred Hitchcock, David Lynch, Wes Craven, David Cronenberg, Brian de Palma and several others.
Jordan's latest flick "Nope" is set to make its theater debut on Thursday, July 22. The sci-fi thriller movie stars Keke Palmer, Daniel Kaluuya, Steven Yeun, Michael Wincott, Brandon Perea and Barbie Ferreira.
Source: Read Full Article