These days I sometimes struggle to find the words to share about the progress we are making as women.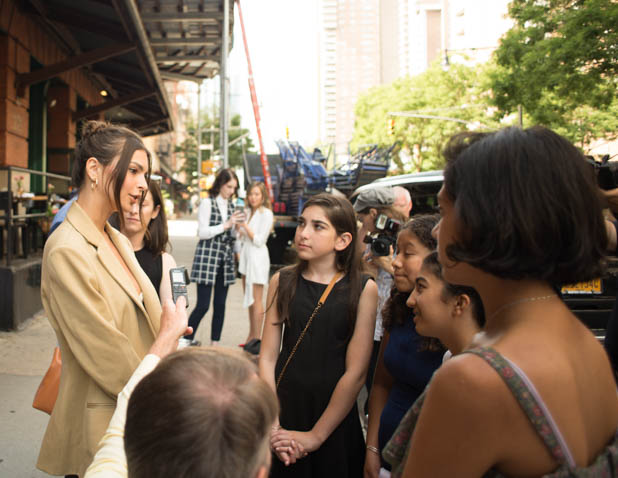 Emily Ratajkowski talks to young journalists at PWB NYC 2019
It is impossible to ignore the realities around us. The wave of anti-choice laws. The reports of sexual misconduct at the highest levels of society. Mothers and children separated, caged inside our border.
It hurts. On some days it feels like there is a war going on against women.
But as I said to the standing-room-only crowd of women in New York on Tuesday, what is happening is that we are in a time of profound change. We're at a point of inflection. Change never comes without pushback. And lancing the wounds of the past are necessary to heal and move forward.
The women who have been with us at Power Women before are moving the needle. Shannon Watts, the founder of Moms Demand Action, who spoke last last year — a regular mom of four from Colorado — is moving the country toward more sane gun laws, one state at a time. Letitia James, who spoke and mentored at Power Women two years ago as New York City's elected public advocate, and who now, as the state's attorney general, is taking on issues of justice and public accountability.
And when I think of women moving the needle, I think of women like Chirlane McCray, the first lady of New York City, who has taken on improving mental health in the city as her personal crusade. And women like Emily Ratajkowski, who is using her platform and personal celebrity to drive social change.
Emily was movingly honest in her interview with Glamour editor Samantha Barry at Tuesday's breakfast. As a fashion model in charge of her own brand, she is unashamed about showing her body. At the same time, she said: "It's hard to be constantly dealing with comments that I'm a bimbo and should keep my mouth shut. It's exhausting."
Not that she's backing down a notch.
And I think of women like Norah O'Donnell, an award-winning journalist who is soon to take a very powerful chair, as the anchor of the "CBS Evening News."  Norah is a take-no-prisoners journalist in the tradition of the very best. She faces a formidable challenge in leading the CBS telecast out of last place in the ratings, and she is determined to do it by following core principles of great journalism, she said. She wants to be "the most trusted journalist in America and around the world. That's my hallmark."
Sharon Waxman and Norah O'Donnell at PWB NYC 2019
These women have a chance to make a difference in the world — and they are seizing the opportunity.
In Washington, we will look to women like Cori Bush, who jumped into politics from a career as a nurse and ran for Congress in Missouri last year. And she lost. And she is running again. And I bet she wins. And Jennifer Palmieri, who has shared her own vulnerability about experiencing the 2016 loss of Hillary Clinton for president as her campaign communications director.
When I struggle, I remember what Anita Hill told me last year at our first ever Power Women Summit in Los Angeles. I asked how she has persevered year after year since her testimony against Clarence Thomas was doubted and ultimately ignored by the Senate. She said: "Because I knew it wasn't the end. I knew it was the beginning."
The strength we draw from one another, the connections we make at events like the Power Women gatherings, the collective power from good people seeking change that brings us to greater equality — makes us all better. And hear this: The women who rise in media and entertainment make a profound difference in our society. All of you matter a great deal.
Source: Read Full Article