There are several requirements for any given Bachelorette season: an absolutely drenched driveway, several dozen roses who frankly never asked to be here, and someone who shows up "for the wrong reasons." And usually that person also happens to be the season's "villain." Or rather, the person producers randomly decide to give a villain edit to—whether or not they really deserve it.
So, who is the villain on Gabby Windey and Rachel Recchia's season of The Bachelorette? According to spoiler sleuth Reality Steve, that'd be Hayden Markowitz—meaning he's clearly someone we need to know better. Read on for all the available information that a brief deep dive into Hayden unearthed, plus spoilers on exactly what allegedly earned him the dreaded villain edit.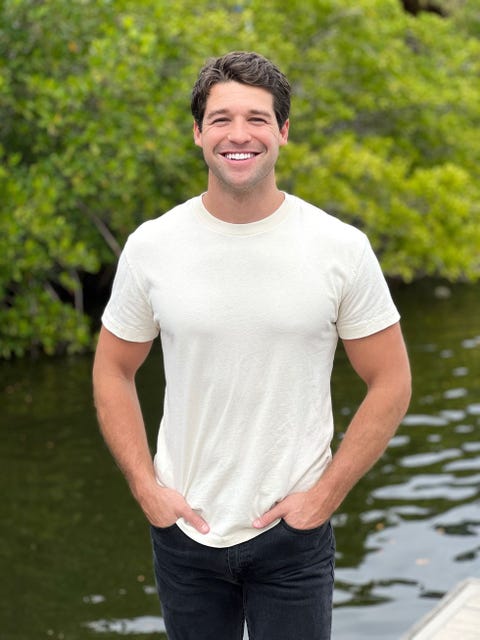 Hayden Is a Leisure Executive From Tampa
Truly not sure what that means, but I can only assume his job is living a life of leisure in Tampa, which….don't mind if I do. Here's how the poor soul in charge of ABC's bios describe him:
https://www.instagram.com/p/CgFdJVsJV8G/?utm_source=ig_embed&utm_campaign=loading
A post shared by Hayden Markowitz (@hmarko1221)
Hayden's Perfect Partner Has to Love His Dog
He wants a "trustworthy woman who appreciates him for the man he is, even on his worst days," but his number one requirement in a partner? She "MUST love dogs because Hayden and his good boy, Rambo, are a package deal."
Also, shoutout to this sentence in particular from his bio: "No one is getting a ring on their finger without Rambo's approval, so let's get this paw-ty started!"
https://www.instagram.com/p/CVJnULzLsuI/?utm_source=ig_embed&utm_campaign=loading
A post shared by Hayden Markowitz (@hmarko1221)
His Opening Limo Line Was Pretty Cringe
In case you blocked it out, Hayden is the one who popped out of the limo and said this:
"My name's Hayden. And I know that does sound a lot like Clayton. But what I'm gonna do differently, is I'm gonna be thinking with this head, and not this one." *points to penis*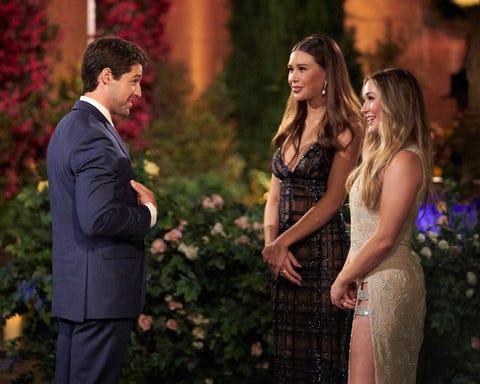 No thanks! Anyway, he also spent some time with Rachel, where he gave her a card and they bonded over Hayden living in Tampa. Truly a great time for Tampa as a brand!
So…how did Hayden morph into the season's supposed ~villain~? Spoilers ahead after this troubling image:
Reality Steve Says He Compared Rachel and Gabby to His Ex
As Reality Steve put it in his podcast, "Hayden got caught saying his ex was hotter than both Bachelorettes." Which. Sir. No. Even if you think this for some reason, there is no reason to say it out loud while you are surrounded by other people and a fleet of cameras. Anyway, the other men inevitably found out and things apparently spiraled from there.
https://www.instagram.com/p/CTA58cIrHNM/?utm_source=ig_embed&utm_campaign=loading
A post shared by Hayden Markowitz (@hmarko1221)
Reality Steve reports that on top of that, Hayden didn't handle telling Gabby that he was into Rachel very well, which also earned him a target on his back. We kinda see a glimpse of this in the season preview, where Hayden is shown telling Gabby "I do have my intentions purely for Rachel" while she nods. The next shot is of her crying so…
He's Gonna Be on Bachelor in Paradise
Reality Steve reports that Hayden comes in mid-way through the BiP season, but it looks like he barely lasts on the show and there aren't more specific details available, so stay tuned!
Source: Read Full Article