One of the most tragic stories on "My 600-Lb Life" involved the tale of Robert Buchel. When he went to see Dr. Now in Houston, Texas, for weight loss help, he tipped the scales at 903 pounds and was feeling more than a little desperate. "I feel sometimes I can't take or live this life one more minute," he said, per Newsweek. "To carry all this weight is physically draining — mentally, emotionally taxing. It's not a pain or life I wish on anyone, because I can't do anything. I can't do anything for anyone — especially myself."
Fortunately, with Dr. Now's assistance, The New Jersey native lost over 300 pounds and even got lymphedema removal surgery (an operation "to repair damaged or removed lymph nodes so that lymphatic fluid no longer builds up under the skin," according to The University of Kansas Health System). Unfortunately, though, Robert's story has a tragic ending, as he died during the filming of the show in 2017. Here's are the sad details behind his death.
Robert Buchel was the first 600-Lb Life star to die while filming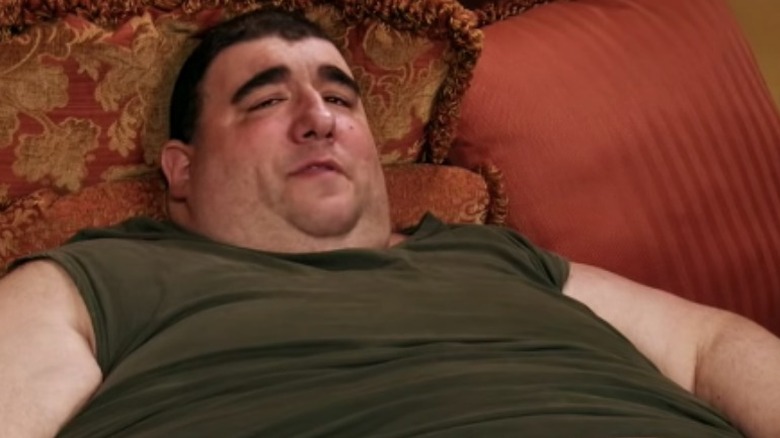 On Nov. 15, 2017, Robert Buchel died in a Houston hospital when he was still filming "My 600-Lb Life," making him the first person to die while participating in the series. He was only 41 years old. 
At the time, his fiancé Kathryn told the Asbury Park Press that she was being harassed by fans of the show, and even blamed for his death. "People wrote straight up that I'm [a] murderer and it was my fault that he's dead and my fault that he got the way he was, and I have to deal with that," Kathryn said. "The story is so much more complex, and intricate than the show let on. A food addict acts the same way as a drug addict." She also revealed the cause of death was a heart attack and noted how he struggled with painkiller addiction after getting lymphedema removal surgery. Robert seemed desperate to get more painkillers in his final days, refusing to walk or exercise, which set his progress back. "It's like a flip has been switched," Kathryn said on the show, per the Daily Mail. "He's been nasty since the surgery because he can't get the drugs."
TLC also spoke out about the death, saying in a statement it was "deeply saddened" by the events. It added, "We are grateful to his family who were gracious enough to let us continue to share his brave story with our viewers. Our thoughts and prayers are with them at this difficult time."
Source: Read Full Article