"Saturday Night Live" is probably the most stressful and competitive show on television. Each week, the large cast and its writers welcome in a brand new host and create a 90-minute performance from scratch in just a few days, and then put the thing on live television. 
That's all tough as it is, and then there are the usual show business issues of clashing egos and divergent and incompatible artistic points of view to consider. That's a recipe for some workplace tension and nasty disagreements that would just wind up on the to-do list of a Human Resources representative if it were any other workplace. But it isn't; it's "SNL," a storied television institution on the air for nearly 50 years with an audience of millions that longs to know just what goes on backstage at the very unique show. 
Thankfully, its cast members indulge themselves (and the fanbase) by dishing the dirt in interviews and books. "SNL" cast members hate each other from time to time, sometimes, and they're not even from the same eras of the show. Here are the biggest star-on-star feuds in "SNL" history… that we know about.
Chevy Chase and Bill Murray got in an actual fight backstage at SNL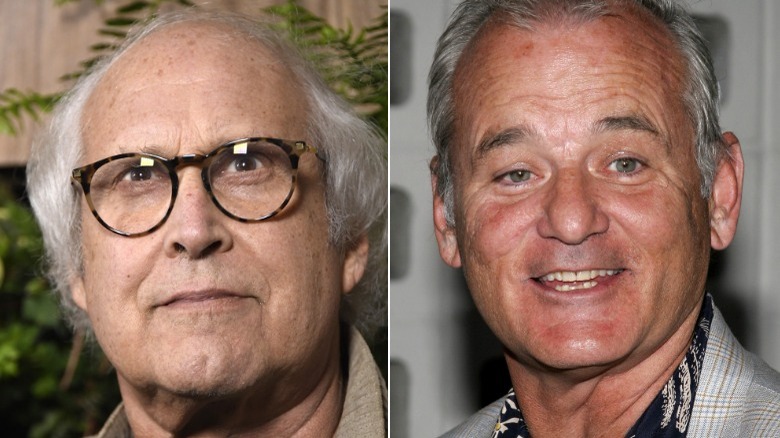 Chevy Chase and Bill Murray were among the earliest and most notable cast members of "Saturday Night Live," but they weren't regulars together. According to Far Out, Chase left the series after about a year, and Murray was his replacement. Chase made his triumphant return to "SNL" as a guest host in 1978, coming in with what he called in the oral history "Live from New York" an "egocentric" attitude, as well as an environment where ensemble player John Belushi allegedly had "been spreading some pretty apocryphal stories about me."
As a result, Chase clashed with multiple cast members, particularly Murray, who knew him from when they worked on the "National Lampoon," per Decider. After many nasty things were said, Murray told Chase, whose marriage was in a rocky place, "Go f*** your wife, she needs it." Chase retorted by commenting that Murray's scarred face looked like a place where Neil Armstrong could land, i.e., the crater-covered surface of the moon. Moments before "SNL" went live on the air at 11:30 p.m., Chase cornered Murray in Belushi's dressing room and a physical fight broke out. "We both ended up hitting John by mistake," Chase said, as Belushi had to separate them.
News of the fight entered "SNL" lore, and when Chase hosted the show again in 1980, he and Murray attempted to dispel the so-called rumors by performing "I Shot the Sheriff" together.
Chevy Chase said awful things to Terry Sweeney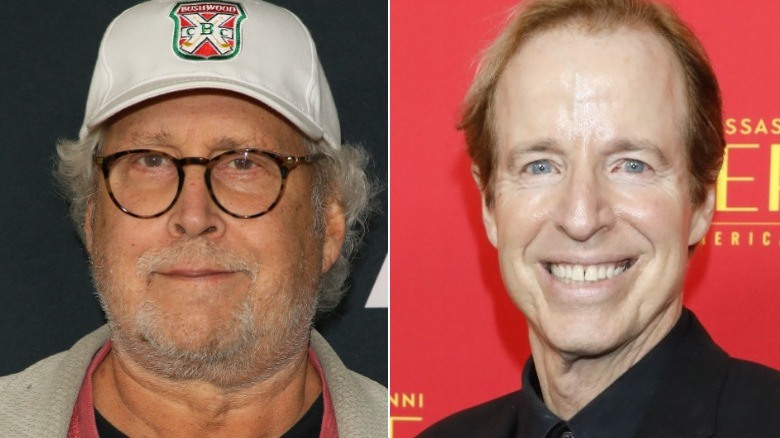 First season "SNL" breakout star Chevy Chase left the show after slightly more than one season and very quickly started appearing in movies. He returned to the show to host eight times, including once in 1985 when he openly and viciously antagonized multiple cast members. Chase approached Robert Downey, Jr., son of indie filmmaker Robert Downey, Sr., and said, "Didn't your father used to be a successful director? Whatever happened to him? Boy, he sure died, you know, he sure went to hell." (via "Live From New York"). Downey Sr. was still alive, it's worth noting.
He saved some truly audacious vitriol for Terry Sweeney, the first openly gay cast member in "SNL" history, according to The Advocate. In "Live from New York," Sweeney recalled Chase approaching him with a repulsive idea. "I've got an idea for a sketch for you," Chase reportedly said. "How about we say you have AIDS and we weigh you every week?" Producers were so incensed by Chase's comments that they forced him to say sorry. "He was really furious that he had to apologize to me," Sweeney said.
Chevy Chase ranted about SNL and Pete Davidson responded in kind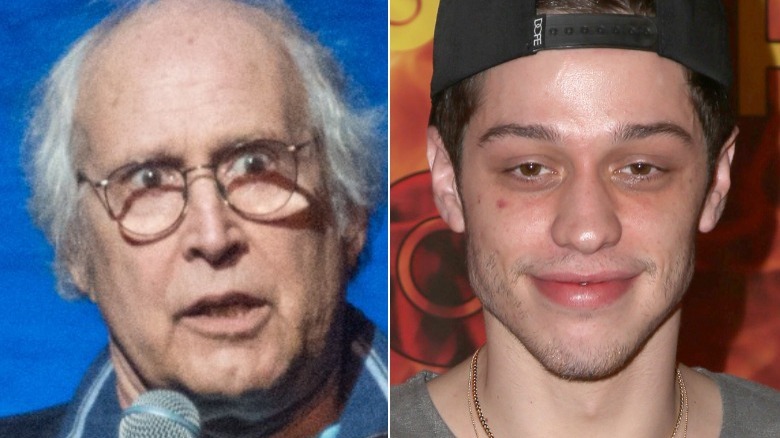 The last time Chevy Chase showed his face at "Saturday Night Live" was a cameo in a March 2013 episode. That's more than a year before Pete Davidson joined the cast of the show, and even though their paths didn't cross, they still managed to forge a feud. In a September 2018 interview with the Washington Post, Chase profanely criticized the show that made him famous. "I had to watch a little of it, and I just couldn't f****** believe it," Chase said, going to lament that "a whole generation of s***heads laughs at the worst f****** humor in the world."
A few days after the Post article, Davidson was a guest on Howard Stern's satellite radio show, and the host asked him to respond. "He's a f****** d********," Davidson replied (via Entertainment Weekly). "F*** Chevy Chase. I hate that dude." Davidson went on to explain his feelings, noting that Chase seemingly ruined "a really big career and then it stopped because everybody realized he's a j******." What really bugged him was how disrespectful Chase's comments were to "SNL" creator and producer Lorne Michaels.
Eddie Murphy stayed away from SNL for years because of a David Spade joke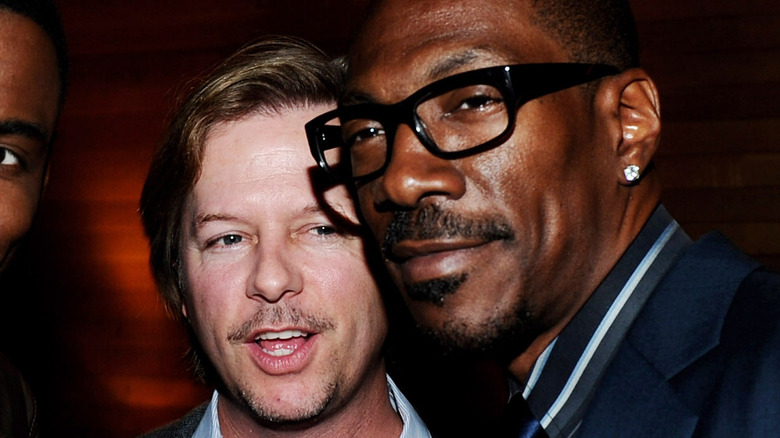 Eddie Murphy is arguably the most prominent star to ever have their career launched by "Saturday Night Live." Thanks to his domination of the show in the early 1980s with bits like "Mr. Robinson's Neighborhood," "James Brown's Hot Top Party," and "White Like Me," the hilarious and charismatic young Murphy went on to star in mega-hits like "Trading Places," "Beverly Hills Cop," "Coming to America," and "The Nutty Professor." And unlike most every other "SNL" cast member-turned-A-list-film-actor, it wasn't until 2019 that Murphy returned to the show to host.
The main reason for his absence: mid-'90s "SNL" cast member David Spade. In a 1995 installment of his snarky talking head segment "Spade in America," Spade quipped over a photo of Murphy, star of back-to-back flops "Beverly Hills Cop III" and "Vampire in Brooklyn," "Look children, it's a falling star, make a wish!"
"They said some s***** things," Murphy told Rolling Stone in 2011 of Spade's cheap shot. "What really irritated me about it at the time was that it was a career shot."
Norm Macdonald was rather nasty to Chris Kattan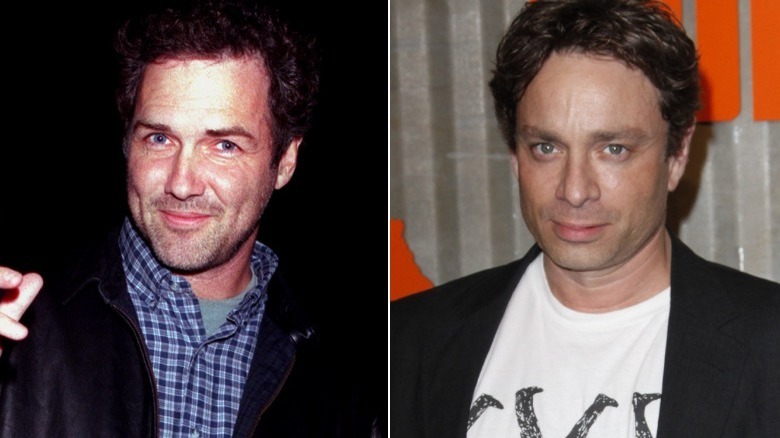 In the mid-'90s, "Saturday Night Live" underwent a major cast overhaul, bringing in new talent like Will Ferrell, Molly Shannon, and Chris Kattan. A holdover from the old cast: Norm Macdonald, primarily the show's caustic, deadpan "Weekend Update" anchor. When Rolling Stone profiled the new "SNL" ensemble in 1997, Macdonald made a point of going after Kattan, derisively questioning the "Mango" portrayer's sexuality, and apropos of nothing at that. "I don't know, but to me he seems gay," Macdonald said. "He claims he's not, but I've never seen, like, a guy who's not gay seem so gay." Macdonald also went on to say that he didn't think Kattan was funny. "What can I say? Never made me laugh." Kattan initially brushed off his co-star's comments. "Norm gives me a hard time," Kattan said, adding, "If Norm says I'm gay, then put in that I say he's an a******."
In 1999, after Macdonald left "SNL" and returned to host, Kattan, still a cast member, did not appear in the episode. "They had a very acrimonious relationship," a show source told the Observer. "Norm would rip [Kattan] to his face." And for his part, Kattan would reportedly pester and berate Macdonald just before he'd go on air.
Will Ferrell ended his friendship with Chris Kattan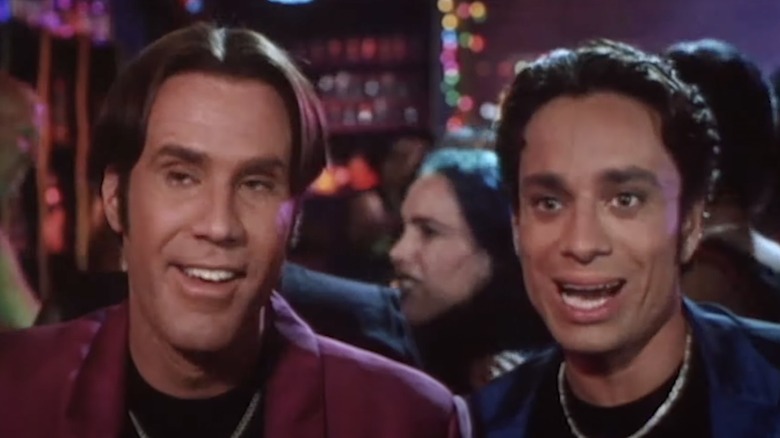 In the late '90s, "Clueless" director Amy Heckerling was in negotiations to helm "A Night at the Roxbury," starring Chris Kattan and Will Ferrell as those two odious dance club regulars who bob their heads to Haddaway's "What Is Love" and aggressively hit on uninterested women in a recurring "Saturday Night Live" sketch. In his memoir, "Baby, Don't Hurt Me" (via Page Six) Kattan claimed that "SNL" and "A Night at the Roxbury" producer Lorne Michaels was so desperate to sign Heckerling that he encouraged Kattan to accept her romantic advances, which he had previously rejected. Kattan said that he did as Michaels had asked, and began an affair with Heckerling, who ultimately produced but did not direct "A Night at the Roxbury."
Once production on the movie was completed, Kattan wrote that Ferrell didn't speak to him for months, then confronted him backstage at "SNL." "So I got all your messages, but I didn't call you back because I didn't want to talk to you," Kattan recalled Ferrell saying. "I don't want to be your friend anymore. I'm going to be professional and still work with you on the show, but that's it." Ferrell didn't explicitly state his reasons, but Kattan understood that his co-star was disgusted by his strange affair with Heckerling.
Tracy Morgan called out Chris Kattan and Cheri Oteri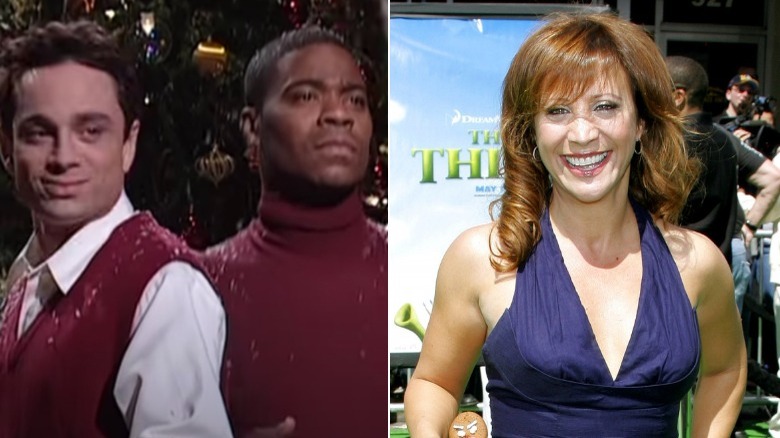 In 2009, years removed from "Saturday Night Live" but starring on the backstage-at-an-"SNL"-like-show sitcom "30 Rock," Tracy Morgan published his first book, "I Am the New Black." He reflected on his time at "SNL" in the mid-'90s and early 2000s and dished the dirt on which cast members he didn't like: Chris Kattan and Cheri Oteri. "I had my finger on the pulse of urban comedy, but when I brought my act to 'SNL,' those m************ just felt bad for me," Morgan wrote. "All I have to say about that is, where's Chris Kattan now? Where's Cheri Oteri now? That b**** can't even get arrested."
According to Gawker, When Morgan recorded the audiobook version of "I Am the New Black," he elaborated and improvised on his "SNL" friends and enemies, noting that he considers Will Ferrell, Colin Quinn, and Molly Shannon his friends. "F*** 'em," Morgan said about Oteri and Kattan.
Tracy Morgan hated Jimmy Fallon's constant crack-ups
Tracy Morgan was a cast member on "Saturday Night Live" from 1996 to 2003, his tenure largely overlapping that of young comedian and impressionist Jimmy Fallon. While Fallon had some breakout recurring characters — host of the college dorm web series "Jarret's Room," a Boston teen named Joey Mack, and former Bee Gee Barry Gibb as the host of a public affairs talk show — he's likely best and most remembered for "breaking," or collapsing into giggles or hysterical laughter in one sketch after another.
It can be argued that breaking ruins a sketch, and Morgan certainly thought that Fallon's behavior did just that. In a 2007 interview with Penthouse (via Page Six), Morgan suggested that Fallon would crack up on purpose to put the spotlight on himself, and also that he hated it. "Laughing and all that dumb s*** he used to do — he wouldn't mess with me because I didn't f****** play that s***," Morgan said. "That's taking all the attention off of everybody else and putting it on you, like, 'Oh, look at me, I'm the cute one.'" Morgan also pointed out that Fallon "never" laughed through sketches they appeared in together because Morgan "told him not to do that s***."
This feud seems to have resolved, at least — Morgan was a guest on "Late Night with Jimmy Fallon" 11 times and has appeared on Fallon's "The Tonight Show" on six occasions.
Julia Sweeney didn't mesh with the SNL boys' club
A few weeks after the end of the 1993-94 TV season, her fourth with the show, Julia Sweeney announced that she would not return to "Saturday Night Live," according to the Chicago Tribune, where she was best known for playing the ambiguously gendered recurring character Pat Riley. Sweeney didn't originate all that many characters in part because the show was dominated at the time by the so-called "Bad Boys of Saturday Night Live" — Adam Sandler, David Spade, Chris Farley, Rob Schneider, and Chris Rock.
"Everybody says the show is a boys' club, right?" Sweeney said. "Well, it's everything you think it is, times a hundred." While she was fine at first appearing in sketches with those "Bad Boys," she wanted to do relationship humor and her own material and didn't like being reduced to the "straight man" character over and over. "They do a lot of 14-year-old-boy humor — they just love fart jokes and vomit jokes — and they're very good at it," Sweeney explained. "But a lot of it isn't really my kind of humor."
John Belushi didn't think women had a place in comedy, even Jane Curtin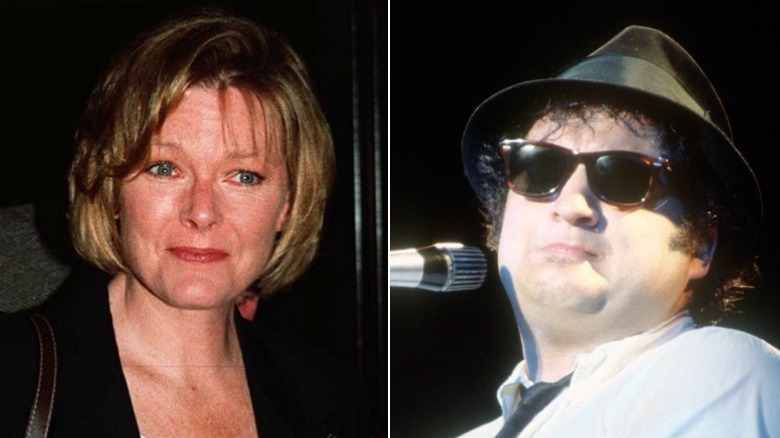 In 2011, "The Oprah Winfrey Show" hosted a large group of "Saturday Night Live" all-stars, including Tina Fey, Dana Carvey, and Jane Curtin. When Winfrey asked about gender politics in the workplace (via Vulture), Curtin, one of the original "SNL" "Not Ready for Prime Time Players" in 1975, and one of the first "Weekend Update" co-hosts described an atmosphere of sexism and hostility to women. According to Curtin, co-star John Belushi believed that "women are just fundamentally not funny," adding that the late "SNL" star "felt as though it was his duty to sabotage pieces that were written by women."
Curtin re-iterated her experiences with Belushi on "Watch What Happens Live" in 2018, explaining that the actor was among a group of men on the show who thought that "women should not" be a part of "SNL." When host Andy Cohen asked if Belushi thought "SNL" standout Gilda Radner had comedy chops, she said that he did, but that "he didn't classify her as a woman. She was Gilda."
Dana Carvey resented Mike Myers? No way! Yes way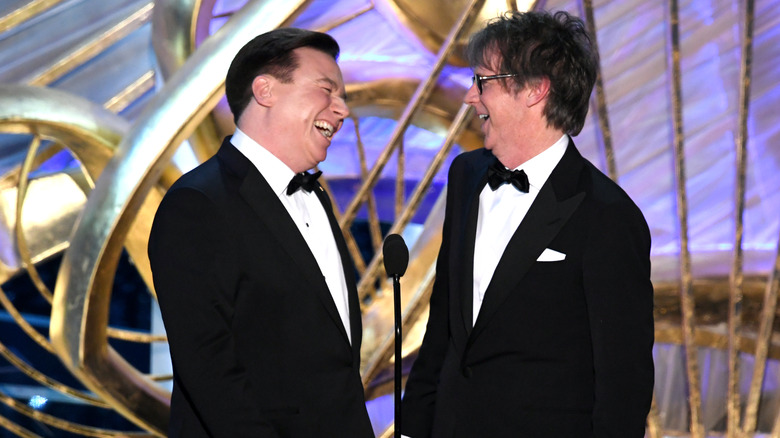 Dana Carvey was probably the biggest star on "SNL" in the late 1980s, what with his characters like the Church Lady, the "Choppin' Broccoli" guy, and an unhinged President George Bush. When Mike Myers joined the show in 1989, he brought along a character he'd originated on Canadian television and recruited Carvey to play his sidekick. Together they made comedy magic: "Wayne's World," a cable access show hosted by Wayne Campbell (Myers) and Garth Algar (Carvey). The sketches performed so well that they spawned two movies.
In 1997, Myers created another comedy movie franchise with "Austin Powers: International Man of Mystery." In the parody of 1960s British spy movies, Myers portrayed swinging, groovy, super-spy Austin Powers as well as the villain, Dr. Evil, who spoke with a pronounced and exaggerated Canadian accent. According to Carvey on "The Howard Stern Show," Myers' Dr. Evil voice was his take on Carvey's impersonation of their "SNL" boss, Lorne Michaels. He also allegedly took Dr. Evil's habit of raising a pinky to his lips from Carvey's Michaels impression. "Lorne doesn't do that, but somehow it fit. The pinky thing I did."
Carvey resented Myers for years, and the latter did admit to The Hollywood Reporter that "the Dr. Evil voice is a little bit Lorne Michaels, there are no two ways about it." Carvey eventually "let it go," never confronting Myers but he "talked about it to [his] therapist."
Charles Rocket didn't care for Eddie Murphy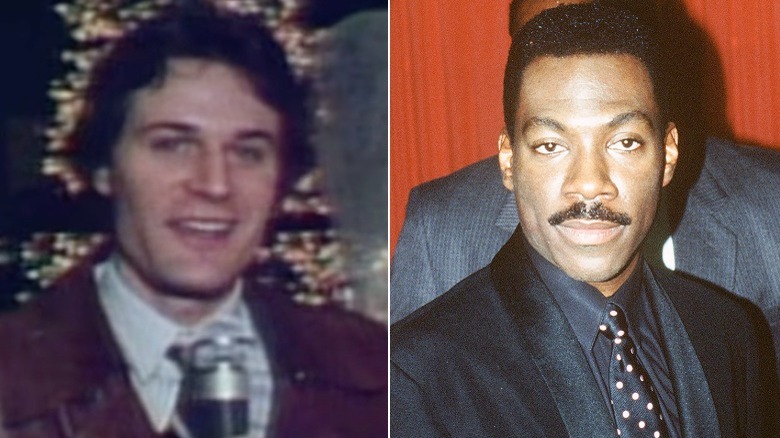 "Saturday Night Live" creator Lorne Michaels took what became a five-year leave of absence from his show in the early 1980s, and NBC put associate producer Jean Doumanian in charge. When Michaels left, so did the entire cast, many of them with "SNL" from its beginning, meaning Doumanian could hire a new roster of players, per "Live From New York."
According to Doug Hill and Jeffrey Weingrad's "Saturday Night," Doumanian was most excited about Charles Rocket and predicted he'd be the biggest star among the bunch, gushing to NBC executive Brandon Tartikoff that he struck her as a mixture of previous "SNL" stars Chevy Chase and Bill Murray. A former actual news reporter, his signature bit on "SNL" became "The Rocket Report," a spoof of man-on-the-street interviews.
But the breakout star of the early '80s "SNL" was not Charles Rocket — it was Eddie Murphy. Perhaps resentful of the success and popularity that came so easily to his co-star, who had joined the show at age 19, Rocket was openly scornful and dismissive of Murphy around the "SNL" offices.
It seems like nobody appreciated Nora Dunn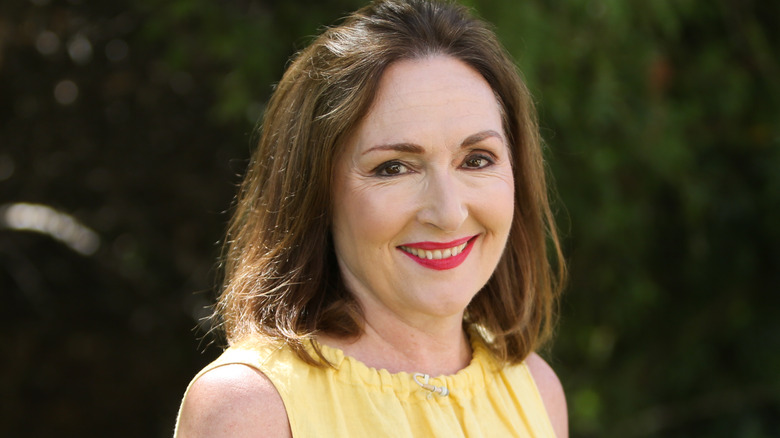 Nora Dunn and Victoria Jackson were among the small group of women to be a part of the "Saturday Night Live" cast in the mid-to-late 1980s. They didn't do much for each other, and the rest of their co-stars seemingly didn't like either actor as well. "She fought with a lot of people. She fought with me the first year. And then the second year she started again, and I said, 'I'm not going through this with you for another year,'" Jon Lovitz said in the "SNL" oral history "Live from New York" before recalling a time when a sketch with Dunn and Dana Carvey ended with those two actors "just screaming at each other."
Jackson thought Dunn was the single biggest flaw on "SNL" — well, her and another co-star. An "SNL" producer gathered the cast of this era for a meeting to pinpoint problems with the show. "No one was saying anything," Jackson recalled. "I stood up and told everyone what was wrong with the show was those two women — I pointed to Nora and Jan [Hooks] — and all the things they did bad: They didn't cooperate in sketches and they slammed doors in people's faces and backbite and backstab and all that."
Dunn and Hooks slipped out of the room, and Jackson called out the rest of the cast for not backing her up. That reportedly prompted Carvey to quip, "You didn't hear anyone disagreeing did you?"
Source: Read Full Article